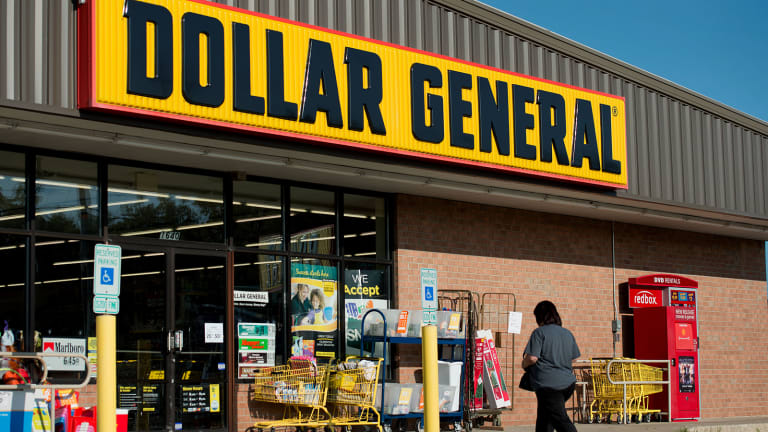 How You Can Tell the Poor Are Still Poor Right Now Even With a Surging Stock Market
Could it be that prices are too high for customers who are strapped by a cut in food stamps?
Santa Lopez shops at Jack's 99¢ store in midtown Manhattan because it's close to her job and, she added, everyday items, such as rubbing alcohol and cosmetic cotton pads, go for at least a dollar less than she'd pay at Duane Reade, a regional drugstore chain owned by Walgreen's Boots Alliance (WBA) - Get Walgreens Boots Alliance Inc Report .
"Jack's has very, very, very low prices," Mike Jones, a 15-year veteran of shopping at dollar stores, told TheStreet on Thursday."I buy everything here, but toothpaste, mouthwash and food."
Rachel Gibbons, however, isn't so sold on Jack's. She was there on Thursday afternoon to buy plastic bowls for her St. Patrick's Day party. "Things here are not that cheap," Gibbons said to TheStreet. "These bowls are $1.49."
When Gibbons walks into a dollar store, she expects everything to cost, well, $1, or 99¢ in the case of Jack's 99¢ store.
Surprisingly, high prices could be one of the reasons why same-store sales growth slowed last year at Dollar General (DG) - Get Dollar General Corporation Report  , rising by only 1% in the fourth quarter. Goldman Sachs rates Dollar General shares a neutral, citing pressured customer traffic in a report issued Friday.
"Initial 2017 [guidance] points to a tough year ahead. The $4.25-4.50 [earnings per share] guidance implies -2% to +4% growth, excluding cycling the extra week and an expected early debt retirement charge."
Goldman analysts also cited SNAP [food stamps] cuts, along with wage pressure [store managers have gotten raises], late-cycle economic malaise, food deflation to start 2017, heightened competition and commodity cost inflation as several company challenges this year.
Meanwhile, Dollar Tree (DLTR) - Get Dollar Tree, Inc. Report , which bought Family Dollar in 2015, has had its own struggles growing same-store sales, but for different reasons. According to a note from BMO Capital Markets on March 1, analysts contend that cannibalization between the two brands has led to the company's slow start this year. Same-store sales gained a meager 1.2% during the fourth quarter. 
While a healthy chunk of dollar shoppers can afford to pay more for some of the goods sold there (such as name brand soap), but choose not to, the dollar stores' core lower-income consumers have been dealing with a cut last year in the food stamp program across 22 states that has affected how much they spend on food.  
"More than 500,000 and as many as 1 million of the nation's poorest people will be cut off SNAP (formerly known as the Food Stamp Program) over the course of 2016, due to the return in many areas of a three-month limit on SNAP benefits for unemployed adults aged 18-49 who aren't disabled or raising minor children," reported the Center on Budget and Policy Priorities a year ago. "These individuals will lose their food assistance benefits after three months regardless of how hard they are looking for work."
For those who have been lucky enough to retain their SNAP payments, they may be barely making a dent in their food budget. For example, one 80-year-old woman living in Hempstead, N.Y., a suburb of New York City, gets only $16 a month in food stamps. Her daughter does the shopping and takes advantage of the senior discount day at a local grocery store to stretch funds. Were she shopping at a dollar store, that amount wouldn't even yield 16 items in the grocery basket. 
"Many people in lower income brackets face tremendous financial challenges," said Brian Schaitkin, a senior economist at the Conference Board. "They have few financial resources and extraordinary difficulty accessing credit. It makes it difficult for them to deal with the financial curve balls that come their way."
The lower traffic for Dollar General comes at an especially upbeat time in the financial cycle, with stock prices ripping higher and the employment market continuing to be solid. According to a U.S. Census Bureau report, median income rose by 5.2% in 2015 and the poverty rate saw the first large decrease, to 13.5% from 14.8%. More recently, the U.S. unemployment rate fell to 4.7% in February from 4.8% in January. 
In fact, participants of SNAP could experience more belt-tightening if the GOP's latest plans go through. Among the proposed changes to SNAP are strengthening work requirements, imposing stronger restrictions on eligibility and putting forth new incentives to encourage healthier food choices.
Adding to the SNAP challenge is the health insurance uncertainty facing all Americans, but most acutely those with limited funds.
Health insurance premiums of those insured by the Affordable Care Act, known also as Obamacare, have risen dramatically this year. For those getting Medicaid, whose participation rose dramatically under Obamacare, they pay nothing for their healthcare costs. The latest Republican plan to repeal and replace Obamacare would effectively leave 14 million Americans uninsured by next year, a figure that will rise to 24 million in 2026, according to the Congressional Budget Office. However, there has been so much opposition to the GOP's plan, from both parties, that it's unknown when -- or if -- a new healthcare law can get passed.
Nonetheless, by Mike Jones' estimate, all roads will ultimately lead to the dollar stores. "The economy in the rest of the country is dirt," he said. "Eventually, you will see everyone you know shopping at the dollar store."
If he's right, that could be very good news for Dollar General and Dollar Tree.
Dollar General did not respond to a request for comment.
Jim Cramer and the AAP team hold a position in Walgreen's Boots Alliance for their Action Alerts PLUS Charitable Trust Portfolio. Want to be alerted before Cramer buys or sells WBA? Learn more now.