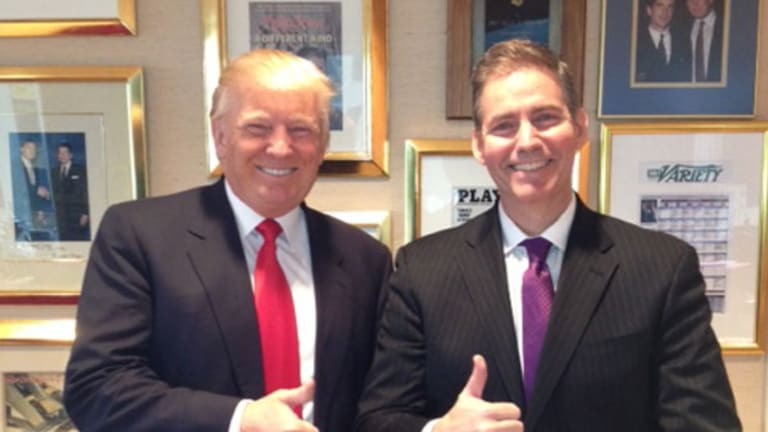 Publish date:
The Donald's Trump Card: Himself
Donald Trump is a real estate figure, but perhaps his most potent asset is his public face and brand.
Donald Trump is a real estate figure, but perhaps his most potent asset is his public face and brand.
NEW YORK (TheStreet) -- In his book Predicting Market Success, Robert Passikoff discusses the recent phenomenon of the human brand: a person who is the face, embodiment and often the name of a company. Passilkoff writes, "Whether these people are brands themselves, such as Martha Stewart or Donald Trump, or are spokespeople for brands, their humanity brings a certain twist to the branding process." That can be an asset, he explains. "These days it's tougher than ever for marketers to distinguish their brands from the competition and engage with consumers."
Human brands are especially hard to gauge or price. Passikoff notes, "At one end of the brand continuum, we have the commodity, what we all know as the stuff that provides some reasonable level of primacy of product or service. At the other end, we have the human brand, the occasional exceptional person who really is the brand: Wolfgang Puck, Colonel Sanders, Martha Stewart, Paul Newman, or Donald Trump."
Sometimes brands can become exposed to certain risks that could damage or even crush the image of the company or individual behind the brand. Think Lance Armstrong -- a brand almost completely wiped out due to his lying about his doping during his Tour de France victories. Or perhaps Tiger Woods, a brand that seems to be surviving after a tarnished personal history of unfaithfulness. Unlike Armstrong, Woods didn't rely on enhancement drugs to win and instead his biggest strength remains consistent and raw talent.
Donald Trump, another well-known human brand, has also had his share of baggage, including multiple divorces, repeated corporate bankruptcies and frequent political (even presidential) aspirations.
The latest drama for Trump is a lawsuit in which the New York attorney general is charging Trump with committing a $40 million fraud. The suit alleges that Trump misled 5,000 students at a "Trump University," charging them up to $35,000 for worthless real estate instruction. (Trump blew off the lawsuit as a "frivolous attack" driven by the attorney general's personal issues; Trump's lawyers have filed a motion to dismiss.)
In recent years, many for-profit colleges have fallen afoul of the law. But due to Trump's public notoriety, the lawsuit is getting a lot of press coverage.
Yet Trump seems not to have lost any sleep due to the lawsuit, and has been forging ahead in New York and abroad. A quick walk around 40 Wall Street shows how Trump's business is a success. The 70-story 1.3 million square foot office tower that Trump acquired in 1995 for a reported $1 million is now substantially leased and according to him could fetch more than $600 million in today's red-hot New York City office market.

And Trump Tower, a 58-story mixed-use skyscraper, is also enjoying the boost of a strong real estate recovery. It is on the "Tiffany Corner," next to the flagship Tiffany's store in Midtown Manhattan. Trump opened the tower 30 years ago, and it has become a trademark property and the setting of his NBC television show "The Apprentice."
Trump owns numerous other properties throughout New York, many of which are debt free. He is a joint-venture partner with Vornado Realty (VNO) - Get Vornado Realty Trust Report in two iconic towers -- one in New York City and another in San Francisco.
Meanwhile, as the New York City office market is rumored to be overheating, Trump has been tactically diversifying his empire. His name recognition and overall brand identity have helped him enter new markets.
A few weeks ago I wrote an article for TheStreet concerning Trump's latest golf course development in South Florida. As I wrote, "Trump is orchestrating the transformation of the world-class resort (in Miami) by injecting around $250 million on renovations, excluding the bargain price paid of around $150 million." Trump reopened his redesigned Blue Monster in Doral last week, and once the entire club is open Trump may increase both his net worth and his brand equity.
And a few blocks away from the White House on Pennsylvania Ave. in Washington, D.C., construction is underway on a new Trump luxury hotel project.
How does he develop these luxury properties, despite a struggling economy and the occasional bout of bad press?

Trump has strategically leveraged his brand name to increase business, whether it's through Trump National Golf Clubs, Trump International Hotels, Trump apparel, Trump ties, shirts, suits, fragrances, TV appearances or books. He follows the course of other successful brand names, which are able to charge more for their products than their less-established competitors and weather tough times more smoothly because of their loyal customers.
By extending his brand beyond bricks and mortar and into media platforms like "The Apprentice," Trump has built a wider moat between him and his competitors.
Trump has also become a fixture in social media and the Internet. For example, during the holidays a YouTube video titled "Donald Trump vs. Ebenezer Scrooge," was published by "Epic Rap Battles of History." In just four days, the video generated more than 5.5 million views and almost 10 million views through today. Mac Miller, a 19-year-old rapper from Pittsburg, named a song after the developer and quickly generated more than 87 million hits on YouTube. Moreover, Trump has more than 2.5 million Twitter followers and more than 1 million Facebook followers.
As Passikoff explains, "Brand equity is the status or strength of the brand and its ability to meet or exceed the expectations consumers use to define the category ideal. This identifies how consumers view the category, compare offerings in the category, and, ultimately, buy in the category. It's what they really expect from a brand." Trump's public presence is a sign of his brand equity.
I was 19 years old and fresh out of college when I read The Art of the Deal, Trump's first book and a New York Times Best Seller. Inspired by the book and the many successes (and failures) of Trump, I aspired to be a real estate developer and broker. Due to his brand equity, that's a tall order.
Many compare themselves to Trump, but due to his public face and brand equity, he remains ahead of the pack. From an iconic New York developer in the 1980s to a famous human brand today, Trump has become an internationally recognized developer and celebrity known through his namesake shirts, ties, books, office towers, golf courses, television and social media.
With branding, Passikoff says, "You need to have expectations that are not constrained by reality but have the kind of sky's-the-limit expectations that identify where the best opportunities lie for your brand."
That's Trump for you.
At the time of publication, the author held no positions in any of the stocks mentioned.
Follow @swan_investor
This article represents the opinion of a contributor and not necessarily that of TheStreet or its editorial staff.