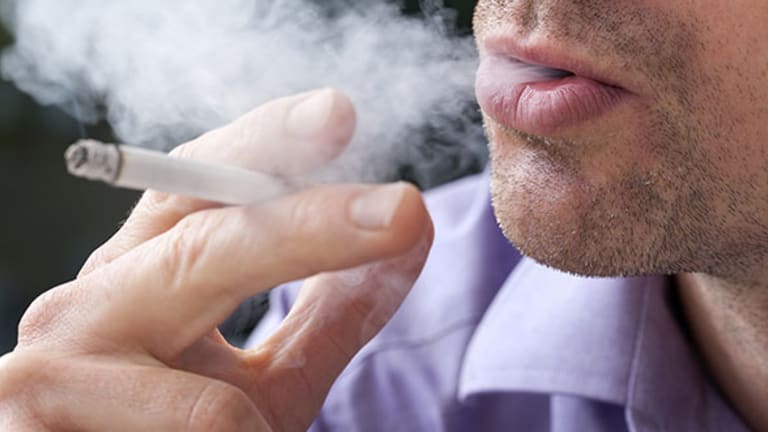 The Devil You Know: Buy This 'Sin' Stock to Reap Smoking Returns
British American Tobacco is on the cusp of becoming the world's largest tobacco company, making it the most attractive play on trends transforming the industry.
Amid the backdrop of banking improprieties, defense boondoggles, drug price gouging and fossil fuel pollution investors should ask themselves, what portfolio is without sin?
That brings us to the granddaddy of so-called sin stocks: tobacco. As sweeping changes transform the tobacco industry, the time is ripe to invest in cigarette makers that are staying ahead of the curve.
The most appealing tobacco stock is British American Tobacco (BTI) - Get British American Tobacco plc Report , which is about to reap marketing and operational synergies through its proposed acquisition of Reynolds American.
On Oct. 21, BTI said that it had made an offer to buy the 58% of Reynolds American that it doesn't already own. The deal is valued at $47 billion.
Sporting a pre-merger market capitalization of $110.86 billion, British American Tobacco would become the biggest tobacco company on the planet if the deal goes through. Because the operations of the two companies considerably overlap, the merger isn't expected to encounter regulatory hurdles.
In this overbought and volatile stock market, potential catalysts for a correction are strewn across the global landscape like landmines. With a dividend yield of 3.82%, British American Tobacco is a widely held Steady Eddie income stock that also boasts outsize growth potential.
Much of the rationale behind the British American Tobacco-Reynolds American merger is to slash costs, an imperative in any commoditized, high-volume business such as cigarettes. By integrating its operations with Reynolds American, British American Tobacco calculates that it would generate about $400 million in annual savings.
British American Tobacco is the world's second-largest publicly traded tobacco company by volume, behind Philip Morris International.
British American Tobacco owns cigarette brands including Benson & Hedges, Dunhill, Kool, Lucky Strike, Pall Mall and Rothmans. Reynolds American, number six by volume, owns Camel, Natural American Spirit and Newport.
British American Tobacco is based in London and Reynolds American in Winston-Salem, N.C.
As fears of class actions have faded in recent years, the U.S. market has become attractive again for tobacco companies. By gobbling up the rest of Reynolds American and its entrenched brands, British American Tobacco would gain a ready-made footprint in the U.S.
Meanwhile, Asia and Europe have become less favorable for tobacco makers, as governments increasingly adopt the sort of strict anti-smoking measures that would never get through a Republican-led U.S. Congress.
Acquiring Reynolds American also gains British American Tobacco a wider portfolio of "safer" cigarette products, notably ecigarettes, which are an accelerating craze and pose a growing threat to conventional cigarette makers. Battery powered ecigarette devices mimic smoking by applying a heating element that vaporizes nicotine-infused liquid, hence the term "vaping" to describe the partaking of ecigarettes.
Ecigarettes can be enjoyed in public places because they are odorless. They are also cheaper than traditional cigarettes because they aren't taxed.
UBS and Wells Fargo project a $10 billion ecigarette market by next year, up from $3.7 billion last year.
Philip Morris International also has embraced the ecigarette fad, but British American Tobacco just got ahead of the game by absorbing Reynolds American and its R.J. Reynolds Vapor subsidiary. The existing products and research and development efforts of R.J. Reynolds Vapor should help drive British American Tobacco's profits and revenue over the long haul, regardless of economic ups and downs.
British American Tobacco's stock is up more than 3.3% this year, compared with more than 4% for the S&P 500. Shares of British American Tobacco are trading above $114 apiece on Monday.
The average analyst one-year price target for the stock is $130.10, which would represent a gain of nearly 14%. The stock's trailing 12-month price-earnings ratio is a reasonable 20.23, about in line with the tobacco industry and cheaper than major rival Philip Morris International at 23.04.
Through its bold Reynolds American bid, British American Tobacco has put Philip Morris International on the defensive and has become the best-positioned tobacco stock.
---
As we've just explained, high-dividend British American Tobacco is an attractive total return package. If you're looking for other growth-and-income opportunities, we've found a genius trader who turned $50,000 into $5 million by using his proprietary trading method. For a limited time, he's guaranteeing you $67,548 per year in profitable trades if you follow his simple step-by-step process. Click here now for details.
John Persinos is an editorial manager and investment analyst at Investing Daily. At the time of publication, he owned stock in WFC.