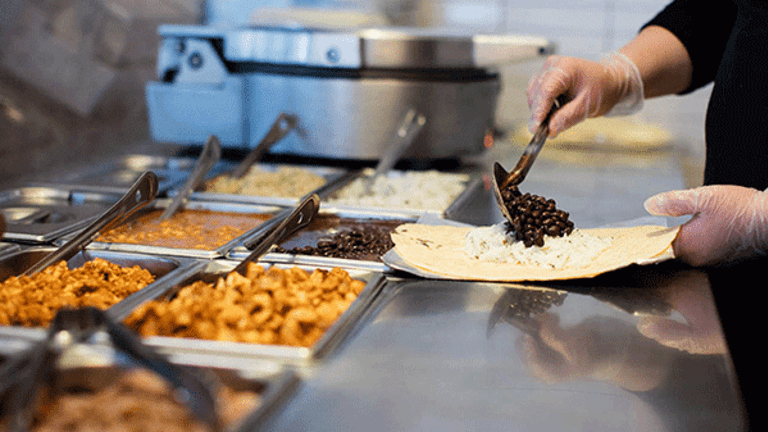 The Crowdsourcing Site that ID'ed Chipotle's Latest Food Poisoning Scandal Focuses on Public Health
Former Morgan Stanley trader Patrick Quade began the website, which identified the latest Chipotle food poisoning bout in Virginia, after his own foodborne illness.
Patrick Quade, the founder of iwaspoisoned.com, knows he's on Chipotle Mexican Grill Inc.'s (CMG) - Get Chipotle Mexican Grill, Inc. Report radar screen.
"Chipotle has a statement in their 10-K that I read that seems to allude to us pretty heavily," he said by phone Thursday.
"The negative impact of adverse publicity relating to one or more restaurants or any of the foregoing topics may extend far beyond the restaurant(s) involved and affect many more, or even all, of our restaurants," Chipotle said in its 2016 10-K. "The considerable expansion in the use of social media over recent years can further amplify any negative publicity that may be generated."
And it was Quade's website that prompted a Chipotle location in Sterling, Virginia to close after a suspected foodborne illness outbreak.
Quade, a former Morgan Stanley rates trader, started iwaspoisoned.com in 2009 after his own bout with food poisoning. "I ran it for years because it seemed like the right thing to do," he said. It was only after the site highlighted a 2015 norovirus outbreak in Simi Valley, Calif. sickened nearly 100 Chipotle customers that he realized he might be able to monetize the project, and companies approached Quade directly.
"It just became clear that there was a way to get this funded. I thought I have to try," he said. "I wasn't exactly sure how I was going to do it. This is really new. The first year I spent really sure that we're delivering well to public health and that we're being responsible participants to what they do in a meaningful way. The rest of it is just a belief that there's valuable data here for brands that can do a better job. They have shown interest and it's in their interest to use all available intelligence to help them to what's the most important part of their job."
"Outbreaks of norovirus occur in restaurants, hospitals and schools and anywhere people gather," former Undersecretary for Food Safety at the United States Department of Agriculture Elisabeth Hagen said in an email through a Chipotle spokesman. "As a member of the Food Safety Advisory Council at Chipotle, I've observed the systems the company has put in place to control norovirus. They are among the best in the food industry. Despite, these efforts, no company is immune from norovirus risks."
The site is still primarily focused on crowdsourcing suspected food poisoning cases, but the data is packaged up for investors or companies looking for "intra-day alerts, outbreak alerts, specific brand-based alerts, companies that they have a watch or long or short position." There's tiered services with different offerings, but most customers use the basic free service.
Citing nondisclosure agreements, Quade declined to identify his corporate customers, but named some of the sectors he's working with: "restaurant industry, the big chains, the chains that you've heard of; some product associations; product makers, like big chicken producers; supermarkets, grocery stores that you know of and some smaller ones; franchisees, so not the restaurant brand itself; the entertainment sector, people like theme parks; PR; and food safety concerns."
Quade is funding the business, which is not profitable, himself, and just added an intern as his only full-time hire. They've stayed true to its original purpose of providing consumers and public health organizations with essential data.
"We're partnered with public health in 46 states, almost all the big cities and counties," he said. "They get an advanced version of our service for free. Part of what drove us was that there's a huge public health benefit here, and we've drawn a line in the sand to make our service available to big public health services and consumers for free."
And he emphasized that the company is a data source, leaving the diagnoses to public health organizations.
"We haven't gotten hate mail, because we're not going after anyone-we'll never announce that a restaurant is at fault," he said. "It's more complicated than that. That's where public health gets involved to check the who, what, where. We're data. I urge you to not ignore the signals that our data gives off, because it's extremely highly correlated with actual outbreaks, but we're not going to definitively say that Chipotle got people sick."