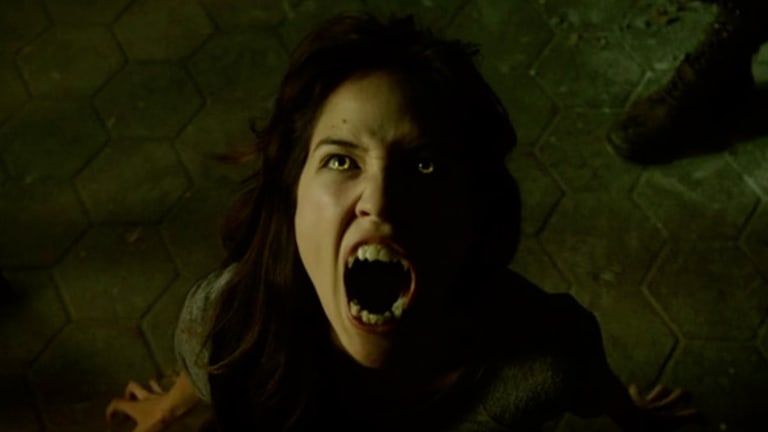 Publish date:
The Crazy Sci-Fi/Fantasy Plot to Save Viacom's MTV
It's not just 'The Shannara Chronicles,' the fantasy series that got rave reviews at Comic-Con. MTV is using magic and a bit of horror to save itself.
It's not just 'The Shannara Chronicles,' the fantasy series that got rave reviews at Comic-Con. MTV is using magic and a bit of horror to save itself.
Corrects in 9th paragraph that Viacom's carriage fees from pay-TV operators has continued to grow.
NEW YORK (TheStreet) -- Maybe elves and druids can resuscitate MTV and breath new life into Viacom's (VIAB) - Get Viacom Inc. Class B Report tumbling stock.
Viacom's flagship channel has resurrected the Scream horror movie series as a television show, renewed Teen Wolf for another season and is preparing an adaptation of the popular fantasy book series The Shannara Chronicles for January. All three were highlighted earlier this month at Comic-Con, and stand to become compelling fodder for youthful fanatics, a crowd that tends to avidly post on social media and binge-watch streaming video.
The new lineup marks another turn for MTV, which carved out a niche for itself in the 2000s as a home for light-drama reality television peppered by the occasional sex scandal. More recently, the channel has been chasing ways to put the Internet to work for itself, emphasizing audience-generated video and a fan-friendly lineup of original programming. 
But Viacom has yet to shake mounting concern that the company will be unable to reverse declining advertising sales amid a stock price that has lost 32% over the past 12 months, while rival Time Warner (TWX) gained 4.8% and 21st Century Fox (FOXA) - Get Fox Corporation Class A Report added 2.2%.
"They might have a great hit show that works for 3 years, and then their audience completely changes," said Steven Lewis, a producer at MTV in the early 2000s. "It's like college basketball I guess: you develop your best players, and then eventually they graduate."
Viacom was forced to adapt to more change on Thursday when Susanne Daniels, its now-former head of programming, left MTV for Google's (GOOG) - Get Alphabet Inc. Class C Report (GOOGL) - Get Alphabet Inc. Class A Report YouTube, underscoring the widely held perception that YouTube has become the MTV of the modern era. Daniels joined the network's Los Angeles office in 2012 amid great fanfare, bringing with her a reputation as the guiding force behind such cultural touchstones as Buffy the Vampire Slayer.
CEO Philippe Dauman, who earned $44.3 million during the fiscal year ended September 30, is certainly betting on a turnaround at MTV. And he needs it.
An analysis of Nielsen data by Sanford C. Bernstein showed that Viacom's kids' networks and non-kids' programming attracted fewer television viewers than cable network averages over the past year. Viacom's ratings across its channels, which also include Comedy Central and Nickelodeon, fell 22% in the quarter ending in March, according to the Bernstein report.
Viacom's other major source of revenue -- carriage fees from pay-TV operators on cable and satellite -- has continued to grow despite small cable companies dropping the network, including Cable One and recent Altice (ATCEY) purchase Suddenlink Communications.
Amidst these problems, operating revenue at Viacom's media networks, which includes MTV, ticked up 3% to $2.45 billion in the quarter ended March 31. Its next-nearest competitor by the same figure, the Murdochs' Fox, reported operating revenue growing 14% during that same period.
To counter the negative news, MTV is trumpeting scripted programming alongside reality TV stalwarts like The Real World. For starters, The Shannara Chronicles, which follows an elven princess on a quest, is billing itself as a more family friendly alternative to Time Warner's Game of Thrones on HBO. Elsewhere at Viacom, the Spike network is pushing Tut, a miniseries featuring Ben Kingsley.
"They have a lot of very talented people there who are being given the opportunity to kind of break the mold," said Alvin Lieberman, a professor of marketing the Leonard N. Stern School of Business at NYU. "MTV is thinking, 'How do you change up content?' You let creative people have a degree of freedom."
Gone are the days when the most costume-like hair and makeup on MTV was Snooki's garb on Jersey Shore.
Dramatic rebrands aren't unprecedented in TV, though. At the start of 2008, Time Warner's Court TV shapeshifted into TruTV. It traded wall-to-wall trial coverage for programming somewhere between reality television and Discovery Communications' (DISCA) - Get Discovery, Inc. Class A Report Discovery Channel documentaries. In October 2014, the channel again switched frames, adding more comedy programs to its lineup.
But analysts say that even if MTV's less-complete rebranding plan succeeds, a hit show on digital platforms isn't worth as much as a hit on television.
"Sure, a few hits would generate more advertising revenue and make it harder for distributors to drop them," wrote Todd Juenger of Bernstein Sanford in an email. "But it's not going to stop kids and teens [from putting] down their iPads and [watching] regular TV (and all of the advertising it includes)."
That's bad news for shows likely to make most of their revenue after they air on TV.
"Perhaps 65%-70% of hit MTV Network viewing can be time shifted, streamed or on-demand, or watched on mobile devices rather than reflected in same-day Nielsen ratings," Wunderlich Securities analyst Matthew Harrigan said in a note this week. "If shows such as Shannara are successful, they will have even more value for online viewing."
His point echoes Dauman's, and points a disapproving finger at Nielsen ratings for failing to capture digital engagement.
As an alternative to Nielsen, Viacom has opted to track its own audience. In January 2014, it trumpeted a marketing initiative called Viacom Echo, which promised "a one-of-a-kind service that mirrors the way our content travels beyond our screens, across social media and throughout the pop culture." Its latest digital marketing effort as of April is Viacom Vantage -- another plan to target ads in more granular detail as a way to compensate for lower ratings.
Viacom has also touted what it calls "non-Nielsen-dependent" ad revenue -- ostensibly, digital views -- which it aims to increase from 30% to 50% in the next three years.
But Sanford Bernstein's Juenger says current non-Nielsen revenue doesn't necessarily mean digital revenue. It could be direct response television advertising -- like spots that prompt viewers to dial a phone number -- which tend to fetch lower rates.
Lately there is less money in general in TV. As a result of Viacom-wide restructuring over the past four years, the company's center of gravity has downsized and shifted west. This past March, MTV cut about 12% of its staff and the network has now consolidated its creative leadership in Los Angeles.
That means fewer layers between executives and producers than when Steven Lewis, now a consultant at Media-Savvy, worked for MTV.
"When you're constantly being judged on a daily or even monthly basis, I don't think people make the best creative decisions," said Lewis. "It was always micromanaged. That's sort of the Viacom pressure that everybody was under."