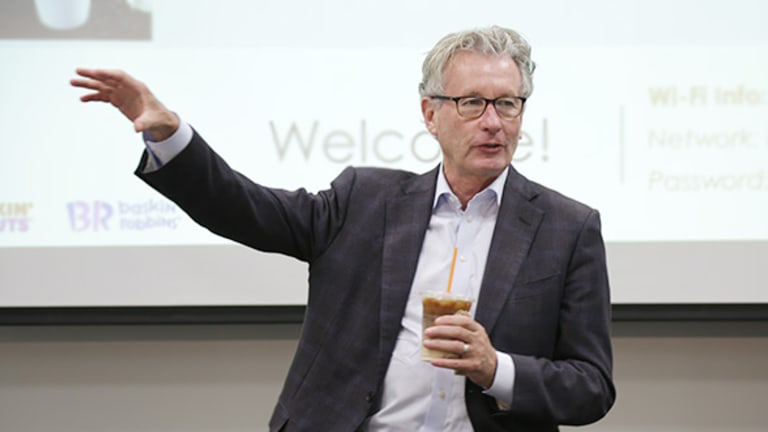 The Consumer Is 'Confident' About 2017, Dunkin' Brands CEO Travis Says
Consumer confidence is rising on President-elect Donald Trump's pro-business policies, but franchisees could be affected by his anti-immigration platform.
The consumer has become more optimistic in a post-election world, Dunkin' Brands (DNKN) - Get Report CEO Nigel Travis said on CNBC's "Power Lunch" on Thursday afternoon. 
Back in October, Travis said on CNBC that the consumer was in a slight funk ahead of the election. But that's changed as consumer confidence has improved and job numbers have been "very good," he noted. "I think the consumer has gotten into a better place. I think the consumer is confident about next year."
Since the Fed decided to hike interest rates on Wednesday for the second time in a decade, that agency is obviously showing some confidence as well, Travis continued. The Fed also raised its outlook for GDP growth to 1.9% from 1.8% for 2016 and to 2.1% from 2.0% for 2017. 
"What's interesting is they're talking about a fairly anemic growth rate like 1.8%," Travis said about the new figure. "We'd love to see the forecasted 4% that the new administration has been talking about. That's what we really want and it's great for small business."
Dunkin' Brands' 2,000 franchisees should benefit from Trump's expected rollback in regulation, economic stimulus and tax reform, Travis said. 
However, Trump also notably ran his campaign on an anti-immigration platform and his company employs a number of immigrants. 
The solution to the immigration issues lies somewhere in the middle, rather than going with one side or the other, Travis claimed. "We do have a lot of immigrants and I think what I'd say is that we need some sensible policies. I think having talked to both sides of the aisle, in the current administration I think there could be some common sense agreement on immigration."