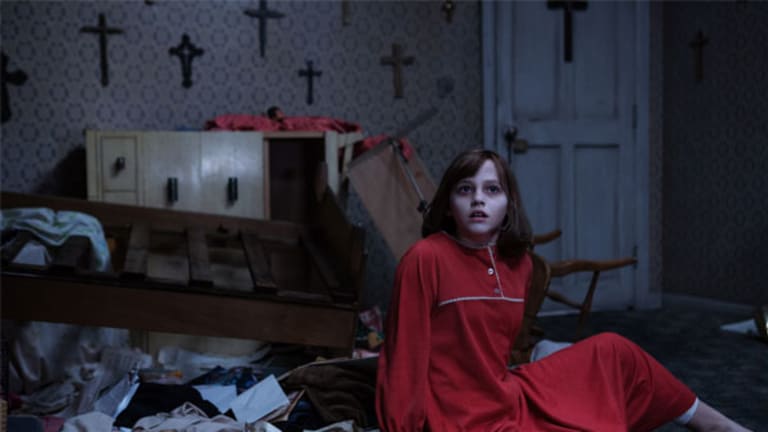 'The Conjuring 2' Will Haunt the Weekend Box Office With a No. 1 Opening
Though 'The Conjuring 2' may make this weekend all about horror for moviegoers, 'Warcraft' will bring a different sort of fear: a scary-low opening for Universal.
Though 'The Conjuring 2' may make this weekend all about horror for moviegoers, 'Warcraft' will bring a different sort of fear: a scary-low opening for Universal.
Hollywood studios will hold their breath this weekend as two new sequels enter the marketplace. "The Conjuring 2" from Warner Bros. and Lionsgate's "Now You See Me 2" will look to replicate the success of their predecessors in the summer of 2013 but may have to settle for smaller opening weekends: on average, sequel openings since May have been down nearly 50% compared to those of their antecedents. Meanwhile, Universal's risky gamble "Warcraft" will open in theaters, plagued by poor predictions from pre-release tracking companies but bolstered by strong international earnings. All told, this weekend's box office will likely be down around 50% from the same weekend last year, when "Jurassic World" opened to a then-record $208.8 million.
"The Conjuring 2" is a near-lock to claim the No. 1 spot this weekend, as Warner Bros. expects the sequel to make around $35 million in 3,100+ theaters. That would appear to be a good estimate for the film. After all, the first "Conjuring" was well-received, legging out to $137.4 million after a $41.9 million opening, for a 3.3 multiplier. Then again, "Neighbors," the Universal movie starring Seth Rogen and Zac Efron, was also a word-of-mouth hit. Of course, that ultimately didn't keep "Neighbors 2" from opening last month 56% lower than the original. Indeed, studios are finding that they can no longer bank on fond audience memories of the first installment to fuel the opening of the sequel--the advertising and timing have to be on-target as well.
In both respects, Warner Bros. has positioned the "The Conjuring 2" well. The advertising for the movie has been legitimately scary, with one haunting sequence, featuring a girl in a room full of rotating crosses, appearing in most of the trailers and TV spots. It has done a good job of differentiating itself from the original movie, promising a new location and paranormal case, while retaining the most successful aspects of the first "Conjuring": old school scares and the investigative couple Ed and Lorainne Warren. Warner Bros. has also chosen a smart time to release the movie: the last breakout horror film was nine months ago (M. Night Shyamalan's "The Visit"), and fans of the genre are likely starved for something to see.
Given the movie's sequel status in a summer that has been tough on franchises like "X-Men" and "Alice in Wonderland", it might be optimistic to predict that "The Conjuring 2" can surpass (or even match) the low-$40 million opening of the original. However, given the movie's $40 million budget and strong international prospects (the original made $180 million overseas), it doesn't need to match its predecessor to be considered successful this weekend. An opening of around $37 to $38 million seems likely, which will be good for a No. 1 spot at the box office and a possible run at a $100 million final gross.
Less fortunate this weekend will be "Warcraft," the long-in-development cinematic take on the wildly popular "World of Warcraft" videogame. Pre-release tracking predicts that the movie will open around $23 million when Universal releases it in 3,400+ theaters this weekend, which would be a poor result for a film with a $160 million budget. The movie's saving grace might be its overseas earnings: it's already amassed about $70 million outside of North America in the markets where it has already opened, and is eyeing a huge opening weekend in China.
An apt comparison for the movie is "Battleship," also released by Universal. That movie could only muster a $25 million opening in the summer of 2012 but ended up making $238 million overseas, or more than 78% of its total gross. "Warcraft" will probably face a similar scenario, with weak domestic earnings being mitigated by a strong overseas performance. Poorer reviews and stronger opening weekend competition for "Warcraft" make a domestic opening slightly below "Battleship" likely. It should earn $21 to $22 million this weekend.
The third movie opening this weekend, "Now You See Me 2," will look to recapture the breakout status of its predecessor. The original "Now You See Me" opened in May 2013 amid a slew of big-budget blockbusters such as "Star Trek Into Darkness" and "Fast & Furious 6." Box office prognosticators believed that the comparatively-modest offering would be overwhelmed by the big summer movies, but they were wrong. In fact, the movie was impressive counter-programming, opening to nearly $30 million and wrapping up its run with a domestic gross of about $118 million. "Now You See Me 2" was greenlit shortly thereafter, as Summit Entertainment, a subsidiary of Lionsgate, figured that audiences would flock back to theaters for an encore.
The $90 million sequel, which will play in about 3,000 theaters this weekend, looks like a much riskier prospect now and may well need some conjuring at the box office to boost revenues. Much of the first movie's appeal was its original premise in a landscape of franchises, and that appeal obviously cannot carry over to a sequel which cements "Now You See Me" as a franchise itself. The studio has done little to differentiate the sequel from the original, outside of adding Daniel Radcliffe to the cast. While the prospect of watching the British actor return to the world of magic may be tantalizing to his fanbase, he will probably not attract a ton of general interest, as Radcliffe hasn't had a legitimate hit since "The Woman in Black" opened in 2012. Lionsgate is predicting a low-$20 million opening for "Now You See Me 2." All things considered, the movie might open even lower, at around $18 to $19 million.
The top five will likely be rounded out by the top two movies from last weekend. "Teenage Mutant Ninja Turtles: Out of the Shadows" will likely match its predecessor's 57% second-weekend drop (albeit with a much lower gross), putting it in the No. 4 position with around $15 million. That would put the movie's gross at around $60 million on Sunday, which would be about half of what the last "Turtles" movie made in its first ten days in 2013. "X-Men: Apocalypse" looks to earn $10 million in the fifth position, bringing its total to about $135 million since it opened on May 27.
A weekend recap will be posted on Monday with studio estimates.