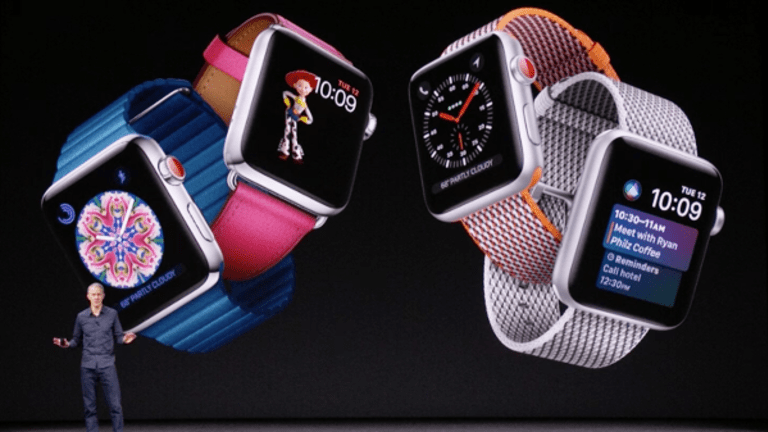 Clock Is Ticking on the Apple Watch 3's Connectivity Problem
Apple is working on a software fix for the glitchy wireless network connection, as the new smartwatch is officially released on Friday.
As glitches go, the buggy wireless connection on the $399 Apple Watch Series 3 is not even in the same category as the combustible batteries for the Samsung Note 7.
Still, the poor connectivity just before the product's launch is an "embarrassment" for Apple (AAPL) , Strategy Analytics Executive Director Neil Mawston said.
"The Watch Series 3 ushers in a new era of embedded-SIM functionality for wearables and a reputation for unreliable wireless connectivity is the last thing it needs," Mawston said. "If Watch Series 3 gets a reputation for buggy WiFi or 4G connections, it could quickly knock 5% or 10% off global sales if consumers back away."
The Verge reported Wednesday that the wireless service, for which consumers pay $10 a month, has glitches. The Apple Watch Series 3 tries to connect to "unknown WiFi networks" instead of cellular networks, the reviewer wrote. 
Shares of Apple were down 1.2% to $151.58 on Friday morning, after falling 1.7% on Thursday. The stock fell 1.1% on Wednesday following news of the watch's issues and a report from Rosenblatt Securities that pre-orders of the iPhone 8 were down in China. Apple's stock is on track for its worst performance ahead of a major product launch in seven years.
Apple does not divulge details about sales for the Watch. Tim Cook said at the product launch in September that it is the world's top-selling smart watch "by a very wide margin" and that sales of the device grew by more than 50% since 2010. 
IDC has not changed its estimate that Apple will ship 14.5 million watches this year, up from 11.3 million last year, despite the reported issues. "The problem will hurt sales if Apple does not address it quickly," IDC research manager Ramon Llamas said. "That'll be the linchpin in all of this."
While the wireless snafu has gained attention, Jeff Moore of Wave 7 Research suggested that it problem is "less than meets the eye."
"It's a good thing for The Verge to bring attention to something that Apple has acknowledged as a problem," Moore said. It helps that current Apple Watch users aren't used to cellular service, he suggested, and that much data would travel over Wi-Fi anyway. "Probably, this issue will be fixed with a software patch and will be quickly forgotten," he said. 
While Apple users should be confident that the release is coming, Jeff Orr of ABI Research said, timing could be an issue. The Apple Watch Series 3 release date is Friday, after all. 
"The question remaining, of course, is when Apple will release the corresponding software patch and if the connectivity challenges will be experienced out of the box for those that pre-ordered the smartwatch," he said. "Apple is known for its fanatical brand followers and ABI Research does not expect much impact on early Apple Watch Series 3 sales as a result of the need for a software patch."
Apple is fully capable of rolling out a software patch, and has infinitely less damage control ahead of it than Samsung (SSNF) did last year when batteries caught fire. Still, the Note 7 is a cautionary example of what can happen if a company doesn't get ahead of a problem. 
"We saw with the Samsung Note 7 fiasco last year, gadget shoppers will no longer tolerate bad quality from premium products," Mawston of Strategy Analytics said. "When the dust had settled, we estimate Samsung lost $2 billion from the Note 7 battery fiasco last year."
Apple is a holding in Jim Cramer's Action Alerts PLUS Charitable Trust Portfolio. Want to be alerted before Cramer buys or sells AAPL? Learn more now.
Watch: Get Your First Look at the Futuristic Apple iPhone X
More of What's Trending on TheStreet: