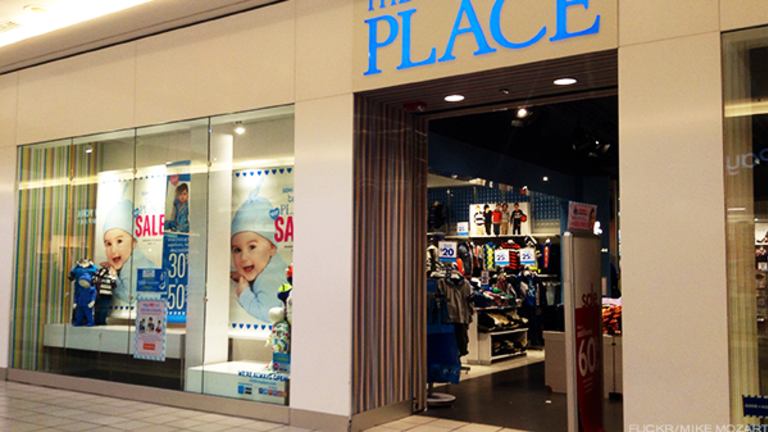 The Children's Place Bumped Up to Outperform, While Gymboree Embraces Chapter 11
Gymboree may have fallen, but other children's apparel retailers that are more diversified are going strong.
During the past first few weeks of children's apparel retailer Gymboree Corp.'s bankruptcy, Wall Street has perked up on some of its competitors, namely The Children's Place Inc. (PLCE) - Get Report .
On Monday, June 26, Telsey Advisory Group upgraded The Children's Place to an outperform rating from market perform, stating that the stock is undervalued. Recently, too, Jefferson Research reiterated its buy rating on The Children's Place stock and investment research firm New Constructs gave it a "very attractive rating," meaning it has "superior upside potential with low downside risk."
"Children's Place is showing strong earnings quality, cash flow quality, balance sheet quality and operating efficiency," Jefferson said in its note. "Valuation suggests a lower amount of price risk. When combined, PLCE deserves a buy rating."
While Fitch Ratings' David Silverman, senior director of retail, recently said in a note that Children's Place and like-children's apparel retailer Carters Inc. (CRI) - Get Report could stand to gain from Gymboree's Chapter 11 filing, the bankrupt retailer could still benefit from being backed by private-equity firm Bain Capital LP, which should help it "restore and grow brand value."
Bain took Gymboree private in 2010 in a $1.8 billion leveraged buyout.
Gymboree filed for Chapter 11 protection on June 11 with more than $900 million in debt and plans to close as many as 450 of its 1,300 stores. The company blamed its bankruptcy on the ongoing consumer shift away from bricks-and-mortar retail.
As TheStreet's sister publication, The Deal, reported, The Children's Place and Carters have more diverse business portfolios, with various clothing brands sold at several retailers including Target Corp. (TGT) - Get Report and Amazon.com Inc.  (AMZN) - Get Report , than Gymboree, making them less exposed to risk. Gymboree's off-price brand Crazy 8 has cannibalized the retailer's sales.
Plus, The Children's Place has a scant $27.4 million in debt.
Shares of Children's Place climbed 5.36% to $102.15 in Monday afternoon trading on the upgrade from Telsey and the stock is up 33.16% year to date.