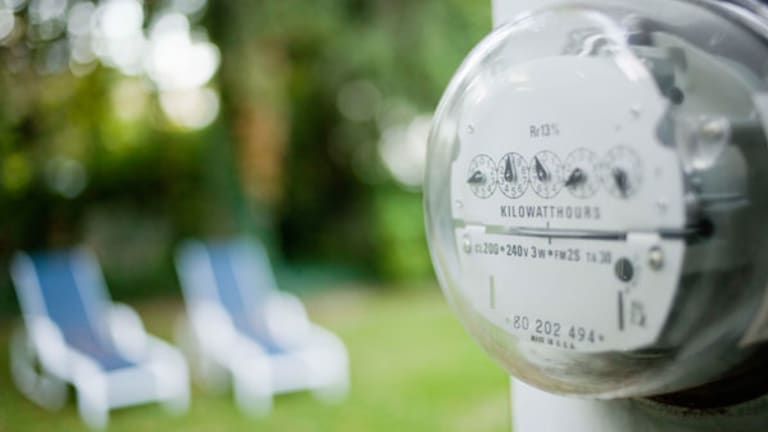 The Catch-22s Keeping Nat Gas Stocks in the ICU
With natural gas prices hitting new lows, shares of natural gas drillers head into the market doghouse.
With natural gas prices hitting new lows, shares of natural gas drillers head into the market doghouse.
NEW YORK (
) -- As natural gas prices hit eight-month lows this week and some market pundits predict sub-$2 prices before 2012 is over, natural gas exploration and production stocks have suffered mightily.
Chesapeake Energy
(CHK) - Get Report
,
Cabot Oil & Gas
(COG) - Get Report
and
Southwestern Energy
(SWN) - Get Report
have been among the losers.
In the first week of 2012, when Chesapeake and
Devon Energy
(DVN) - Get Report
announced the completion of joint ventures with foreign players, the stocks were off and running and the deals were one more confirmation that currently out-of-favor natural gas hasn't slowed the
appetite of big balance sheet buyers for U.S. drilling assets.
Natural gas drilling market practices suggest the sector can't break the cycle of too much supply relative to demand crushing prices.
Yet the fact of the matter is that while a
Sinopec
from China,
Total
( Total),
BHP Billiton
(CHK) - Get Report
or
ExxonMobil
(XOM) - Get Report
can ride out any short-term pain in the natural gas market, the smaller E&Ps tethered to natural gas are exposed acutely to the current pricing doldrums.
Here are key reasons why natural gas exploration and production stocks are currently dying, and why the outlook isn't getting better any time soon.
Even as natural gas supply continues to dwarf demand, production won't stop. In fact, production can't stop.
There are three factors, let's call them "Catch-22s" in the natural gas market, that even if there are some production slowdowns as a result of the natural gas pricing weakness, won't be enough to bring supply and demand back into balance.
First, many of the natural gas exploration and production companies have hedges in place for a majority of their drilling programs and as a result it really makes no difference at what price they are selling the natural gas. These companies often act like trading entities with hedging contracts more important to short-term finances than spot prices.
It's with a tongue firmly planted in cheek that energy market experts say the bulge bracket firms' favorite client in recent years hasn't been a hedge fund but Chesapeake Energy. There have been recent quarters, for example, where an improvement in natural gas spot market pricing would have hurt Chesapeake Energy's performance, and there's something counter-intuitive about the financial market's ability to distort physical, on-the-ground reality. Into 2012, there has been a decrease in hedging activity that could limit the impact on gas drilling programs relative to previous years.
Second, the leaseholds for much of the acreage held by E&P companies specifies that drilling must be done for the leases to remain under their control. Expect to see more triage done on these leaseholds -- with some companies deciding to give up the rights to the least economic natural gas assets if the worst-case scenario of sub-$3 pricing holds. Overall, though, this dynamic of the nat gas market implies that production will continue, even with natural gas below $3.
Third, the entire exploration and production sector is shifting gears to the search for liquids as a result of the low natural has pricing -- natural gas liquids and oil most importantly. Yet the horizontal well drilling techniques enabling the search for liquids find a lot of what is referred to as "associated gas" as part of the hunt for oil. According to one Wall Street estimate of the Eagle Ford drilling region -- one of the most popular liquids rich plays right now -- an Eagle Ford well produces 4 times the gas of a conventional Barnett vertical well. In effect, this means it would take a crash in oil prices to slow the production of natural gas. The decline in natural gas prices alone won't do it.
So what does the E&P stock investor do to limit the pain if he has been invested in exploration and production stocks?
The chart above provides a superficial view of the most important data points to review in terms of assessing the risk of prolonged weakness in natural gas prices to your energy stock holdings, and related to the drilling market dynamics discussed above. There are three key data points to assess stock risk at the most basic level in a low natural gas pricing environment.
First, look at the total gas production of an E&P stock first. Even more important, look at the
percentage
of total production that is natural gas. Sure, "Cabot Oil & Gas" sounds good and balanced as a brand name, but the company is 96% natural gas production.
One important caveat is that Cabot operates in the Marcellus shale, where natural gas production continues to be economic. That's a far cry from the Haynesville, where it costs more to take natural gas out of the ground than a company can sell it for now. The rig count in the Haynesville is down 35% year over year, as of January, and the rig count in the Barnett is down 20% year over year. The rig count decline for both nat gas plays has declined by a similar percentage since year-end 2010, the biggest declines in any U.S. drilling region, with the total U.S. rig count up 13% since the end of 2012.
For
TheStreet Ratings
take on Cabot Oil & Gas,
click here.
Cabot has had massive production growth in the core area of the hottest gas play in the country, where the economics of northeastern Pennsylvania support $2.25-$2.50/mcf gas commodity prices, according to industry estimates. But Cabot was also up 102% in 2011, and that's why it's down this week by 9%. It's expensive on a relative valuation basis. A lot of its peers have been so shunned already because of the low natural gas pricing environment that they likely have less room to fall, like a Southwestern Energy or Chesapeake.
Finally, the chart provides a review of the extent to which E&P companies have hedged their exposure to nat gas pricing. As noted above, hedging has been an important strategy for gas E&Ps, but it decreased significantly at year-end 2011. This is a double-edged sword in cases where companies have highly levered balance sheets and a year-over-year decline in hedging. Less hedging might force companies to deal with the in-the-ground natural gas well reality more directly, but it could also lead to cash flow issues.
Chesapeake Energy would be the prime example of risk in this regard. Chesapeake sold off all of its natural gas hedges as of the end of 2011. In a previous article,
TheStreet
noted the explanation given by the company for this decision, and the fact that it
exposed the company to greater balance sheet risk should natural gas prices continue to fall, as the prices have to start 2012.
For
TheStreet Ratings
take on Chesapeake Energy,
click here.
There are other examples of companies with levered balance sheets and little or no hedging protection, like
Comstock Resources
(CRK) - Get Report
. As a rule of thumb, lack of hedging in a weak commodity price environment will burn companies heavily weighted to that commodity.
Bryan McNamara, an analyst at IHS, explained that hedging has allowed drilling to continue over the past few years even when not economic due to weak spot pricing. Yet one thing that may be changing now is the ability for companies to put hedges back on quickly. McNamara said it's been common in the industry to take hedges off toward the end of a year and then add them back on in a new year's winter months, based on the assumption when the winter gets bad and natural gas prices spike it will be possible to hedge exposure at $5. "I don't see that now. It will be hard to do again this year," McNamara said. "For companies with a significant debt load, there could be issues."
For
TheStreet Ratings
take on Comstock Resources,
click here.
The $64,000 question for natural gas E&P stock investors is the point at which the E&P companies "call it a day" and stop drilling, doing their part to help bridge the gap between supply and demand.
For this read, the upcoming fourth-quarter earnings commentary from E&P companies will be key. Natural gas E&P CEOs have recently commented that at sub-$4 gas they would significantly lower gas-related spending. At sub-$3 gas, where the market is now, it would definitely have these companies re-thinking gas capex. That would bring down spending but also, as a result, bring down cash flow. It may be a wash in terms of any given stock, with the reduction in spending offsetting the market disappointment of less cash flow -- at least for less-indebted companies. However, even with the production shutdowns, it's not likely to do enough in the short-term to bail out natural gas spot market pricing.
"Supply in the end has to scale back. There has to be a cut back in production to really show improvement in price, but I don't know how to answer the question of when it turns, when companies take down production and spending enough," said McNamara.
Indeed, natural gas has become known by market professionals as "the widow maker" for good reason.
-- Written by Eric Rosenbaum from New York.
RELATED STORIES:
>>3 big Cost Issues for Oil & Gas Stocks in 2012
>>5 Catalysts for Chesapeake Energy in 2012
>>3 Energy Stock Strategies to Play the Crude Oil Rally
>To contact the writer of this article, click here:
Eric Rosenbaum
.
>To follow the writer on Twitter, go to
.