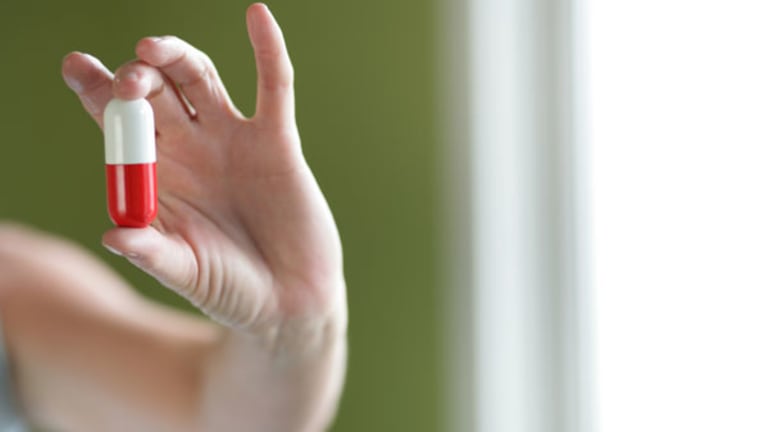 NEW YORK (
) -- Past truly is prologue. In mid-2008, I was short
Elan
and getting crushed. My thesis was that Phase II data for the company's lead drug candidate, a monoclonal antibody called bapineuzumab for the treatment of Alzheimer's disease, would disappoint.
There were a select few who shared my view, but most investors invoked two oft-heard justifications for healthcare bullishness: "If the drug works, it will be huge"; and "Management wouldn't be so confident if the data weren't good." Part of what makes it so hard to be a successful short seller is that you must swim against the tide of popular opinion. Shorting Elan in mid-2008 felt like swimming against the tide with sharks in the water and a cut on my leg bleeding badly.
Anyone who has had a large short position move quickly in the wrong direction knows how I felt -- frustrated and scared. I had based my Elan short on a strongly-held belief that the amyloid beta hypothesis -- which posits that accumulation of a sticky protein in the brain cause the memory loss and deteriorating mental function that are hallmarks of Alzheimer's -- was wrong.
Elan's bapineuzumab -- "bapi" for short -- was engineered to facilitate removal of amyloid beta from the brain. If my thesis were correct, bapi wouldn't meaningfully improve patients' cognitive abilities. Failure of bapi's Phase II study would cause Elan's stock price to collapse.
In both public and private meetings during the spring of 2008, Elan executives expressed confidence that the Phase II results would confirm bapi as the first disease-modifying Alzheimer's drug. Bullish Wall Street analysts lapped up management's confidence and forecast bapi sales of $20 billion or more. Elan shares soared; my short position sank.
In July 2008, the Phase II data were finally unveiled at an Alzheimer's research conference widely attended by scientists and investors. The large meeting hall was packed. I sat anxiously in the front row; bullish Elan investors in the room exuded self-assured optimism.
When the bapi data were projected on a large screen, even I was surprised. The
results were wildly inconsistent, with no clear efficacy trend
. Bapi obviously didn't work. Elan's stock price plummeted, turning my struggling short position into a big winner.
Bapi's development did not end in the summer of 2008, in large part because the stakes are so high. Alzheimer's disease affects 11 million people in the U.S. and Europe. Current treatments, like
Pfizer's
(PFE) - Get Pfizer Inc. Report
Aricept and
Forest Labs'
(FRX)
Namenda, have only a modest, short-term impact on symptoms yet still generate billions of dollars in sales. Any drug that can stop or reverse the course of Alzheimer's would truly be a multi-billion-dollar blockbuster.
Despite what looked like unequivocally negative results to me and many others, Elan and partner Wyeth (now Pfizer) squinted hard at the Phase II data and excavated slightly more favorable trends post hoc from a lower-risk subgroup of patients without a gene called ApoE4. Based on this retrospective data mining, the companies pursued Phase III studies. (In late 2009,
Johnson & Johnson
(JNJ) - Get Johnson & Johnson (JNJ) Report
joined the effort). These hugely expensive trials, which enrolled 4,100 patients worldwide and easily cost $500 million, should yield data by the middle of this year.
Investors are yet again betting -- albeit more hesitantly this time -- on bapi and the amyloid beta hypothesis. Elan shares have surged 30% since November and the company's market capitalization hovers around $8.5 billion. Even some neutral-rated analysts have assigned bapi a risk-adjusted valuation of more than $2 billion, with a tantalizing upside of nearly $22 billion.
Elan bulls were wrong in the summer of 2008 and they're still wrong today. Critical red flags from the graveyard of amyloid beta-clearing drugs are still being ignored.
In 2005,
Axonyx
announced the late-stage failure of phenserine, a compound intended to both inhibit acetylcholinesterase (like Pfizer's Aricept) and reduce amyloid beta. (I was long Axonyx when phenserine failed; it's still a painful memory.)
That same year,
Myriad Genetics
heaved Flurizan -- a decades-old anti-inflammatory drug that lowered amyloid beta in preclinical studies by "modulating" an enzyme called gamma secretase -- into Phase III trials. Foolishly, Myriad ignored an equivocal Phase II study, as Elan has done with bapi. Flurizan failed in mid-2008 and was scrapped.
In mid-2010,
Eli Lilly's
(LLY) - Get Eli Lilly and Company (LLY) Report
gamma secretase inhibitor semagacestat also failed spectacularly. In a 2,600-patient trial, semagacestat recipients actually did
significantly worse
on cognitive and activities of daily living scores -- critical tests of efficacy -- than those fortunate enough to receive placebo. As a bonus, drug-treated patients also had an increased risk of skin cancer. Yikes.
Lilly brushed off the semagacestat catastrophe as unrelated to solaneuzumab -- another amyloid beta-targeted antibody nicknamed "sola" -- which the company rushed into Phase III trials despite unimpressive early data. (Sola had no positive effect in a small Phase II study.) Results from the sola Phase III trial should be available later this year, around the same time as Elan's bapi results.
My skepticism about the amyloid beta hypothesis is further deepened by a 2008 case report published in the
Lancet
. In this paper, investigators present long-term follow-up from a few patients in a Phase I trial of Elan's AN1792, an amyloid beta-targeted vaccine that failed in 2002 due to side effects. The authors' conclusion is unambiguous: "Although immunization ... resulted in clearance of amyloid plaques ... this clearance did not prevent progressive neurodegeneration."
So where does this leave investors? Let's consider how much value Wall Street assigns to bapi and sola. I will ignore Johnson & Johnson -- which is large and loved enough that investors will likely absorb failure without flinching -- and focus on the others.
The timid-but-tempted should consider Pfizer. Despite controlling 50% of bapi economics, Pfizer shares include little value for the drug and management has remained cautious. Meanwhile, the company has solid fundamentals, a low multiple, interesting R&D portfolio, and attractive dividend. I would be an owner (though not for the Alzheimer's program per se).
Elan is the best target for those looking to be short. Management expects 2012 revenues of slightly more than $1.2 billion, up modestly from 2011. Assigning a multiple of 4.5 times sales -- which seems fair given the longer-term threats to the company's multiple sclerosis drug Tysabri -- yields $5.5 billion in value. Let's add $500 million for other pipeline candidates and net cash. This rough calculation suggests that Elan shares could fall 30-40% on bapi failure. Positive data would send the stock up by at least 50%, since Elan owns 25% of the drug. Given the extremely low probability of success, I would short a manageable position size of Elan and consider options for downside protection. Risk-averse investors should avoid Elan entirely.
Lilly is trickier since it has more moving parts and shares haven't moved as much. I am inclined to remain uninvolved. Even if sola failed, Lilly could boost earnings by reducing bloated expenses and continue to pay the company's hefty dividend. Shares would likely drop 10-15% on sola failure, but it doesn't seem worth paying 3% in dividends over the next six months to be short now. I would be more compelled for short Lilly at prices meaningfully above $40 per share.
Finally, industry's stubborn efforts to fit amyloid beta's square peg into the Alzheimer's round hole raises an important question: Why do investors so often let companies squander resources on flawed drug candidates without repercussions? As an example, Lilly's management has for years paid lip service to innovative R&D while investing in copycat drugs and faulty ideas; meanwhile, shares have declined by 50% since 2002. Executive incentives are misaligned by massive paychecks and the imbalanced risk-reward of "if it works" thinking. Even for the dividend-obsessed, R&D dollars are precious and investors should more aggressively demand change when the lessons of history are ignored.
Disclosure: Sadeghi has no positions in Elan, Pfizer, Eli Lilly or or any of the other stocks mentioned in this article.
Nathan Sadeghi-Nejad has 15 years experience as a professional health-care investor, most recently as a sector head for Highside Capital. He has worked on the sell side (with independent research boutiques Sturza's Medical Research and Avalon Research) and the buyside (at Kilkenny Capital prior to Highside). Sadeghi-Nejad is a graduate of Columbia University and lives in New York. You can follow him on Twitter @natesadeghi.