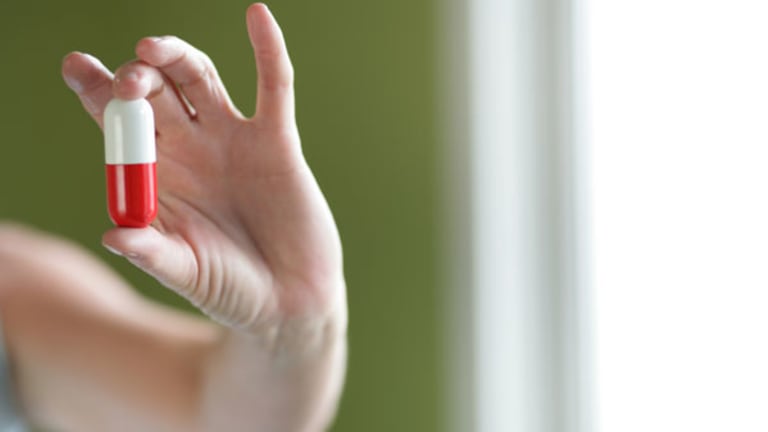 The Bull and Bear Story on GTx's Pending Drug Decision: BioBuzz
Acapodene faces an FDA decision Friday.
MEMPHIS, Tenn. (
) --Drugmaker
GTx
(GTXI)
has an important date with the Food and Drug Administration Friday Oct. 30, as the agency is set to issue an approval decision for the company's drug acapodene. GTx is seeking acapodene's approval as a treatment to reduce the risk of bone fractures in prostate cancer patients undergoing treatment with testosterone deprivation therapy.
Acapodene consists of an 80-mg dose of a drug known as toremifene, used by doctors for years (at a lower dose) to treat breast cancer patients.
The Acapodene bull story: The drug's pivotal study in prostate cancer patients, while demonstrating modest efficacy, did so with highly statistically significant results. No approved drug for this indication currently exists; the active ingredient, toremifene, was approved long ago and is well understood by doctors, albeit for women with breast cancer.
The Acapodene bear story: The drug's pivotal study produced minimal efficacy while demonstrating significant side effects and risk to patients, including blood clots and prolongation of the Qt interval, a measure of the heart's electrical cycle.
Bulls counter the last point by saying that there were no serious cardiac-related side effects linked to Acapodene, including torsades de pointes.
GTx bears say the FDA isn't going to approve acapodene because the agency didn't convene an advisory panel. Bulls claim the FDA didn't hold an advisory panel because toremifene is not a new drug.
GTx shares closed were up slightly to $9.50 Tuesday but the stock has lost just under 30% since late September.
The FDA decision should be announced Friday evening or Monday morning.
Big-Cap Biotech Worries Lead Sector Down
(At 7:37 AM EDT)
The biotech sector has been acting sickly for the past couple of weeks and Monday was no better. On a bad day for stocks in general the bios were even lousier, which had professional biotech investors "freaking out," according to one analyst.
"We've literally hundreds of calls/emails asking about the weakness," wrote Deutsche Bank biotech analyst Mark Schoenebaum in a Monday email to clients. The inquiries prompted Schoenebaum to hold a conference call late Monday trying to explain why everyone was having such a lousy day.
Unfortunately, no single data point or event explains why biotechs are acting so poorly, said Schoenebaum on his call. It's more a gmish -- health care reform anxiety, an addled economy that's still affecting drug sales, and big-cap earnings reports last week in which almost every company missed the top-line consensus for at least one of its major products.
More specifically, health care investors are worried about how doctors and the market will interpret upcoming separate data presentations from two big biotech stocks --
Amgen
(AMGN) - Get Free Report
and
Celgene
(CELG) - Get Free Report
. The stocks both fell 3% Monday.
Amgen will be presenting detailed data Friday from a long-term safety study of the company's anemia drug Aranesp in pre-dialysis patients. In August, Amgen reported top-line results from the so-called TREAT study showing that use of Aranesp in these patients did not cause an increase in cardiovascular-related side effects or death.
Still, concerns about the safety of Aranesp in these kidney disease patients persists, including whether the drug may be linked to cancer promotion.
At risk, says Schoenebaum, is about $600 million in Aranesp sales out of $2.7 billion in annualized sales.
For Celgene, the focus of investor concern is on a presentation in December from a pivotal study of the company's cancer drug Revlimid in multiple myeloma patients. That data from the so-called MM-015 study will be instrumental in determining how Revlimid competes against the rival drug Velcade, marketed by Takeda.
A Deutsche Bank health care trader who shared time on the call with Schoenebaum said that Monday's poor performance for biotech stocks did not signal anything new or particularly worrisome; more a continuation of a broader trend in which the sector has seen more sellers than buyers lately.
The three most crowded trades on his desk lately have been long Amgen, long
Gilead Sciences
(GILD) - Get Free Report
and short
Genzyme
( GENZ), he added.
Onyx Pharma: Strong Q3 Nexavar Sales
Onyx Pharmaceuticals
(ONXX)
alert: Nexavar third-quarter sales look strong.
As part of its third-quarter earning report Tuesday, German drug maker
Bayer
reported worldwide sales of the cancer drug Nexavar totaling $230.2 million.
The consensus sales estimate for the September quarter was about $222 million, according to Canaccord Adams analyst George Farmer.
Bayer and Onyx co-market Nexavar under a joint venture agreement.
Nexavar U.S. sales totaled $57.2 million versus consensus of $54.9 million. Ex-U.S sales were $173 million versus consensus of $167.3 million, according to Farmer.
Biomarin Makes Small Buy
Monday night,
BioMarin Pharmaceuticals
(BMRN) - Get Free Report
announced the acquisition of privately held
Huxley Pharmaceuticals
for $15 million in cash and $43.5 million in future milestones. The purchase brings to Biomarin a new drug, amifampridine, for the treatment of a rare disorder known as Lambert Eaton myasthenic syndrome.
Amifampridine has already received a positive recommendation for approval from regulators in Europe, where the drug is expected to launch next year.
Jefferies analyst Eun Yang forecasts amifampridine's European market opportunity at $80 million with sales growing to $35 million in 2013. Huxley is a virtual company so the acquisition should be dilutive to Biomarin's earnings by only a penny next year and be mildly accretive thereafter, Yang says.
One question: Biomarin is a perennial member of the "soon-to-be-acquired biotech club," but does this acquisition of Huxley, while small and relatively minor, signal that Biomarin is not about to be itself acquired, at least in the short term?
-- Reported by Adam Feuerstein in Boston
.
Adam Feuerstein writes regularly for TheStreet.com. In keeping with TSC's editorial policy, he doesn't own or short individual stocks, although he owns stock in TheStreet.com. He also doesn't invest in hedge funds or other private investment partnerships. Feuerstein appreciates your feedback;
to send him an email.