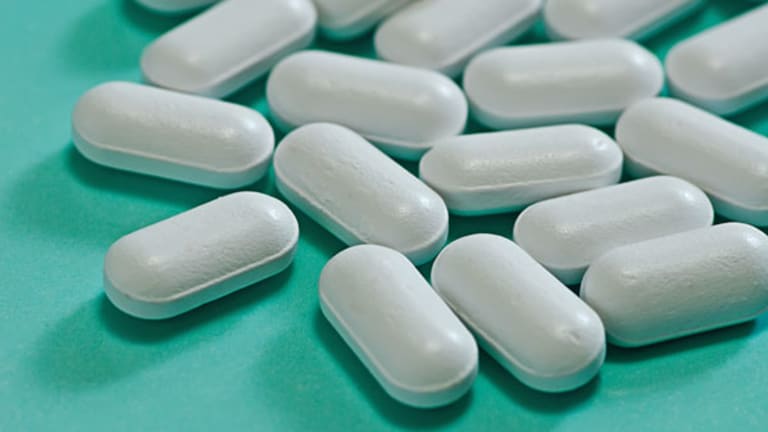 The Billion-Dollar Biotech Club: Speculation Trumped Risk
The list of biotech and drug stocks with billion-dollar market values almost doubled in 2013 -- a sign that investors loved speculation and were rewarded for it.
Here's a different way of looking back at the amazing and crazy year in biotech investing coming to a close this week -- with perhaps something meaningful for investors to think about in 2014.
The number of biotech and drug stocks reaching a market capitalization of $1 billion or more during 2013 nearly doubled from the previous year.
Twenty-five drug and biotech stocks began 2013 with a market cap under $1 billion but exceeded and maintained that valuation threshold through last Friday, according to S&P CapitalIQ. [Check out the chart below.]
Acadia Pharmaceuticals (ACAD) - Get ACADIA Pharmaceuticals Inc. Report tops this list, with a market cap that grew 729% in 2013 -- from $277 million to $2.3 billion.
By comparison, 13 companies crossed over the billion-dollar market cap hurdle in 2012.
About one-third of U.S.-listed drug and biotech companies sport market caps of $1 billion or more, so entering this semi-exclusive club is a meaningful achievement. That so many more biotech and drug companies were able to achieve $1 billion market caps illustrates the incredible amount of investment capital -- much of it from generalist investors -- which poured into the sector in 2013.
There's a downside to the rapid expansion of the "Billion-Dollar Biotech Market Cap Club" as well: It's been fueled mostly by speculative and momentum investing. More than ever before, investors are projecting future revenue and profits onto younger, development-stage biotech and drug companies with a lot yet to prove.
Acadia is a great example. Its current valuation already bakes in almost $1 billion in sales as a treatment for the psychosis related to Parkinson's disease and another $4 billion or so in sales for Alzheimer's related psychosis, according to the valuation analysis done by Zacks analyst Jason Napodano.
Yet, Acadia isn't expected to seek U.S. approval for pimavanserin to treat Parkinson's psychosis until the end of 2014, meaning an FDA approval, if it happens, won't occur until well into 2015. Mid-stage studies to expand the drug's use into Alzheimer's patients only just started to enroll patients in November.
Of course, just about anyone who thought it wise to short Acadia on valuation in 2013 was run over. That's because in 2013, biotech and investors ignored risk in favor of speculation and momentum. And it worked.
Take a look at the list. Acadia's not alone. The same argument applies to Puma Biotech (PBYI) - Get Puma Biotechnology, Inc. Report, Keryx Biopharma (KERX) - Get Keryx Biopharmaceuticals, Inc. Report, Celldex Therapeutics (CLDX) - Get Celldex Therapeutics, Inc. Report, Clovis Oncology (CLVS) - Get Clovis Oncology, Inc. Report, Alnylam Pharma (ALNY) - Get Alnylam Pharmaceuticals, Inc Report, Novavax (NVAX) - Get Novavax, Inc. Report and MannKind (MNKD) - Get MannKind Corporation Report. These stocks all performed extremely well in 2013, yet not a single one of these companies has a drug approved or generates significant revenue in any way.
Looking ahead to 2014, you have to wonder if these stocks can maintain their momentum and appreciate higher given the already high expectations for success.
I don't know the answer to that question. I know that in 2013, the answer was, "Yes, speculative and pricey biotech and drug stocks can go even higher."
I'm interested in seeing what happens in 2014.
At some point, valuation does matter. Case in point: Pharmacyclics (PCYC) , another speculative, momentum-fueled biotech stock which finally hit the wall when its cancer drug Imbruvica was approved in early December.


PCYC data by YCharts
Maybe the key to investing in speculative biotech stocks is getting out before they actually cross the finish line and get drugs approved. By then, the party is over.
That's certainly true for Amarin (AMRN) - Get Amarin Corp. Plc Report -- one of four biotech and drug stocks which started 2013 with market caps in excess of $1 billion but closed out the year with significantly lower valuation.
Amarin fell the most, from a market cap of $1.2 billion down to $314 million. The other "billion-dollar exiles" in 2013 were Infinity Pharma (INFI) - Get Infinity Pharmaceuticals, Inc. Report, Vivus (VVUS) - Get VIVUS, Inc. Report and Lexicon Pharma (LXRX) - Get Lexicon Pharmaceuticals, Inc. Report, according to S&P CapitalIQ.
Interestingly, Infinity, Vivus and Lexicon were among the 13 companies who achieved billion-dollar valuations in 2012.
Speculation and momentum only goes so far.
-- Reported by Adam Feuerstein in Boston.
Follow Adam Feuerstein on Twitter.
Adam Feuerstein writes regularly for TheStreet. In keeping with company editorial policy, he doesn't own or short individual stocks, although he owns stock in TheStreet. He also doesn't invest in hedge funds or other private investment partnerships. Feuerstein appreciates your feedback;
to send him an email.