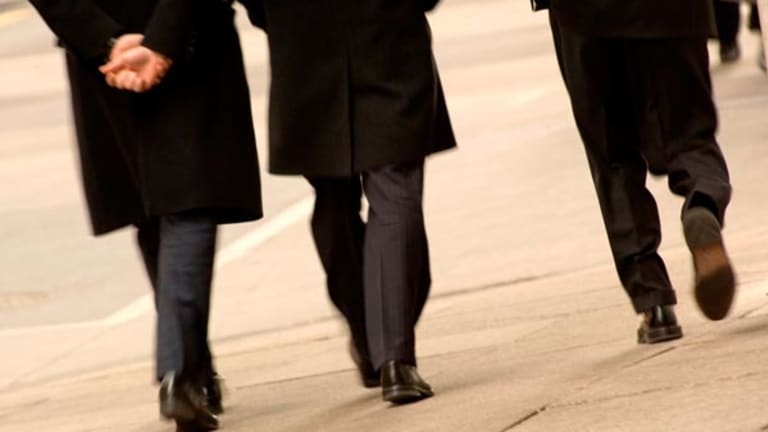 The Biggest Stock Market Stories of 2012
As European debt woes continue to linger and the U.S. economy struggles to gain solid footing, 2012 promises to be another volatile year. Here are the major events that have impact global markets so far this year.

NEW YORK (TheStreet) -- As European debt woes continue to linger and the U.S. economy struggles to gain solid footing, 2012 promises to be another volatile year. Here are the major events that have impacted global markets so far this year.
Date: January 25
Dow Jones Industrial Average:
+83.1 points, or 0.7%, at 12,759
S&P 500:
11.4 points, or 0.9%, at 1326.
Nasdaq
+31.7 points, or 1.1%, at 2818.
Top Story:
The Fed pledges low interest rates through late 2014
Market Postmortem:
Stocks surged after the Federal Open Market Committee announced its intent to keep the benchmark federal funds rate at its current low level at least through late 2014, extending an earlier pledge to keep the rate low through mid-2013.
"To support a stronger economic recovery and help ensure that inflation, over time, is at levels consistent with the dual mandate, the FOMC expects to maintain a highly accommodative stance for monetary policy," the FOMC said in a statement.
The FOMC also made no new policy steps, rebuking speculation that a third round of quantitative easing would be announced. However, Operation Twist is not scheduled to conclude until June.
Fed Chairman Bernanke said the committee does not feel the economy has yet reached a point when interest rates can inch up. "We continue to see headwinds emanating from Europe, coming from the slowing global economy," Bernanke said during a press conference. "I don't think we're ready to declare that we've entered a new, stronger phase at this point. We'll continue to look at the data."
Blockbuster earnings from
Apple
(AAPL) - Get Report
, released after the market closed on Jan. 24, also fueled market. Apple
of $13.06 billion, or $13.87 a share, on revenue of $46.33 billion for the quarter ended Dec. 31. Analysts polled by
Thomson Reuters
expected a profit of $10.15 a share on revenue of just more than $39 billion. Shares were soared 6.2% to $446.66.
"What we learned last night was that in one six-month period, Apple did to the tablet market what it took multiple years to do with the music distribution system," said Jim Cramer, RealMoney columnist and Action Alerts PLUS portfolio manager.
"It wiped out the competition and that's how it sold more than 15 million iPads this quarter."
After the market closed,
Netflix
(NFLX) - Get Report
shares gapped higher following a better than expected fourth-quarter earnings report and first-quarter revenue guidance.
The online content company reported earnings of 73 cents per share on $876 million in revenue. Wall Street analysts polled by
Thomson Reuters
expected Netflix to earn 55 cents per share on $857.89 million in revenue. The company added 610,000 total U.S. subscribers during the quarter for a total of 24.4 million subscribers. Of that 610,000 subscriber addition, 220,000 were streaming only subscribers. International subscribers grew 380,000, to a total of 1.86 million streaming subscribers.
Next>
Date: January 13
Dow Jones Industrial Average:
-49 points, or 0.4%, at 12,422
S&P 500:
-6.4 points, or 0.5%, at 1289.
Nasdaq
-14 points, or 0.5%, at 2711.
Top Story:
Standard & Poor's downgrades Europe
Market Postmortem:
Stocks finish the day in negative territory after rumors of an imminent and sweeping Eurozone ratings downgrade from Standard & Poor's dominate trading. After the market close, Standard & Poor's officially stripped France and Austria of their triple-A credit ratings, along with seven other euro area members. France and Austria were cut to double-A-plus. Portugal, Italy, Spain and Cyprus had their ratings cut by two notches, while Germany was spared from the mass downgrade.
Investors had long anticipated that downgrades of European sovereign credit were coming. Standard & Poor's put 15 of 17 eurozone countries on watch for a possible downgrade in December 2011. Economists said that a downgrade of France would indirectly affect the credibility of Europe's bailout fund, which is backed by several countries in the region.
"Some say that the downgrades are already priced into the market, but people said this as well during the U.S. downgrade and look what happened," noted Brian Gendreau, a market strategist with Cetera Financial Group. "It's different when something probable becomes reality."
Shares of
JPMorgan Chase
(JPM) - Get Report
lost 2.5% to $35.92 after the company kicked off earnings for major U.S. banks on a downbeat note. The banking giant's
net income declined 23% in the fourth quarter, as persistent weakness in trading and capital markets revenues, offset strength in loan growth. Fourth-quarter earnings came in at $3.7 billion, or 90 cents a share,
about in line with estimates. However, revenue at $22.2 billion was down 17% from a year earlier and missed expectations for $22.99 billion, according to
Thomson Reuters
.
Bank of America
(BAC) - Get Report
informed the Federal Reserve last year that it is willing to cease operations in some parts of the country if its financial problems worsen,
The Wall Street Journal
reported, citing anonymous sources. The retreat was just one option on a list of emergency scenarios America's second-largest lender by assets submitted to the Federal Reserve, the
Journal
reported. No scale back of operations is imminent, people close to Bank of America told the newspaper. Bank of America shares fell 2.7% to $6.61.
The University of Michigan reported that its consumer sentiment index rose to a reading of 74 in January from 69.9 in the prior month, topping the 71.5 forecast by economists.
Next>
Date: January 6
Dow Jones Industrial Average:
-56 points, or 0.5%, at 12,360
S&P 500:
-3 points, or 0.3%, to 1,278
Nasdaq
+4 points, or 0.2%, to 2,674
Top Story:
Government's monthly jobs report
Market Postmortem:
U.S. stocks finish the first trading week of 2012 with solid gains. However, equities fail to rally on better-than-expected data from the government's monthly jobs report as concerns around Europe's sovereign debt troubles kept investor optimism in check.
Stock futures jumped briefly after the federal government said that the unemployment rate fell to 8.5% in December, its lowest level since February 2009, from a revised 8.7% in November. Meanwhile, the country added 200,000 jobs in December, with companies creating 212,000 jobs. Both figures beat forecasts from
Thomson Reuters
calling for 150,000 total new jobs and 165,000 private sector jobs.
While the government's report showed a modest improvement from prior months, economists were quick to point out its shortcomings. Economists said weekly jobless claims need to fall further and that monthly payroll increases need to consistently come in north of the 250,000 mark to bring down the unemployment rate. As hiring picks up, those who gave up looking for jobs may start again, adding to risks that unemployment will actually rise in coming months. The consensus seemed to be that the U.S. jobs market is recovering slowly, but that monthly payrolls warrant further scrutiny going forward.
European stocks finished mixed. Putting a damper on sentiment was data from the European Commission in Brussels that showed consumer confidence in the eurozone falling to its lowest level in more than two years.
In corporate news,
Alcoa
(AA) - Get Report
said its global smelting capacity would be reduced by 12% after closing an aluminum smelter in Tennessee and some operations at a Texas facility. Alcoa said it would record fourth-quarter restructuring charges of $155 million to $165 million. Alcoa shares fell 2.1% to $9.16.
Ford
(F) - Get Report
announced plans to open a new research lab in Silicon Valley early this year. The lab, which the company said will aid Ford's "expansion beyond the traditional automaker mindset to drive innovation for a better mobility experience," will be the company's first dedicated research and development office on the West Coast. The Dearborn, Michigan-based company didn't say how many people it plans to hire, but hinted that it would be a smaller operation. The shares rose 1% to $11.71.
Next>
Date: January 3
Dow Jones Industrial Average:
+179 points, or 1.5%, at 12,397
S&P 500:
+19 points, or 1.6%, to 1,277
Nasdaq
+44 points, or 1.7%, to 2,649
Top Story:
First day of trading
Market Postmortem:
Stocks held on to strong New Year's gains, with a triple-digit advance by the
Dow Jones Industrial Average
, as encouraging economic reports on U.S. manufacturing and construction spending boosted optimism the economy would continue to recover into 2012.
The Dow closed out 2011 with a solid 5.6% gain while the S&P 500 closed the year essentially flat and the Nasdaq dropped by 1.7%.
Promising signs for the health of the U.S. economy gave markets an early jump start to 2012. The Institute for Supply Management reported that its manufacturing index rose to 53.9 in December from 52.7 in November. Economists polled by
Thomson Reuters
expected the index to come in at 53.2. Readings of more than 50 indicate economic expansion.
Construction spending figures for November also topped estimates, although the prior month's data was downwardly revised. The Census Bureau reported a 1.2% rise in construction spending for November, after a revised 0.2% drop in October. Economists expected a 0.5% rise after an originally reported gain of 0.8% in October.
Stocks held steady after the Federal Reserve revealed it will begin publishing forecasts of its own action later this month in an effort to increase transparency and better shape the expectations of investors, according to the minutes of the Federal Open Market Committee's most recent meeting released Tuesday.
"The biggest question for 2012 is 'will the US economy continue to grow slow, but steady?'" said Marc Pado, market strategist with Cantor Fitzgerald. "Shorter term, we're looking forward to an earnings-driven rally in January, but then would take a defensive position, as Congress debates a budget proposal and the European Union turmoil heightens," added Pado.
In corporate news,
Chesapeake Energy
(CHK) - Get Report
and
EnerVest
will receive $2.3 billion from France's
Total
(TOT) - Get Report
for a 25% stake in a joint venture for oil drilling in the Utica Shale area of Ohio. Under the deal, Total will pay Chesapeake $610 million up front for 619,000 acres in 10 counties in Ohio; EnerVest is receiving $290 million. Chesapeake will get a further $1.42 billion in exchange for drilling through 2014. Chesapeake shares advanced 5.9% to $23.60 and Total shares increased 2.7% to $52.47.
BP
(BP) - Get Report
calls on
Halliburton
(HAL) - Get Report
to pay all costs related to the clean-up of the Gulf of Mexico oil spill in April 2010. BP, the U.K. oil giant, previously put the costs at around $42 billion, according to
Reuters
. Halliburton cemented the failed well that caused the biggest offshore oil spill in the U.S. The explosion of the well also killed 11 people. BP, in a court filing, said it was suing to recover costs and expenses from cleaning up the oil spill, lost profit, and "all other costs and damages incurred by BP related to the Deepwater Horizon incident and resulting oil spill,"
Reuters
reported. BP gained 3.3% to $44.14, while Halliburton shares declined 1% to $34.15.
Sears
(SHLD)
, which said last week it was closing up to 120 of its stores after a dismal holiday selling season, named a
new chief merchandising officer
on Tuesday. The struggling department-store retailer tapped Ron Boire as executive vice president, chief merchandising officer and president of its Sears and Kmart formats. Boire was previously president and CEO of Brookstone. The stock slipped 1.1% to $31.43.
February oil futures settled up $4.13 to $102.96 a barrel
against the U.S. in retaliation for new economic sanctions targeting the oil sector of the world's second largest producer of the fuel. In other commodities, February gold futures gained $33.70 to $1,600.50 an ounce.