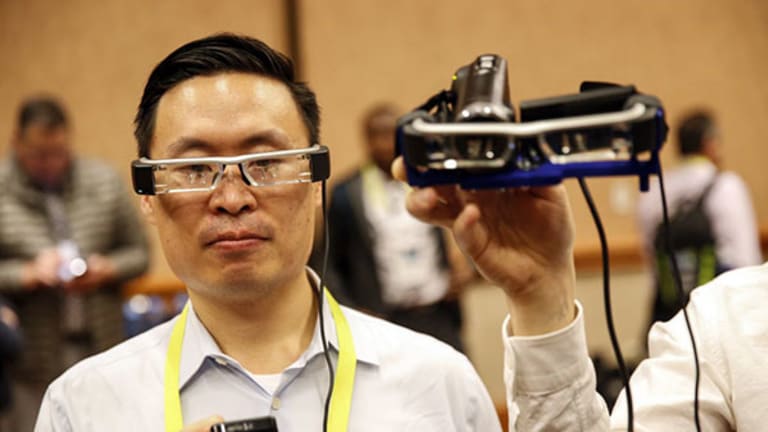 Publish date:
The Best Way to Profit From the Smart Glasses Revolution
There's a company poised to dominate the smart glasses industry, and it's not Snap. Here's where investors should be looking for these future-tech profits.
There's a company poised to dominate the smart glasses industry, and it's not Snap. Here's where investors should be looking for these future-tech profits.
The news headlines have finally quieted down about the overhyped IPO of Snap (SNAP) - Get Snap, Inc. Class A Report , the parent company of self-destructing-photo app Snapchat. And for good reason. Snap's flagship social media product is ephemeral, is bleeding regular users and has yet to turn a profit.
However, behind the noise surround sexy Snapchat is a more interesting story: Snap is also the maker of "smart glasses." Called Spectacles, they're kind of like stripped-down versions of Alphabet's (GOOGL) - Get Alphabet Inc. Class A Report on-again-off-again Google Glass product.
Although Snap's Spectacles may only be good at one thing -- taking videos -- they're part of a larger industry of smart glasses and augmented reality (AR) devices that are taking the world by storm.
According to a new report from Juniper Research, by 2021, one out of every 10 wearable devices will be smart glasses. Revenues from these products are forecast to increase from $327 million this year to $9 billion in 2021.
But the smart glasses revolution isn't going to just be about trendy camera specs. Instead, there are practical enterprise applications for these devices, a space in which one company in particular stands out.
Although when you think of "AR" glasses you might form a picture of video game players, in "real" reality some of the biggest demand for this technology is in everyday business use. Imagine attending a virtual business meeting, with the ability to project data onto your lens. Or calculating inventory in a warehouse setting. Or even the myriad of uses for this technology in the medical space.
All told, the number of workers in the U.S. who use smart glasses is expected to grow from 400,000 in 2017 to more than 14 million by 2025. And companies are forecast to spend more than $30 billion on smart glass hardware during the same timeframe.
Vuzix (VUZI) - Get Vuzix Corporation Report is one of the pioneers of smart glasses, releasing the first commercially available model, the M100, in 2014. But as is often the case with innovative tech companies, VUZI isn't a stock for weak-kneed investors: shares have been on a roller-coaster ride, year to date down by nearly 10%.
However, the company is optimistic that 2017 will be the year that the smart glass boom really kicks into gear. Vuzix said it expects to expand production and has started to shift its manufacturing line to Asia to better accommodate demand. The company will make its M300 smart glasses commercially available in Japan, which represents a large market for wearable devices.
Vuzix also recently inked a $1.1 million development agreement with Toshiba (TOSBF) to build a line of customized smart glasses for the Japanese company's Toshiba Client Solutions business. That's on top of a previous deal with mobility infrastructure giant VMware to incorporate Vuzix's hardware into VMware's productivity software.
The global market for smart glasses is huge and growing, and Vuzix has its finger on the pulse. Although shares of this company can be volatile, investors who can handle the up-and-down movement should get in now and expect to hold on for the long term.
Pocket $67,548 EXTRA With This One Simple Investment Change.
Warren Buffett reaped $4.9 billion by making this one small change to his investment strategy. It's the closest you'll ever get to NEVER losing money while investing. I made $185 every day over 1,586 days doing this. Is it time for a change that will lead to more money in your pocket? Get the full details here.
The author is an independent contributor who at the time of publication owned none of the stocks mentioned.
Action Alerts PLUS, which Cramer manages as a charitable trust, is long GOOGL.