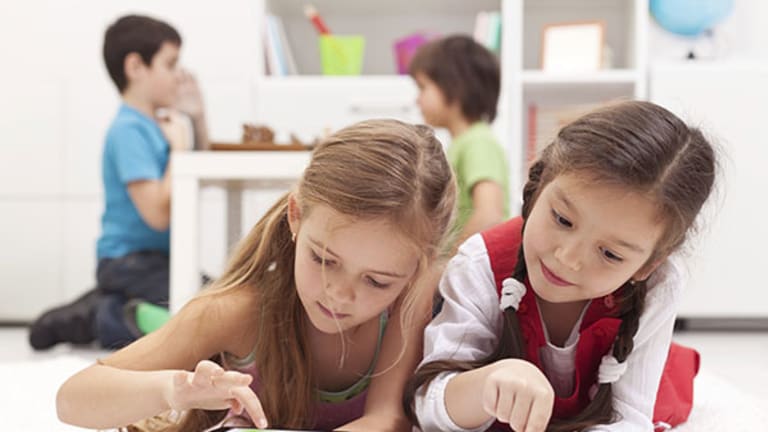 The Best Tablets for Kids
New app and game opportunities for learning and entertainment are available, and the best way for kids to utilize them is with a tablet.
In today's connected world, keeping your kids ahead of the curve is an essential part of their growth. New app and game opportunities for learning and entertainment are available, and the best way for kids to utilize them is with a tablet. The right tablet will depend on the age of the user, the way it will be used, and of course, budget.
To help narrow down the choices, we put together a list of the popular tablets on the market that are sure to meet the needs of any kid.
Amazon Fire HD Kids Edition (7 inch)
The 7-inch Amazon Fire Kids Edition is a kid-friendly tablet that comes in a pink or blue kid-proof case. It provides great storage space for all of your files, with 8 GB of internal storage, expandable up to 128 GB with a microSD card.
The Fire Kids Edition also has a 2 MP rear-facing HD camera for taking high-resolution photos, as well as 720p video. There is also a front-facing camera that's perfect for Skype calls and photos.
The Kids Fire 7 inch tablet even has a kid-proof case that is comfortable for smaller hands to hold. And it's backed by a 2-year warranty.
Buy the Amazon Fire HD Kids Edition (7 inch) for $99.99 on Amazon.
nabi DreamTab HD8
The nabi DreamTab HD8 is an easy-to-use Android tablet for kids with an 8-inch screen. This tablet includes 16 GB of flash memory, 2 GB of on board storage space and Wi-Fi capabilities.
The DreamTab ships with Dream Pro Studio, a suite of creative tools that teach children how to draw, animate, write their own books and even edit movies. There is also a "Dream Pen" stylus that writes just like a pen. Another great feature is time controls that enable parents to set limits for daily tablet use, such as individual apps, games and videos.
This nabi DreamTab tablet is durable, easy to take use, and its bright colors make it easy to find in a pile of toys.
Buy the nabi DreamTab HD8 for $103.04 on Amazon.
LeapFrog LeapPad 3
The LeapPad 3 is a great starter tablet for kids in the 3 to 9 age range. The 7-inch, Wi-Fi tablet can easily be synched with a library of more than one thousand educator-approved games, apps, eBooks, videos and more (sold separately).
Moreover, LeapSearch powered by Zui, makes it easy to explore kid-friendly web content that is 100 percent pre-screened, and pre-approved by learning experts. The LeapPad 3 is powered by a rechargeable battery lithium ion, and ships with 4 GB of storage. It also includes 10 apps, parental controls, two cameras, and a video recorder.
LeapFrog was created with kids in mind and what parents would want for their children. This is will surely be a crowd-pleaser.
Buy the LeapFrog LeapPad 3 for $76.99 on Amazon.
LeapPad Ultra XDi
The LeapPad Ultra XDi is another good choice for children in the 3 to 9 age range. This 7-inch LeapPad model features a high res screen, Wi-Fi and access to LeapFrog's educator-approved library of apps and games.
The LeapPad Ultra has 11 fun and educational apps, 8GB of storage, and a built-in rechargeable battery. Kids can take pictures and videos with front and rear cameras. And kids can listen to music or podcasts with the built-in MP3 player.
This is a good starter tablet for kids who enjoy watching movies and playing games on the small screen.
Buy the LeapPad Ultra XDi for $83.99 on Amazon.
KD Kurio Xtreme
The KD Kurio Xtreme bills itself as the "safest, most fun Android tablet built for kids." It comes with a 7-inch screen, silicon protective bumpers to help absorb the inevitable drops, and even an easy-to-use plastic stand. Plus, it ships with 16GB of on board storage.
The device features the "Kurio Genius" internet filtering system, which helps facilitate secure and browser-independent security so that your kids can safely access the web and apps without encountering inappropriate content.
This Kurio tablet features the intuitive Android operating system, front and rear facing cameras. And for the kid who loves playing lots of games, it comes pre-loaded with 90.
Buy the KD Kurio Xtreme for $157.29 on Amazon.
VTech Innotab 3 Plus
The InnoTab 3 Plus is another good tablet for kids under 10-years-old. This tablet works best in landscape mode and is available in pink and blue models.
The device ships with 4 GB of onboard storage that can be expanded to 32 GB with a micro SD card. It also features an onscreen keyboard and a stylus. Plus, there are front and rear facing cameras, an e-book reader, and an MP3 player. It also ships with 12 apps.
The Innotab's intuitive design makes it easy for kids to navigate and since it doesn't come with WiFi, it's a good option for parents who don't want youngsters accidentally surfing the web. This is the lowest priced tablet on the list.
Buy the VTech Innotab 3 Plus for $53.25 on Amazon.
VTech Innotab 3S Plus
The Innotab 3S Plus offers all of the same features as the base model. But the Plus model ships with 16 apps, 480 x 272 screen resolution, and has Wi-Fi built-in.
The Plus model makes it fun for kids to access the internet, and to send text and voice messages, photos, drawings and fun stickers between other InnoTab 3S tablets and smartphones.
The Innotab 3S Plus includes a user-friendly touch screen and features such as "art studio" that will keep kids occupied for hours.
Buy the VTech Innotab 3S Plus for $71 on Amazon.
VTech Innotab Max
The InnoTab MAX is similar to its siblings, but also includes an upgraded 7-inch multi-touch screen with 1024 x 600 resolution. It also upgrades the processor from the standard 360 MHz to a much faster 1.4 GHz dual core.
Another enhanced feature in the Max is its higher resolution 1024 x 600 video recorder - perfect for a budding filmmaker. What's more, it comes with 8 GB of onboard memory.
The InnoTab MAX makes it easy for little hands to carry around. Plus, it has flip and fold stand feature so that it can be used comfortably on a table.
Buy the VTech Innotab Max for $79.99 on Amazon.
Samsung Galaxy Tab 4
The Samsung Galaxy Tab is a "grown-up" Android tablet that could be a great choice for teenagers, too. It ships with a 1.2 GHz quad-core processor 8 GB of Flash Memory, and 1.5 GB of RAM that can be expanded to 32 GB with and SD card. It also has a 3-megapixel rear camera and a 1.3-megapixel front camera.
The Galaxy Tab includes a feature that enables parents to create a separate profile for their kids and switch the device into "Kids Mode," a child-friendly interface that is fun and easy to control. Parents can track the time their kids spend and even set preferences to manage which features their children can access.
The Samsung Galaxy Tab is lightweight and easy-to-use. It's feature set and access to the Google Play store makes it a good gift option for a teenager. This price rivals the Apple iPad Mini 2.
Buy the Samsung Galaxy Tab 4 for $137.99 on Amazon.
Apple iPad Mini 2
The Apple iPad Mini 2 with Retina Display ships with 16 GB of flash memory, 1 GB of RAM, and Wi-Fi connectivity. The high res display boasts a 2048 x 1536 native resolution.
The Apple iOS features baked-in parental controls that enable user profiles to be restricted. For instance, apps and features, such as Safari, in-App purchases and the cameras, can be restricted. At the same time, users potentially have access to more than 1.5 million apps, including some of the best educational tools and games available.
The most recognizable tablet is The iPad Mini 2, a beautifully designed device that will surely make anyone excited to use it. The price is much steeper compared to its competitor, the Samsung Tablet, but is a good choice for an older kid who is comfortable with Apple's user-friendly operating systems.
Buy the Apple iPad Mini 2 for $226.99 on Amazon.
By Greg Sandler
Disclosure: TheStreet has advertisers and partnerships; we may get a share of the revenue from your purchase.