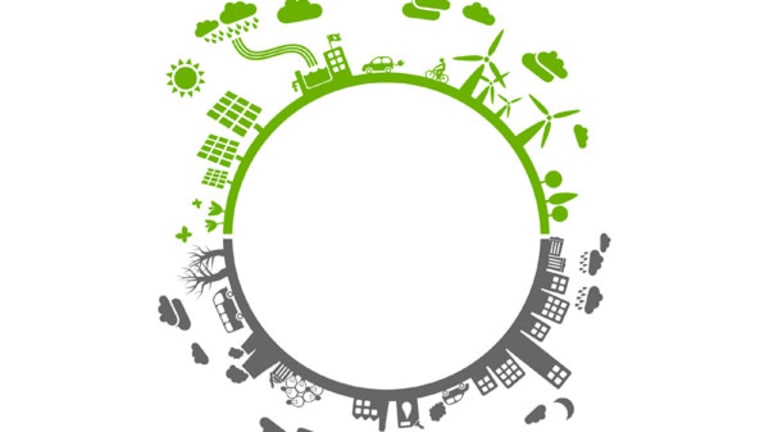 The Best Reason to Sell Chesapeake Shares
Chesapeake Energy sends a mixed message about its shale success, and that could be a big issue for the company.
NEW YORK (
) -- There are plenty of reasons an investor could use to make the case to sell shares of
Chesapeake Energy
(CHK) - Get Chesapeake Energy Corporation Report
, but right now the best argument may be that the all-important liquids production growth story is showing signs of vulnerability.
Chesapeake's balance sheet issues are well known and already account for the big discount its shares trade at relative to peers and relative to its assets. The range of Wall Street ratings on the company already clearly defines the glass half-full or half-empty argument.
Analyst David Heikkinen of Tudor Pickering has a $51 price target on Chesapeake shares, which more or less implies that the company deserves full value today for its collection of assets, regardless of its balance sheet concerns.
Is the Chesapeake Energy liquids growth story less than it's talked up to be?
Joseph Allman of JPMorgan has a $14.50 price target on Chesapeake, and argues that the company's funding gap may be
difficult for Chesapeake to bridge with its cash flow diminishing amid low natural gas prices and with any difficulty in monetizing assets the company has talked up.
Yet when Chesapeake Energy declined after its earnings report this week, it was not as if any of these
Chesapeake battlegrounds were new, and there was not incremental information regarding these issues. Chesapeake recently announced a plan to monetize as much as $10 billion to $12 billion in assets as a way to put to rest the concerns about its funding gap.
Given so much of the Chesapeake story already being
known and debated ad nauseum, there are two reasons that shares declined after its earnings report. First, the stock had rallied sharply this year, and is still up close to 10%. Profit-taking in shares of a company with an uncertain future makes sense when the opportunity arises. Chesapeake Energy has been better as a trade than as a long-term holding in recent history.
It may not only be profit-taking, though, that motivated some investors to sell Chesapeake shares this week. The company is guiding to higher and higher liquids production as a way to prove that while it's still roughly 80% natural gas production today, that's going to change to a significant degree in the next three years -- 50% production growth targeted and the majority liquids-based. However, the latest commentary on its liquids portfolio was either incomplete or incrementally negative.
In the least, the mixed commentary on Chesapeake's shale play results suggests caution for what at the end of the day is the most important production driver for this company. Even Chesapeake Energy bears have always said it has a great collection of assets. However, some of the assets don't look quite as great as Chesapeake once said they would look based on its latest report.
When Chesapeake announced its $10 billion to $12 billion monetization plan, curiously absent from assets it would seek to monetize was its acreage in the North Dakota shale play. The company had not too long ago talked about the North Dakota region as a potential joint venture opportunity.
There have been reports in the industry that Chesapeake has given up on the two wells that it had been working on in the Williston, and on the conference call this week with analysts Chesapeake Energy sent a mixed message about the same North Dakota it had not long ago only been praising.
"We drilled a couple of wells up there and we're not crazy about what we found to date, so kind of recalibrating there ... And I suspect the western part of our acreage, which is kind of abuts where Whiting is operating, will probably work out fine. We drilled our initial wells more towards the south than the east. So disappointed to date in what we've seen in the Bakken, but have a huge acreage position there. We didn't spend a whole lot of money on it, so not too worried about that," Chesapeake CEO Aubrey McClendon said.
In the Niobrara shale, Chesapeake provided a similar note of disappointment amid optimism. "On the DJ Basin, like with other companies, our results have been spotty. And today, I don't think we're drilling anything in the DJ Basin in the Niobrara. On the other hand, our Powder River Basin play is working quite well ... So we have some delineation to do. But as we bring in extra rigs, we can start focusing part of those in sweet spot also," company executives said.
McClendon tried to stress the positive in the end, adding, "It's not just the Niobrara. We're investigating lots of different other formations as other operators are as well. So I think for the DJ, I wouldn't say all is lost as you're outside of Greater Wattenberg, but there's going to be some other ideas. But we have certainly shifted our focus on the Niobrara play to the Powder River Basin."
It's worth noting that Chesapeake management had to be specifically asked about the Bakken and the Niobrara to provide the commentary.
"Not mentioning Bakken and Niobrara unless asked is part of the issue. Management promotes. You don't promote what isn't doing well, you try and keep it out of the conversation," said Argus Research analyst Phil Weiss, who rates the shares a sell.
"It's not just the play, it's where you are in the play. CHK may have chased a bit in a couple of these locations, which could lead to lackluster results," Weiss said.
If the Niobrara is a failure, it would be China's
Cnooc
, which joint ventured with Chesapeake at a high acreage price, that would be the big loser. In the Bakken, Chesapeake is now talking about moving its focus to areas closer to where
Whiting Petroleum
(WLL) - Get Whiting Petroleum Corporation Report
has had success, but this also suggests that Chesapeake is chasing rather than leading.
Ultimately, this mixed commentary about some of Chesapeake's acreage buys in the shale puts even more pressure on its Utica acreage, as well as Mississippi Lime and Permian.
Chesapeake's most important shale play may be the Utica, where the hope is for prolific production. And while the company commentary on the Utica was not negative it was lacking in the details that would have given investors more immediate confidence.
Sterne Agee analyst Tim Rezvan, who rates Chesapeake shares a buy, said that beyond profit-taking in a name that has rallied to start 2012, the Utica data was less than some investors may have hoped to see with this earnings. "They didn't talk about it much," Rezvan noted.
The analyst stressed that this doesn't mean the Utica play is less attractive, but given the negative commentary on other shale plays, more positive commentary on the Utica would have helped. "If they had great data to report, maybe people thought we would have gotten it," Rezvan conjectured.
"They didn't say much about Utica on the call, other than to point out that they had six rigs in the wet gas portion and one each in the dry gas and oil windows, and are likely to double that. Said they didn't have enough data yet to quantify the oil window, that could be perceived negatively though," Weiss added.
Further, the mixed shale message comes amid Chesapeake's plans to monetize the Permian Basin and Mississippian Lime, and creates a question about how much it is going to give up to meet its cash needs today, and whether that will ultimately impact its ability to meet production growth guidance.
In fact, the first question from an analyst on this week's call with Chesapeake management was from Douglas George Blyth Leggate of BofA Merrill Lynch, and it was specifically this: "Assuming that you do execute some of the transactions you're talking about, particularly the potential exit to the Permian, how would you see that longer-term trajectory in terms of liquids targets move around? Is it material or will it essentially remain unchanged?"
Chesapeake CEO McClendon said the target remains unchanged, and Chesapeake also noted that the Permian -- where it may sell all of its unconventional assets, is only 5% of production today.
"So I think there's plenty of headroom, and we've modeled that we can still get to our 250,000 barrel number by just reallocating capital away from the Permian to other plays. We have -- actually the benefit of our business strategy is that we have leading positions not just in 1 or 2 plays but in 11, and we can spend additional money in the Anadarko Basin or the Eagle Ford or in the Utica Shale," he said.
The broader Chesapeake commentary, though, suggested headwinds amid its perceived production headroom.
Weiss pointed to a logical disconnect in downplaying the Permian based on the fact that it's a small part of production today: "I'm not sure why that means anything when we're talking about the future."
Indeed, it's the future production growth from Chesapeake that ultimately proves that the great collection of assets it has amassed makes the stock worth much more than its current valuation, but that production growth future wasn't quite as clear from Chesapeake management commentary as it could have been.
-- Written by Eric Rosenbaum from New York.
RELATED STORIES:
>>How Low Can Chesapeake Energy Go? Try Under $15
>>7 Reasons to Be Cautious on Chesapeake Energy's Bold Plan
>>5 Chesapeake Energy Catalysts in 2012
>To contact the writer of this article, click here:
Eric Rosenbaum
.
>To follow the writer on Twitter, go to
.
Follow
TheStreet
on
and become a fan on