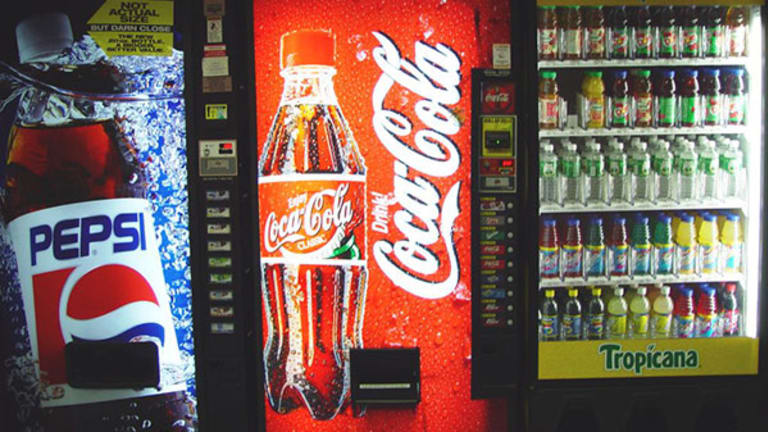 The Best-Performing Consumer Stocks in January
Avon, Revlon, Iconix and Coca-Cola European Partners were the top players in January.
Avon, Revlon, Iconix and Coca-Cola European Partners were the top players in January.
North American consumer nondurable stocks rose 2.02% in January, according to FactSet data, but there were some star performers in the industry.
Among food and beverage companies, Coca-Cola European Partners (CCE) was the best-performing stock. Shares of the Coca-Cola (KO) - Get Report bottler rose 9.97% in the first month of the year. CCE was formed in a merger, announced August 2015, combining three bottlers in the United States, Spain and Germany.
According to a Jan. 18 note from Wells Fargo Securities analyst Bonnie Herzog, more bottler consolidation may be on the way. She wrote that CCE described incoming Coca-Cola COO James Quincey, who will succeed Muhtar Kent as CEO in May, as " 'a key architect' of the CCEP merger, which was just 'Phase 1' of a longer-term bottler consolidation plan."
While Coke's bottler thrived, the drink stocks themselves struggled in January. The best performer was Dr Pepper Snapple Group (DPS) , up a measly 0.58%. On Tuesday, Dr Pepper Snapple closed its $1.7 billion acquisition of Bai Brands. The best-performing food company's products aren't intended for humans: shares of Freshpet (FRPT) - Get Report rose 9.85% in January.
Alcoholic beverages also disappointed in January; only Brown-Forman (BF.B) shares rose during the quarter, up 1.5%, while rest in subsector declined. Tobacco outperformed alcohol among so-called sin stocks. Turning Point Brands (TPB) - Get Report , up 8.41% in January, specializes in noncigarette products, including chewing tobacco and e-cigarettes. A long-awaited $49 billion merger agreement with British American Tobacco (BTI) - Get Report sent shares of Reynolds American (RAI) up 7.3% in January.
The household and personal care subsector had three double-digit risers in January, with Avon Products (AVP) - Get Report up 16.47%, Revlon REV up 14.75% and Energizer Holdings (ENR) - Get Report up 13.14%. Multilevel makeup marketer Avon is close to its first anniversary with private equity firm Cerberus Capital Management, which on March 1 closed its deal to an 80% stake in its North American operations and injected cash of $435 million. Revlon, another makeup concern, is focusing on its core brands after buying the venerable but unprofitable Elizabeth Arden for $419 million last summer. Battery maker Energizer reported first-quarter earnings on Wednesday of $1.52 per share, above the consensus estimate of $1.23 per share.
While retailers grappled with a lackluster holiday season, apparel company Iconix Brand Group (ICON) - Get Report netted a 10.17% stock increase in January. The apparel licensing company's shift to "active brand management ... vs. prior debt-fueled, M&A driven, passive style," in the words of Cowen analyst John Kernan, is bearing fruit. Iconix reportedly is looking to sell its majority stake in Peanuts Worldwide and unloaded its Sharper Image brand for $100 million on Dec. 30.