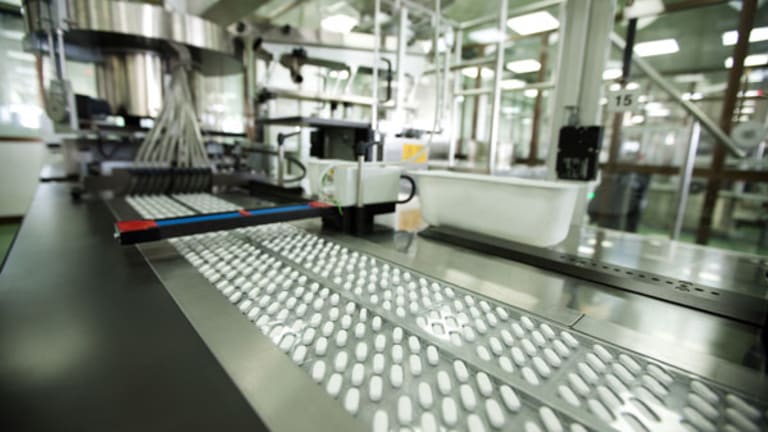 Publish date:
The ASCO Weekend Live Blog Recap
Highlights from Adam Feuerstein's live coverage of the ASCO annual meeting Saturday and Sunday.
Highlights from Adam Feuerstein's live coverage of the ASCO annual meeting Saturday and Sunday.
CHICAGO (
) --The
American Society of Clinical Oncology
(ASCO) annual meeting -- the Super Bowl of cancer drug research -- is in full swing. For those that missed all the action captured on my two ASCO live blogs
and
, here's a recap of the news that will be moving biotech and drug stocks Monday:
On Celldex Therapeutics (CLDX) - Get Report:
I just met with Celldex. Data from the Act III study of CDX-110 is consistent with previous studies in Gioblastoma (brain tumors.) The big question -- what's next for CDX-110? A randomized controlled pivotal study needs to be designed and run. Celldex and Pfizer (Celldex's CDX-110 partner) are working on making that happen but Celldex could not give me any firm timeline. The ultimate decision seems to rest with Pfizer.
Celldex does have an interesting and overlooked pipeline. Two cancer drugs entering phase 2 studies this year -- and the studies are going to be randomized and controlled! Hallelujah!!!
I want to dig more into the pipeline but what I saw briefly looks interesting. Celldex is more than CDX-110, which is good. And yes, Celldex CEO Tony Marucci seems like a straight shooter. He'd love to start the CDX-110 phase III study today but he has to work through Pfizer. Investors need to be realistic with timelines.
Celldex is down 30 percent since the ASCO abstracts were released in late May. Is this a buy opportunity? Perhaps with realistic expectations of timelines. I really like the fact that Celldex plans randomized, controlled phase II studies of the pipeline drugs. Data from those studies will not be ready until end of next year, however.
On ImmunoCellular Therapeutics (IMUC.OB) and its ICT-107 "vaccine" for glioblastoma (GBM):
To recap the company's release, treatment with ICT-107 in newly diagnosed GBM, this phase I study showed a 2-year survival of 80%. Median overall survival (OS) not yet reached. Median progression-free survival (PFS) was reported as 17.7 months after surgery.
Interesting data, but it's a single-center study so be wary of patient selection bias. An immune response to the ICT-107 vaccine was only detected in 35 percent of patients, which seems low to me. The investigator at the poster agreed but said that immune response may have been measured at too early a time point.
Some, not all, of the patients in the study were also allowed subsequent treatments with other drugs (like temozolomide or Avastin) which is obviously having a beneficial impact on PFS and OS.
The study is not controlled, so the comparisons ImmunoCellular makes to other therapies for GBM aren't really valid, especially since the number of patients in this study is quite small. The investigator told me that plans are underway for a larger, multi-center phase II study.
On Dendreon (DNDN) :
I met with Dendreon's Hans Bishop, this afternoon. Bishop is the guy in charge of the Provenge commercial launch.
One month into Dendreon's Provenge launch and everything is going as planned, said Bishop. The logistics of Provenge treatment -- apheresis, vaccine manufacturing, shipping, infusion -- are working as expected, he said.
Details? Not much. Bishop won't disclose the number of patients treated with Provenge to date. The company previously said it plans to distribute Provenge thru 50 doctors/clinical sites initially. The company will not disclose how many of those 50 sites are currently on line and prescribing Provenge.
I've heard anecdotal reports here at ASCO that prostate cancer docs are maintaining waiting lists for patients who want Provenge. (This implies strong demand for the drug.)
Bishop said Dendreon has heard the same but the company made a decision not to get involved in any Provenge patient waiting list. The company is letting doctors decide who gets Provenge first (and who doesn't) while Provenge is supply constrained.
Recall, the Provenge manufacturing plant in New Jersey is only operating at approximately 25 percent capacity. As a result, Dendreon has stated that it will only be able to supply Provenge to about 2,000 patients during the first 12 months of the drug's launch.
The New Jersey manufacturing plant is being expanded and two other plants are under construction with full manufacturing capacity for Provenge coming on line in mid-2011.
On Bristol-Myers Squibb (BMY) - Get Report:
The biggest buzz at ASCO this year was
Bristol-Myers Squibb and its melanoma drug ipilimumab
.
On Celgene (CELG) - Get Report:
I made it to the Celgene investor meeting Sunday night, walked out impressed. To reiterate what I said earlier, Celgene had a very good ASCO meeting.
The message is essentially this: Treat multiple myeloma patients with Revlimid continuously. The Celgene data on Revlimid maintenance in multiple myeloma were very strong. There was a significant benefit for Revlimid in progression-free survival, overall survival data not yet mature enough.
Street expectations are high for Revlimid but if the strength of these multiple myeloma maintenance data continue, Revlimid sales estimates are going higher.
Celgene showed some very compelling, early data using Revlimid plus Rituxan in patients with follicular lymphoma. One of these days, the Revlimid/Rituxan regimen could become the next standard of care for lymphoma patients, replacing Rituxan-CHOP.
On Oxigene (OXGN) :
This is a phase II study of Oxigene's experimental drug CA4P + Avastin + chemo (the CA4P arm) compared to Avastin + chemo (standard care arm) in patients with treatment naive non-small cell lung cancer.
Interim efficacy data was available on 30 patients, 15 in each arm.
Median progression-free survival (PFS) was 6.9 months in the CA4P arm compared to 6.2 months in the standard care arm. The hazard ratio was reported as 0.70, which means 30% reduction in the odds of tumor progression. This result was not statistically significant.
My take: Interesting data but not statisically significant, with small patient numbers. The PFS difference, numerically, is really quite small. What happens when larger numbers of patients are enrolled?
Tumor response was 60 percent in the CA4P arm compared to 40 percent in the standard therapy arm. All were partial responses. There was a lot more stable disease in the standard therapy arm compared to the CA4P arm, more than double. It would have been better for CA4P if that stable disease outcome were reversed.
Median overall survival was not reached but there is a trend in favor of CA4P. Again, this trend is not statistically significant. I wouldn't expect it to be because of the small patient numbers.
Overall impression: Meh. We definitely need to see more here. These data are early.
On YM BioSciences ( YMI):
I checked out the YM BioSciences poster on nimotuzumab late yesterday. I have to say, the data -- four-year survival follow up from a phase IIb study of head-neck cancer patients -- looks pretty good.
Four-year survival for the Nimo + chemo arm is 65 percent, it's 43 percent for Nimo+radiation compared to 35 percent for chemo alone, and 26 percent for radiation alone. The study is small, it's done by one of YM's partners in India, so all the usual caveats, risks and warnings apply. Still, data like this makes you wonder if nimo is a real drug and deserves a spot among the other EGFR inhibitors like Eli Lilly's Erbitux.
I haven't followed YM BioSciences or the nimo story in a couple of years, partly because the company never seemed capable of getting its act together. I've made a note to re-visit YM BioSciences over the summer.
On Provectus Pharmaceuticals (PVCT.OB) and its Rose Bengal injection PV-10 for melanoma:
When PV-10 is injected directly into a melanoma lesion, the lesion seems to shrink. The poster Sunday reports a 60 percent response rate in the target lesion. Moreover, there seems to be some evidence that "bystander" lesions are also reduced.
What's not clear from the poster and the data presented is whether all bystander lesions respond following treatment with PV-10. It's also not clear whether PV-10 is having a meaningful effect on distant metastatic disease or on the overall disease burden of the patient.
It's one thing to clear up a melanoma lesion or two with a direct injection of PV-10, but a lot of melanoma patients have cancer that has spread to other parts of the body, including internal organs, lymph nodes, etc.The data presented Sunday doesn't tell us much about PV-10's activity against melanoma, overall. Provectus plans further studies, so hopefully these will answer the questions.
You can read more about the weekend's action at the ASCO annual meeting at my
and my
.
-- Reported by Adam Feuerstein in Boston.
Follow Adam Feuerstein on
.
Adam Feuerstein writes regularly for TheStreet.com. In keeping with TSC's editorial policy, he doesn't own or short individual stocks, although he owns stock in TheStreet.com. He also doesn't invest in hedge funds or other private investment partnerships. Feuerstein appreciates your feedback;
to send him an email.