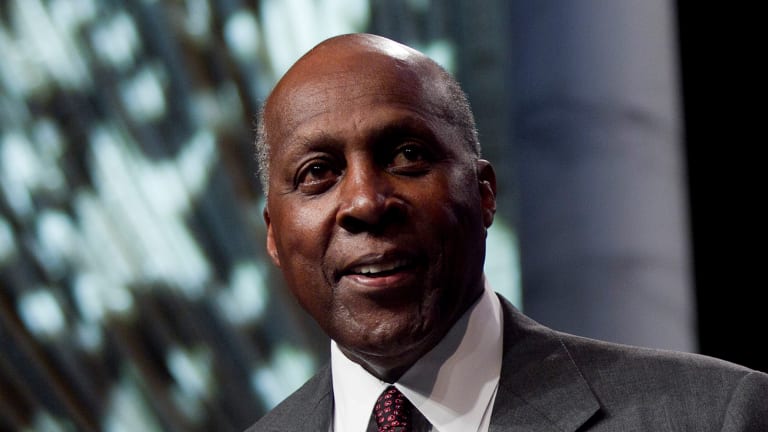 The Age of Vernon Jordan Is Over -- Serving on a Board Is a Full-Time Job Now
Gone are the days when directors routinely juggled four or five boards at the same time; the job now carries big-time responsibilities — and pay.
NEW YORK (TheStreet) -- Corporate board members are facing increasing pressure to serve on fewer boards and devote more time to their growing list of responsibilities. For their troubles, though, they're also getting well-compensated.
Directors of companies in the S&P 500 now sit on an average of a little more than two public company boards (2.1 to be exact), according to an executive database maintained by research firm BoardEx, which is owned by TheStreet, publisher of this website.
That's a major change from previous eras in corporate governance, such as the 1990s when serving on four or five boards -- or even more -- was extremely common.
"The age of Vernon Jordan is now long gone," said Peter R. Gleason, president of the National Association of Corporate Directors, referring to the well-connected Clinton advisor who famously served on 10 major corporate boards at the same time, earning more than $1 million a year for his directorships.
The number of Fortune 1000 corporate board members serving on three or more boards fell more than 14% to 118 in 2011 from 138 in 2006, according to California-based executive compensation research firm Equilar.
Accordingly, the average amount of time board members spent doing their jobs increased to 242.1 hours in 2014 from 207.4 hours in 2007, according to data from the NACD. Taking informal meetings into account, which the NACD started tracking in 2014, puts the latest number at more than 278 hours.
Not surprisingly, compensation for directors has increased along with the extent of their responsibilities and focus. Average annual pay for directors of S&P 500 companies is now $226,742, according to BoardEx data. This is up from an NACD figure of $212,750 in 2011, a 6.6% increase.
But experts say that seemingly high level of pay -- which worked out to about $937 an hour in 2014 -- pales in comparison to the millions that board members can make for serving on the boards of private equity funds and hedge funds, which have much less rigorous requirements compared to public companies.

Overall, the numbers reflect a growing trend in the boardroom toward treating directors more as exclusive employees.
"The modern directorship is not a casual, part-time role," said William C. Hunter, who has served on the board of Xerox (XRX) - Get Xerox Holdings Corporation (XRX) Report since 2004 and also serves on the boards of private companies Wellmark and Nuveen Investment. "In recruiting new members, boards are looking for individuals who will approach their fiduciary responsibilities with the utmost level of commitment."
Karen Brenner, a professor at New York University's Stern School of Business who researches governance practices, echoed those sentiments.
"Board service is becoming more and more demanding," she said. "As a result, there's more of a tendency to specify limits on the other boards and other committees that directors can be on."
Xerox's policy, for example, states that "prospective Directors should simultaneously serve on no more than 2 to 4 other public company Boards, depending on their personal circumstances."
Apple (AAPL) - Get Apple Inc. (AAPL) Report and GE (GE) - Get General Electric Company (GE) Report both formally limit outside directorships for their board members to four - and only two if they happen to serve as an outside CEO.
The limits on multiple directorships reflect the additional duties board members now have to perform on behalf of shareholders. In contrast to the board of a decade ago, today's board must now spend time reviewing balance sheets and earnings statements to safeguard against corporate fraud.
"Traditionally, the role of the board was either to support or get rid of the CEO," said Matthew Rhodes-Kropf, associate professor of business administration at Harvard Business School. "But now a lot of time is spent looking at the work of audit committees."
Audit committees are responsible for hiring an external auditor for the company's books, reviewing their findings to make sure they're correct and then discussing them with the board as a whole to make sure there aren't any oversights.
This duty can be traced back to the Enron and WorldCom accounting scandals of the early 2000s that ultimately gave rise to the Sarbanes-Oxley Act, which made boards more accountable for company performance. The new law made senior executives and board members personally responsible for the accuracy of their financial statements: Failure to report correct financials can result in a $5 million fine and a 20-year jail term.

The law also required financial statements to comport with so-called "generally accepted accounting practices," forcing companies to report basic business statistics like top-line revenues and bottom-line earnings, as opposed to more idiosyncratic figures that might obscure the truth of a company's financials.
Contemporary boards also spend time now dealing with threats from activist shareholders and considering how to mitigate risk.
"In the age of institutional investment, more things can happen like activist attack and possibilities for M&A," said NYU Stern's Brenner. "Worrying about these risks and engaging advisers about how to handle them now falls to specialty committees created by the board."
One group that's been instrumental in driving the increased professionalization of board member service are proxy advisory firms, which represent hedge funds and other major investors in voting for board seats and selecting top executives.
Proxy firms typically take the position that having fewer directors serve on fewer outside boards makes companies function better and more safely for investors.
"They have the view that directors on more than three boards have lower efficacy," said Henry Friedman, assistant professor of accounting at the UCLA Anderson School of Management.
Proxy advisory firms often point to a 2006 academic paper by researchers Eliezer M. Fich and Anil Shivdasani that concludes that "firms with busy boards are associated with weak corporate governance."
The paper also associates busy board members with weak profitability and even found that when over-committed directors depart from a board, the company can expect a positive change in its bottom line.
"In 2003, we regularly saw directors serve on eight or nine boards -- that just doesn't happen anymore," said Sean Quinn, the vice president of one of the leading proxy advisory firms, ISS Governance Services. "It only makes sense that directors are fulfilling their responsibilities now by scaling back the number of boards they serve on."