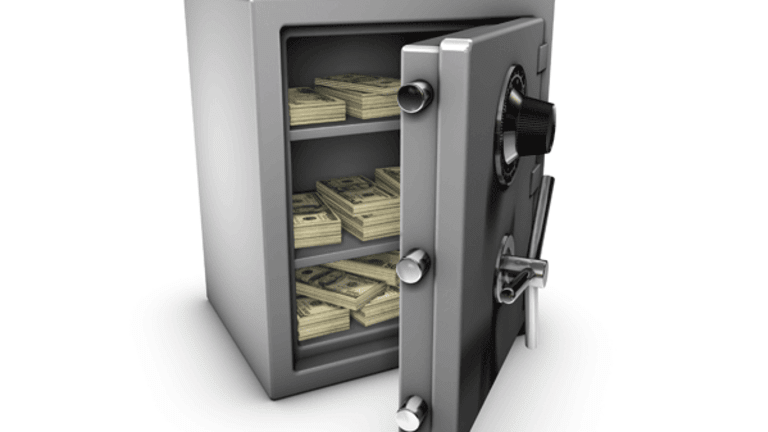 The 7 Best Utility Stocks for Safe Retirement Income
Want to own stocks that pay secure dividends and can provide you with income during your retirement? Then take a look at these seven utility stocks.
Your Money, Your Retirement, and the 2016 Presidential Election - What changes will you need to make to your portfolio should Hillary R. Clinton become president? What happens to your investments should Donald Trump become president? Join us on September 12 as our panel of the world's top financial experts provide trusted information on the investment risks and opportunities that arise with the upcoming presidential election in November. [Learn more about the event and RSVP.]
UPDATE: Charts in this story have been updated to reflect the day's trading. 
You walk into a dark room and flick on the light switch. You never doubt that light will come on, because modern utilities in the developed world are so dependable. They're also one of the best ways to earn safe dividend income. For investors more concerned with dependable safe income and less with longer-term growth potential, utility stocks offer a ready-made solution.
The utility sector is one of the safest areas for dividend income because utilities generate consistent earnings, provide nondiscretionary services, maintain reasonable payout ratios, and essentially operate as monopolies in many regions.
We identified seven utility stocks with the highest level of dividend safety combined with some attention-getting yields. Conservative investors living off dividends in retirement should take a close look at these high-quality dividend stocks.
1. Duke Energy (DUK)
Duke's $3.42 per share annual payout offers investors a generous 4.2% yield, the second highest in our utilities picks. Duke is very reliable, having paid a quarterly dividend since 1926, and is a favorite blue-chip dividend stock.
The latest dividend increase of 3.6% took place in July. An 81% payout ratio limits the rate of future dividend growth. The company's high operating margin of 20.9% should provide the cash flow to fund the company's present business, however. The stock has a P/E of 21, which is in the middle of the range for the utilities group.
Business Background
Based in Charlotte, N.C., Duke Energy Corp. is a diversified energy company operating in three segments of the U.S., Canada and Latin America. These are: Regulated Utilities (89% of sales), International Energy (7%), and Commercial (4%). Duke ranks as the largest electric power holding company in the U.S., where it does the bulk of its business.
Financial Safety Measures
Duke's energy business is connected to heavily regulated utilities in the Carolinas, Ohio, Kentucky and Florida. The outcome of any year's operations is tied to the cost of commodities such as fossil fuels such as oil and coal, but that is pretty much the case with most utilities.
The ability of management to create long-term supply contracts and to hedge commodity risks can best be measured in the company's operating margin. Duke's margins are right in the middle of the pack.
2. National Grid (NGG)
The current annual $3.15-per-share payout offers investors a 4.5% yield, the highest in our utilities group. National Grid has paid dividends continuously for more than 20 years, indicating a good record of safety. Investors should note, however, the payout is on a semiannual basis.
The company's payout ratio is 61% of EPS, which is relatively low for a utility company. This indicates that National Grid retains enough cash to expand its business without affecting its ability to pay dividends.
Business Background
It is no surprise that the utilities industry is global in scope. This is why we turn to National Grid, a British multinational electricity and gas utility company founded in 1990 and based Warwick, England. It earns its way by serving utility customers both in the U.K. and the northeastern U.S.
National Grid's presence in the U.S. started with the 2007 acquisitions of KeySpan and New England Gas. This combination created the second-largest utility in the U.S. 
Financial Safety Measures
National Grid's operating margins have consistently been at 25% or higher in recent years. Annual revenue growth has been minimal, so maintaining consistent profitability shows the company is effectively managing its energy costs. National Grid, like other utilities, is regulated in the amount it is permitted to earn on capital in its U.S. operations.
3. Southern Company (SO)
Southern Company has paid dividends continuously since 1948 and has raised its dividend for more than 10 consecutive years. Over this decade, dividends have grown at a 3.6% average annual rate and 3.1% over the past five.
Effective May 12, the annual payout was raised 6.6% to $2.24 per share, resulting in a current yield of 4.3%. The payout ratio for 2016 will end up around 79% based on consensus estimates for per-share profits.
A record $7 billion in capital spending in 2015 shows there are good opportunities for Southern Company to invest capital. Once this spending splurge pays off, the company's 2.2% historic rate of earnings will tick up a bit to 3.3%, according to consensus thinking. About that time, dividend growth is very likely to pick up as well.
Business Background
Southern Company serves a vibrant and growing population in Alabama, Georgia, Florida and Mississippi with a diverse array of energy from 33 hydroelectric and 32 fossil-fuel plants, 16 solar farms, one wind facility, one biomass plant and one landfill facility. 
Financial Safety Measures
Southern Company's above-average dividend yield is considered very safe. Nevertheless the company's results in recent years have been somewhat volatile when looking at revenue, earnings per share, and free cash flow per share. Ordinarily, these results might be a sign of fundamental weakness.
Southern Company's revenue is affected by the high level of volatility of crude oil prices, however, so a more accurate measure of management's effectiveness is the company's return on revenue (24.5%), return on invested capital (5%) and return on shareholder equity (12%). In each case, these are each at a three-year high. Each of these measures has been more consistent over time, indicating a high level of success in managing energy costs.
4. Dominion Resources (D)
Dividend safety is paramount to many investors, but in Dominion's case, you have safety plus an unusually favorable pace of dividend growth.
On the one hand, the $2.80-per-share annual payout offers investors a 3.7% yield, the third highest in our group of seven utilities. In addition, dividend growth has compounded at an average annual rate of 6.8% over the last 10 years and 7.2% over the past five.
Will above-average growth continue in the years ahead? That could be challenging. The payout ratio is 80% of EPS and more than 100% of free cash flow. This is a sign of below-average growth flexibility, but Dominion remains a safe haven for income investors.
Business Background
Back in 1909, the Richmond, Va.-based Dominion started out as a simple utility company. It has come a long way since. What makes Dominion different is that it both produces and transports different types of energy in the U.S. To get a handle on the company, lets start with its three distinct operations. The original part of the company is Dominion Virginia Power DVP (21% of sales) followed by the largest business Dominion Generation (49%) and lastly by Dominion Energy (30%).
DVP remains pretty much a plain old electric company serving Virginia and North Carolina. Dominion Generation includes 24,300 megawatts of generating capacity using a wide variety of energy sources like coal, oil, nuclear and hydroelectric. Lastly, Dominion Energy assets include 57,300 miles of electric distribution lines and more than 22,000 miles of natural gas transmission. All together, more than 5 million utilities and retail customers are served in 14 eastern states.
Financial Safety Measures
Dominion's operating margins at 30.3% are at a five-year high, having averaged in the mid-20% area in recent years. This is a key measure in the company's ability to finance operations and maintain a 5%-6% return on invested capital and about a 14% return on equity. These are solid returns in the utility industry where regulations place a lid on profitability.
5. American Electric Power (AEP)
AEP is a solid choice for safety and yield. The current $2.24 per share payout offers a well above-average 3.4% yield. The consistency of AEP is measured in the 10-year dividend growth rate of 4.2% per year, which nearly matches the five-year 4.7% annual growth rate.
American Electric Power is a holding in Jim Cramer's Action Alerts PLUS Charitable Trust Portfolio. See how Cramer rates the stock here. Want to be alerted before Cramer buys or sells AEP? Learn more now.
Business Background
AEP is the largest public utility company in the Midwest and the sixth biggest in the nation. The company serves 5.5 million customers in 11 states with electricity. No fancy pipelines for AEP. It depends on things like railcars (over 4,800) barges (almost 500), and towboats.
The company generates electricity using coal and lignite, natural gas, nuclear, hydroelectric and other energy sources. It also supplies and markets electric power at wholesale to other electric utility companies, rural electric cooperatives, municipalities and other market participants. American Electric Power Company was founded in 1906 and is headquartered in Columbus, Ohio.
Financial Safety Measures
AEP's financial returns match closely with others in this group. Operating margins are around the 22% level while return on invested capital at 5% and return on equity at 10% correspond to the regulated returns common to utility companies.
During the 2008 financial crisis, AEP's revenue fell by just 7%. The stock returned -25% thus outperforming the S&P 500. This offers a cushion for dividend investors seeking safety under any economic condition.
6. Consolidated Edison (ED)
Con Edison has some of the highest utility rates in the nation. If you are one of its many customers, one way to get even is to own the stock.
Start off with a $2.68 per share annual payout and that gets you a tidy 3.5% dividend yield. The dividend growth over the last five years of 1.8% annually isn't very impressive, but it is picking up. Over the last three years, it has averaged 2.4% and got bumped up by 3.2% just last year. The EPS payout of 69% is not excessive for a utility so a further acceleration in dividend growth is possible.
Business Background
Con Ed is all about New York. From its founding in 1884, the company serves up electric, gas and steam to New York City, Queens and Westchester Counties and even a small bit to nearby New Jersey. Altogether it adds up to a total of about 4.8 million customers. This is the heart of the business. The company also is involved in the development of renewable and energy infrastructure projects. Con Ed is a blue-chip company that has increased it dividend for at least 25 years, which makes it a dividend aristocrat.
Con Ed's assets are its 62 area distribution substations, six steam-generating stations and thousands of miles of service lines for natural gas distribution. Like many other utility companies, Con Edison is exposed to changing prices for energy, including oil. To smooth out volatility, Con Edison actively engages in hedging activities in the regular course of business.
Financial Safety Measures
As a utility business, Con Edison's returns on invested capital are limited to moderate levels because the business is capital intensive and often subject to regulatory oversight. The company's return on invested capital was 4.8% in its most recent fiscal year, limiting its ability to compound earnings as efficiently as other types of businesses.
During the financial crisis, Con Edison's sales declined by only 4%. Considering that Wall Street was the epicenter of the crisis, this shows how resilient Con Ed is to an economic downturn.
7. WEC Energy  (WEC)
Of our seven best utility stocks, WEC Energy's dividend yield of 3.3% ranks it at the bottom of the list. In return for this minor trade-off, however, investors are offered well above-average safety and the fastest dividend growth in the group.
Over the past 10 years, dividends have compounded at 17.1% per year, increasing to 21.7% per year over the past five years. Capital appreciation is another consideration. Over the past decade, WEC Energy stock has increased 13.5% annually, nearly twice the 7.4% annual return of the S&P 500.
Business Background
WEC is the largest utility in the upper Midwest and the nation's 13th biggest in terms of market capitalization. Founded in Milwaukee in 1981 as Wisconsin Energy Corp., the company changed its name to WEC Energy in June 2015.
A total of about 4.5 million customers are served in Wisconsin, Illinois Michigan and Minnesota. The main focus is on generation and distribution of electric energy to the large industrial and commercial customers located in the region. Sources of energy include coal, natural gas, oil, hydroelectric, wind and biomass.
Financial Safety Measures
WEC financially enjoys much greater growth than the other members of this group.
June 2015 marked the formation of WEC Energy Group through the $9 billion acquisition of Integrys Energy. This move expanded the company's reach into Michigan and Minnesota. The acquisition was financed with a combination of debt and common stock. Long-term debt after the acquisition was 51% of total capital, which is not excessively large by utility industry standards.
This article is commentary by an independent contributor. At the time of publication, the author was long ED and AEP.