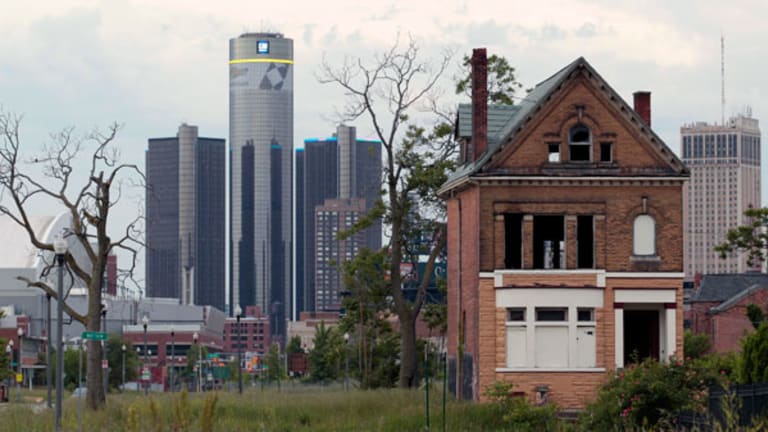 The 13 Most Dangerous Cities in America
These are the 10 most dangerous cities in America according to FBI data.
NEW YORK (TheStreet) -- One of the most important factors in determining where to live is the crime, or lack thereof, in the neighborhood, city or state in which you plan to reside. The safer the area, the more inclined one would be to live there with their loved ones.
According to the FBI, crime is declining nationwide. The agency estimates that 1,163,146 violent crimes occurred across the U.S. in 2013, a 4.4% decrease from the 2012 estimate. After factoring in 5-year and 10-year trends, the 2013 estimate was 12.3% less than the 2009 level and 14.5% less than the 2004 level.
The FBI calculated an estimated 367.9 violent crimes per 100,000 population in 2013, a 5.1% decline from the 2012 estimated rate.
Aggravated assaults made up 62.3% of violent crimes reported to law enforcement in 2013, while robbery offenses accounted for 29.7%, rape for 6.9%, and murder for 1.2%.
Unfortunately, violent crime is a major problem in many cities throughout the U.S.
But which are the most violent cities in the U.S.?
To determine the top 10, we looked at Forbes' annual list of the most dangerous cities for 2013, which used the FBI's Crime Statistics database and only considered cities with populations of 200,000 or more.  
The cities with the greatest total violent crime rate per 100,000 population made the list. So let's take a look at the top 10 most violent cities in the U.S., according to the FBI's data...
10) Milwaukee
Violent crime rate (per 100,000 residents): 1,295
Total metropolitan area population (according to FBI data): 1,571,468
9) Atlanta
Violent crime rate (per 100,000 residents): 1,379
Total metropolitan area population (according to FBI data): 5,511,212
8) Cleveland
Violent crime rate (per 100,000 residents): 1,384
Total metropolitan area population (according to FBI data): N/A
7) Baltimore
Violent crime rate (per 100,000 residents): 1,405
Total metropolitan area population (according to FBI data): 2,771,247
6) Birmingham
Violent crime rate (per 100,000 residents): 1,518
Total metropolitan area population (according to FBI data): 1,138,940
5) Stockton, California
Violent crime rate (per 100,000 residents): 1,548
Total metropolitan area population (according to FBI data): 708,679
4) Memphis
Violent crime rate (per 100,000 residents): 1,750
Total metropolitan area population (according to FBI data): 1,347,803
3) St. Louis
Violent crime rate (per 100,000 residents): 1,777
Total metropolitan area population (according to FBI data): 2,803,655
2) Oakland
Violent crime rate (per 100,000 residents): 1,993
Total metropolitan area population (according to FBI data): 4,499,119
1) Detroit
Violent crime rate (per 100,000 residents): 2,123
Total metropolitan area population (according to FBI data): 4,296,628