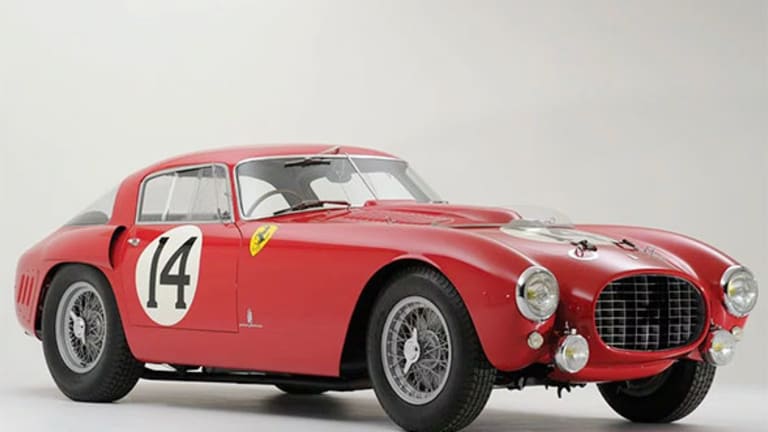 Wednesday's Ferrari (RACE) - Get Ferrari NV Report IPO will make it easier than ever to get a piece of the iconic automaker. Buying stock in the company will set you back somewhere in the range of the $52 opening price, whereas buying an actual Ferrari -- especially a classic one -- can be a multi-million-dollar affair.
The Italian luxury sports car manufacturer begins trading publicly on Wednesday on the New York Stock Exchange. The company has raised nearly $900 million, giving it a valuation of about $9.8 billion. Fiat Chrysler (FCAU) - Get Fiat Chrysler Automobiles N.V. Report , which controls Ferrari and previously had a 90% stake in the company, saw its stake drop to 80% with the IPO.
With an initial price of $52 a share, Ferrari has become accessible to investors who might never even dream of owning the actual car. Prices on new models run from $180,000 to more than $400,000, and for classic models, the numbers are much higher.
Today's top-tier automobile market is dominated by rare production and racing cars from Ferrari, and nine of the most expensive cars ever sold were manufactured by the company. The most coveted car out there, a Ferrari 250 GTO Berlinetta, manufactured in the early 1960s, costs the equivalent of 733,000 Ferrari shares.
Other models that fetch high prices (though not often as high as Ferrari) are Bugatti, Bentley and Mercedez-Benz.
Dietrich Hatlapa, founding member of the London-based research company and think tank Historic Automobile Group, estimates the rare automobile market's capitalization to be about $100 billion. He says the market has tripled since 2009, and the prices of some specific cars have jumped five-fold or six-fold in the same period.
"We're talking a very small market compared to mature asset classes. And if you see an increased demand in such a small market, you could say that market gets squeezed and gets pushed upwards because there are more buyers," he said.
"The market for cars has been accelerating at a pretty fair clip, especially European sports cars," said Eric Minoff, a specialist in the motoring department at Bonhams, the auction house behind a number of the biggest classic car transactions in recent years.
A number of factors come into play in determining a vehicle's price, including competition pedigree and technical finesse. And, of course, there is the issue of just how hard these cars are to get.
"Cars that are setting world records have not been available for a long time," Minoff said. "One of the major reasons the values of the car is so high is because they're generational vehicles."
Car collecting is a worldwide endeavor, though in some markets it is more prominent than in others. "It's a global market; however, the United States and Europe both represent the very large majority of the market and where collectors are based," said Hatlapa. He also noted that buying cars goes far beyond investing. "These things have become a lifestyle," he added.
Most transactions take place on the private market -- Hatlapa estimates about 70% -- meaning prices are not always known. Other sales transpire on the auction blocks, and because they are public, their prices are out in the open.
Here are 10 of the most expensive cars to ever go down in the record books. All but one are made by Ferrari.
10. 1953 Ferrari 340/375 MM Berlinetta 'Competizione': $12.7 Million
In May 2013, the 1953 Ferrari 240/375 MM Berlinetta 'Competizione' sold for $12.7 at an auction held by RM Auctions in Villa d'Este, Italy on Lake Como.
The car is one of three 375 MM competition vehicles entered in the 1953 24 Hours of Le Mans contest and has participated in a number of races. Moreover, it has driven by three world champions: Mike Hawthorn, Nino Farina and Alberto Ascari.
9. 1964 Ferrari 250 LM: $14.3 Million
The 1964 Ferrari 250 LM was sold at RM Auctions in November 2013 for $14.3 million.
One of the first original examples of Ferrari's first mid-engine car, the vehicle finished eighth overall and first in class at the 1968 24 Hours of Daytona race. It is the 24th car of only 32 total 250 LM vehicles produced.
The Ferrari has passed through a number of hands since leaving the factory, including those of Ecuadorian drivers Guillermo Ortega and Fausto Merello. In 1983, it was purchased by a prominent Japanese collector, who put it on display in his personal garage for three decades. Before going to auction in 2013, the vehicle hadn't been seen in public in years.
8. 1957 Ferrari 250 Testa Rossa: $16.4 Million
Automotive auction house Gooding & Company sold the 1957 Ferrari 250 Testa Rossa in August 2011 for $16.4 million. At the time, the transaction set a world record.
According to the Gooding & Company website, the 1957 Ferrari 250 Testa Rossa is the first 250 Testa Rossa ever built. The vehicle has an eight-year international racing history and won first in class at the 2006 Pebble Beach Councours d'Elegance, a sort of beauty pageant for cars.
7. 1954 Ferrari 375-Plus: $18.4 Million
The 1954 Ferrari 375-Plus sold for $18.4 million in the U.K. in June 2014 has quite a back story. Specifically, the car was allegedly stolen.
Karl Kleve of Cincinnati, Ohio bought the car in 1958 for $2,500. In 1989, he reported the vehicle stolen, and it eventually appeared in Europe. Belgian authorities impounded the car to investigate and concluded it had been bought in good faith and that its European title was sound, after which it was released to a new owner, Jacques Swaters. Many of the vehicle's parts, however, remained on Kleve's property in the United States.
Kleve and Swaters initially reached a settlement in 1992, but when the former died in 2003, his daughter, Kristine Kleve Lawson, took up the cause. Legal battles continued for years, and in 2013, a judge ordered the car and its parts to be reunited and put up for auction.
Lex Wesner, the chairman and CEO of L Brands (LB) - Get L Brands, Inc. (LB) Report , bought the vehicle. And in 2014, he sued auction house Bonhams claiming he was not aware of the ownership dispute.
6. 1961 Ferrari 250 GT California Spider: $18.5 Million
The 1961 Ferrari 250 GT California Spider fetched the highest price at the Artcurial Motorcars auction in Paris, France in February 2015. It was sold for $18.5 million to an unnamed international collector.
The car was part of a "barn find" -- meaning it a sort of stumbled-upon undiscovered treasure. Composed of about 100 vehicles, the Baillon Collection was held by the late French transportation magnate Roger Baillon, who initially meant to build an automobile museum. His family held onto the vehicles for years after his death before having them appraised and realizing their value. Fifty-nine cars from the collection were sold at the February 2015 auction.
"The Baillon discovery has been an incredible adventure," said Pierre Novikoff, a specialist at Artcurial Motorcars, in a statement. "In addition to the passion it has aroused in enthusiasts, it is the unique story of one man's dream, carried out by an entire family."
Another 1961 Ferrari 250 GT SWB California was sold for $15.2 million by Gooding & Co. in August 2014.
5. 1955 Ferrari 410 Sport: $23 Million
The 1955 Ferrari 410 Sport sold for $23 million at the Rick Cole Auctions in Monterey, California in August 2014.
It is one of only four examples built to compete in the Carrera Panamericana road race in Mexico. The car never raced in the event, which was canceled in 1955 due to concerns over cost and safety.
The Ferrari's history is quite unique, and according to Sports Car Digest, it was taken to Mexico in 1957 when its then-owner, Tony Parravano, fled the United States over debt issues with the IRS. It was returned to the U.S. in 1971 by Robert Dusek and remained in his collection for almost 40 years.
One of its sister cars was sold in 2012 through RM Auctions for $8.3 million.
4. 1964 Ferrari 275 GTB/C Speciale: $26.4 Million
In August 2014, the 1964 Ferrari 275 GTB/C Speciale was sold at RM Auctions for $26.4 million. It is the first of only three 1964 Ferrari GTB/C Speciales that were ever made.
The cars were built specifically for the 1965 running of 24 Hours of Le Mans, one of the world's oldest sports car races. Unfortunately, it never made it to competition. Instead, it was sold directly from the factory to Pietro Ferraro of Trieste, Italy.
The Ferrari has changed hands on a handful of occasions over the years, and in 1997 and 1998, its then-owner, Brandon Wang, restored it.
3. 1967 Ferrari 275 GTB/4*S NART Spider: $27.5 Million
The 1967 Ferrari 275 GTB/4*S NARD Spider sold for $27.5 million at an August 2013 auction hosted by RM Auctions (now RM Sotheby's).
Just 10 such cars were ever built, rendering the vehicle extremely rare. One NART Spider was featured in the 1968 "The Thomas Crown Affair," and the 1968 film's star, actor Steve McQueen, bought one for himself.
Before arriving at the auction block, the Ferrari had only one owner, Eddie Smith Sr. The one-time mayor of Lexington, North Carolina, Smith died in 2007. His family said then planned to donate the proceeds from the sale to charity. 
2. 1954 Mercedes-Benz W196 Silver Arrow: $29.6 Million
Before the Ferrari 250 GTO took the top spot, the 1954 Mercedes-Benz W196 Silver Arrow held the world record for the most expensive car sold at auction. The car was sold for $29.6 million, also through Bonhams, in July 2013 in the United Kingdom.
Once driven by legendary Argentine racecar driver Juan Manuel Fangio, the Grand Prix-winning vehicle is the only of its kind to be privately held (the others are at museums or inside Mercedes-Benz).
"It is really a spectacular piece of engineering," Minoff said. "Even 15 years [after it was built], the car was still light years ahead of everything else."
1. 1962-63 Ferrari 250 GTO Berlinetta: $38.1 Million
The 1962-63 Ferrari 250 GTO Berlinetta became the world's most expensive car ever sold at auction in August 2014 after going for $38.1 million to an investment group at Bonham's Quail Lodge Auction in Carmel, California.
The car has a rather dark history, as Henri Oreiller, a retired Olympic skier, died after crashing it in a race in 1962. When it arrived in the hands Italian racer Fabrizio Violati in 1965, it was valued at just $4,000 and was what Minoff described as a "washed up race car."
Ferrari manufactured just 39 cars to be considered in the GTO family, of which 28 have a three-liter V12 engine rendering them 250 GTOs. "It's rare, but not the rarest thing in the world," Minoff said. He also pointed out that the vehicle isn't purely for competition. "It's kind of the last race car you could drive to the track, race, win, and then drive to the bar and celebrate."
Bloomberg reported that vehicle of the same make and model was sold in a private transaction in 2013 for $52 million.
This article is commentary by an independent contributor. At the time of publication, the author held no positions in the stocks mentioned.