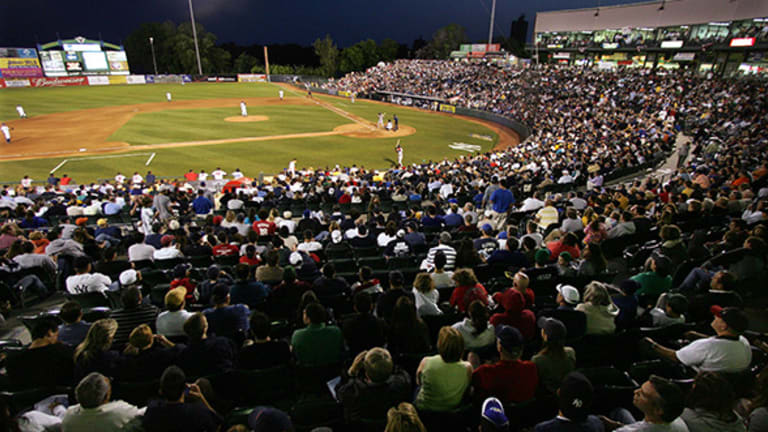 The 10 Best Towns for Minor League Baseball in 2015
Check out this list of the top 20 places to catch a Minor League Baseball game.
NEW YORK (TheStreet) -- Minor League Baseball (MiLB) doesn't have the big names that draw fans to other professional sporting events, but it continues to grow in popularity.
According to SmartAsset, a record 42.4 million fans attended Minor League Baseball games across the country in 2014, an increase of more than 850,000 over 2013. To put that in perspective, the total attendance for the NFL's 2014 season was about 17.6 million.
So where is the best place to see a Minor League Baseball game? SmartAsset looked at every town and team in the U.S. to find out.
To come up with the ranking of America's Best Minor League Baseball Towns, SmartAsset considered two main factors: quality of life and game day experience.
#10 Durham, North Carolina
Team: Durham Bulls
Remember the 1988 classic Bull Durham? The team and city were the subject and setting of that film.
Based on SmartAsset's study, Durham's game day experience ranked third in all of Minor League Baseball, with a total score of 98.73. The high rating is based on the team's strong attendance, and the noteworthy Durham Bulls Athletic Park.
#9 Portland, Maine
Team: Portland Sea Dogs
Despite a disappointing season from the Sea Dogs, Portland remains one of the top places in America to catch a Minor League Baseball game.
SmartAsset found that it has the fifth highest concentration of dining and entertainment establishments, with more than 30 for every 10,000 residents. That means there's plenty to do after watching a game.

#8 Charlotte, North Carolina
Team: Charlotte Knights
Compared to any team in 2015, Charlotte had the second-best game day experience.
Charlotte averaged 9,400 fans per game this year, 92% of their stadium's capacity. SmartAsset says that's the sixth highest average percent capacity of any team in the minors.

#7 Fort Wayne, Indiana
Team: Fort Wayne TinCaps
The TinCaps began playing in a brand new stadium in downtown Fort Wayne beginning in 2009. Today, Parkview Field is rated as the best stadium in all of Minor League Baseball, and it is often filled to near capacity.
SmartAsset suggests that visitors to Parkview Field try the Big Apple, a five pound dessert that includes four servings of apple crisp and five scoops of vanilla ice cream.

#6 Columbus, Ohio
Team: Columbus Clippers
In SmartAsset's study, Columbus had the top rated game day experience in 2015, scoring a perfect 100 for that measure. The team had 83 wins and just 61 losses during the 2015 regular season, among the best records in Minor League Baseball. 
In 2015, the Clippers averaged nearly 9,000 fans per game, filling up the stadium to near capacity.
#5 Geneva, Illinois
Team: Kane County Cougars
SmartAsset rated Geneva first among all Minor League Baseball towns for its quality of life, scoring a perfect 100. It is a charming small town located along the Fox River, an hour west of Chicago.
Geneva has the lowest violent crime rate of any MiLB town -- 9 violent crimes per every 100,000 residents. Whether they are walking to a game or walking around town afterwards, baseball fans in Geneva can feel safe doing so, says SmartAsset.
#4 Des Moines, Iowa
Team: Iowa Cubs
Des Moines is one of the largest cities with a Minor League Baseball team, with a population of about 210,000.
While the Des Moines team has not had much success winning championships, it still draws plenty of fans on a nightly basis. Average attendance for the Iowa Cubs was 7,381 this year, the 15th highest in MiLB.
#3Davenport, Iowa
Team: Quad City River Bandits
In 2015, the Quad City River Banditswon 88 games, posting the best regular season record of any team.
"Add to that a top-20 stadium according to StadiumJourney.com and attendance that averages 95% of capacity, and you have one of the best atmospheres in all of baseball," says SmartAsset.
#2 Omaha, Nebraska
Team: Omaha Storm Chasers
The Omaha Storm Chasers' 80-64 regular season record this year is better than the record they posted in the 2013 and 2014 championship seasons. However,  due to fierce competition in the PCL's American Conference, the team did not make the playoffs.

#1 Round Rock, Texas
Team: Round Rock Express
In 2015, the Round Rock Express fielded the top team in the American Southern division of the Pacific Coast League (PCL).  The team's average attendance rose to 8,509, fifth highest in MiLB, equal to 85% of their stadium capacity, says SmartAsset.
The city has another reason to be proud -- an unemployment rate of just 3.2%. The city's median income is about $70,000, and annual housing costs average just $15,264. That adds up to the eighth highest discretionary income of any Minor League Baseball town, which means more money to spend on baseball tickets, notes the SmartAsset study.