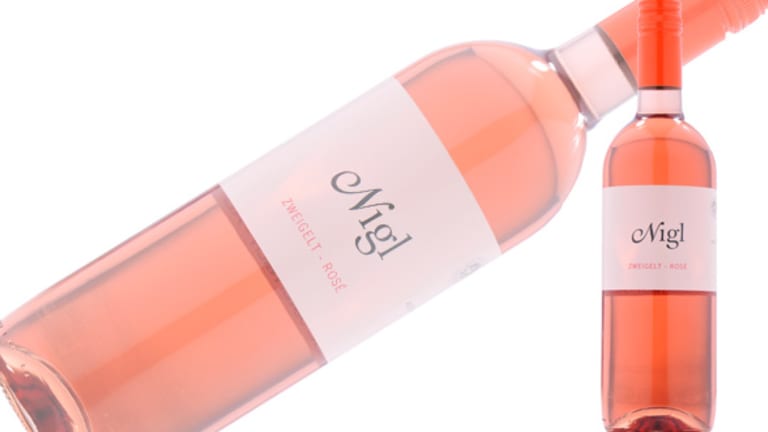 The 10 Best Rose Wines You Can Drink This Summer
Summer is here and that means it's time to sit back with a cold, refreshing glass of rose. Here are the ones to try this season.
NEW YORK (TheStreet) -- Americans associate rosé with summer and Provence. Served cold by the pool on a hot day, the wine's light cherry and strawberry notes and citrus acidity refresh the palate and conjure the Mediterranean warmth of Provence, the region in southern France famous for rosé. As demand has increased significantly in recent years, higher-end versions such as Whispering Angel and Miraval, the Brangelina rosé, have come on the market and ambitious Provençal winemakers are producing more luxury rosé.
The great Provençal rosés such as Domaine Tempier and Chateau Simone remain as popular as ever and have prices to match, but American sommeliers and wine store owners are offering pink wines from around the world.
"I feel the same way about rosés as I do about entry level wines," says David Keck, the wine director at the Camerata at Paulie's Wine Bar in Houston. "I want producers I like a lot. All of these guys are spending so much time and attention on everything they make that the odds are pretty good that the rosé is going to be fantastic, and sometimes you find something really transcendent, like the Musar rosé," which is made by a famous Lebanese producer. Below, we talk to Keck, Conrad Hunter of Foxcroft Wine in Charlotte, and Tina Vaughn of The Simone restaurant in New York about their favorite rosés. 
1. Domaine Tempier Bandol Rose: $40
Kermit Lynch began importing Tempier rosés to the U.S. in the 1970s, and the canny Berkeley, Calif. wine merchant was brilliant in evoking Provence in his customers' minds and linking that image to the wine. Lynch devotes a chapter of his 1988 book Adventures on the Wine Route to Provence and Tempier, an estate based in the village of Bandol, which, Lynch writes, "has a bay ringed with sandy beaches, and a crowded, active harbor, which is home to a small fishing fleet. The catch is sold while it is still wriggling, directly from the boats along the quai."
As for Tempier, it "is a place in Provence, a home with its winery and vineyards, its olive trees and cypresses. It is home to a large, joyful Provençal family. It is a wine." Even though the Peyraud family, which owns Tempier, regards the rosé as a simple wine compared to its reds, which can age for decades, it's the former that customers clamor for. Foxcroft's Hunter says it's still one of his most popular rosés -- and understandably so, since it's crisp, balanced, perfect with food.
2. Clos Cibonne Le Pradet 2013 Côtes de Provence Tibouren Rosé: $29
Tempier and Chateau Simone are both based on the Mourvedre, Grenache and Cinsault grapes, as are many other Provençal rosés. Clos Cibonne, whose vineyards are about a half-mile form the Mediterranean, makes its rosé from the Tibouren grape, an old indigenous variety. In addition to raspberry and cherry, it also has notes of dried orange peel and thyme. Don't be put off by the 2013 vintage; it's the current release, and like many of its local rivals, Clos Cibonne benefits from a few years aging.
3. Ametzoi Rubentis Txakolina 2014: $19
Txakolina, from the Basque country is the perfect summer wine: slightly effervescent, relatively low in alcohol at 11%, crisp, light, and refreshing. No wonder this rosé, made from a blend of the white variety Hondarribi Zuri and the red Hondarribi Beltza, is on the shelf not only at Foxcroft, but all over New York.
4. Weingut Nigl Zweigelt rosé, Kremstal, Austria: $17
Keck tells his customers at Paulie's Camerata that "everyone in Houston should be drinking rosé 75% of the year," given the city's heat and humidity, and he offers a range of pink wines so they can do just that. Weingut Nigl in the Kremstal region of Austria is most famous for its Gruner Veltliners, which Keck "loved because of the pretty, clean taste." He's gotten behind the rosé as well, which he says has "a lot of bright, intense tropical fruit and a lot of red fruit. It's a dark rosé with a fair amount of extract."
5. Matthiasson Rosé 2014: $22
Keck features a rosé made from Grenache, Syrah and Mourvedre by Matthiasson, a producer in Napa Valley. Conrad Hunter also likes this one, which he says "tastes like something from Provence." Other American producers have seized on the growing demand for pink wine. Arnot-Roberts makes one based on Touriga Nacional, a Portuguese grape. Broc Cellars and Turley both make very good wine from White Zinfandel. And Bedrock, one of the hottest young names in California, offers an "Ode to Lulu" in offer of Lulu Tempier, whose father gave her and her husband Lucien Peyraud Domaine Tempier when they married in 1936.
6. Chateau Musar rosé 2012: $52
Chateau Musar is beloved by wine geeks for its distinctive, ageworthy reds and whites, which the Hochar family produced throughout Lebanon's 15-year Civil War. The rosé has started to appear in the U.S. only in the last year or so. Keck calls it "amazing" and says it has "a more savory style" than most people expect from their rosés. Like the Clos Cibonne, he says, it's "a wine are built to last, which is infrequently the way people view rosé. The structure and character will develop over time. They are more contemplative rosés."
7. Torraccia 2014 rosé, Corsica: $20
When sommelier and host Tine Vaughn and her chef husband Chip Smith opened a small restaurant on East 82nd St. in New York in the fall of 2013, they named it The Simone in honor of the Provence estate famous for its rosé. On a recent visit, Vaughn featured about 20 rosés by the bottle, and she pulled liberally from that stash to pair wines with individual courses. To start, she offered a light Corsican rosé made from 50% Niellucciu -- a local variety related to Sangiovese -- 20% each Cinsault and Grenache, and 10% Sciaccarellu, another local variety. It was light and brisk, good as an aperitif or an accompaniment to crab salad
8. Pierre-Marie Chermette Les Griottes rosé 2014: $16
With an appetizer of fried sweetbreads, Vaughn paired a glass of 2014 Pierre-Marie Chermette Les Griottes rosé, a wine from Beaujolais made from Gamay. Griottes means cherries in French, and the wine lives up to that name; it also has good acidity, which balances the richness of the sweetbreads. For a comparison to the wine, you might pick up a bottle of Edmunds St. John Bone-Jolly Gamay Noir rosé, a California homage to Beaujolais.
9. Les Grands Carmes de Simone 2013
Vaughn loves the Simone Palatte, the producer's top wine, but with an entrée of red snapper and spring vegetables she poured the Les Grands Carmes de Simone 2013, a serious rosé that paired well with the fish. It had more tannin than rose generally does and some earth and olive notes in addition to the red fruit more common for a rosé -a wine not only impressive in its own right but one that suggests the quality of Simone's reds.
10. Domaine Mark Angeli, Ferme de la Sansonniere Rose d'Un Jour: $22
"It's strawberry shortcake in a glass," Vaughn said of the Domaine Mark Angeli, Ferme de la Sansonniere Rose d'Un Jour, and she was right. Strawberry, sweet vanilla, a little cream, and a touch of citrus peel were all there in a wine that paired beautifully with a dessert that featured blackberries, white chocolate cream and a well-made cake.