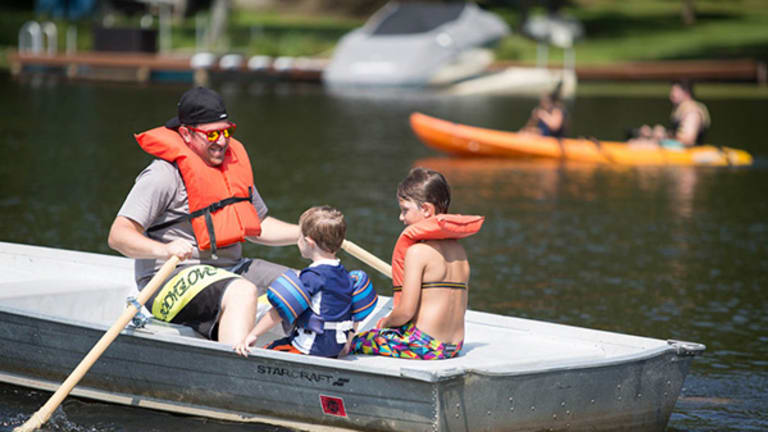 The 10 Best Hotels for Families in the U.S.
Offering a unique slice of the classic American vacation, these properties get stellar marks on Trip Advisor's ratings system.
If mild panic about planning the family vacation this summer hasn't set in, it will soon. Get ahead of the curve with our list of the best hotels for families in the U.S.
All of these destinations are summer and winter oases, so it's a handy list to keep in mind for any time of year. All of them get stellar marks on TripAdvisor's hard-won ratings system, all of them offer a unique slice of the classic American vacation, and some of them have taken it to the next level with state-of-the-art spas, award-winning food, and outstanding service worth writing home about.
Woodloch Pines
Hawley, Pennsylvania
About a two-hour drive from New York City is Woodloch Pines in Hawley, Pennsylvania. It stands out from the pack for one simple reason: the range of activities for kids of all ages. Nestled in the Pocono Mountains -- a bastion for family fun going back decades (your grandparents will remember it) -- Woodloch Pines is about as wholesome as you can get with go-karts, bumper cars, bumper boats and kayaks. If that's not adventurous enough, the six-sided rock climbing wall is sure to get the heart pumping (and the upper body pulling).
If you're traveling with small children, you'll be amazed at the many different ways your little ones can be entertained. There's a petting zoo with cute and cuddly ponies, rabbits, sheep and lambs; a Craft Room for kids to doodle and color; and an indoor playspace called Woodloch Forest. A Toddler Room full of toys and activities is cleverly situated right next to a sports bar, which means you can have a beer while still keeping an eye on your kids.
Woodloch offers the best golfing experience in the Pocono mountains, with an 18-hole, par-72, championship golf course. The Golf Academy for kids and teens offers something for future PGA and LPGA stars. While the young ones are practicing their chip-shots from a sand trap, you can head over to The Lodge at Woodloch -- a luxury spa in a rustic setting that lets you get better at Downward Dog or just get horizontal with a deep tissue massage.
If you have the nanny for the evening, or the big kids are preoccupied with numerous evening resort activities, you can stay at The Lodge for an upscale dinner experience. The menu at the Tree Restaurant and Bar features naturally-raised meats and fish, and locally grown organic vegetables.
Woodloch is not just a summer spot. Winter offerings include snow-shoeing, woodland walks, ice skating, tubing, and even art classes. Their Winter Olympics along the lakefront are legendary feats of strength, whether you're participating, watching, or just in it to goof off with another family.
Speaking of families, Woodloch has been owned by the Kiesendahl family since 1958 whose employees perform in a Broadway-style musical twice a week for guests -- in keeping with the Poconos tradition for comedy, camp and cleverness. The Kiesendahls take hospitality and customer service very seriously -- members of their family can be seen all around the resort, personally attending to guests' needs.
Woodloch is second-to-none in the area when it comes to lodging options. Ranging from guest houses and "lake estates" to single rooms and suites, it is ideal for everything from a giant family reunion to an adventure weekend with the kids. Big families or groups of families will enjoy staying at the spacious Southwoods guest homes, located in a private cul-de-sac within the Woodloch Pines property.  These homes have at least four bedrooms and four-and-a-half bathrooms. 

Here are nine more properties worth considering if you're traveling with the family within the U.S.