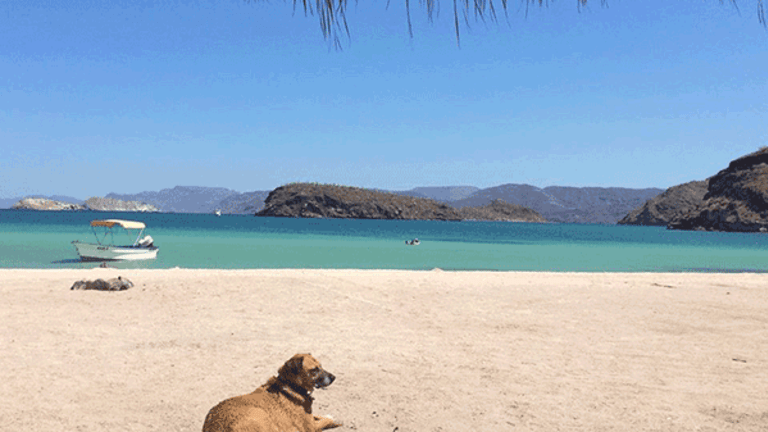 The 10 Best Beaches for Families in the U.S.
Surf's up.
Daydreaming about a summer vacation with your family? While nothing beats a relaxing day at the beach, many popular locations leave a lot to be desired.
Luckily, Family Vacation Critic has selected ten of the best beaches to visit with your family. These spots offer a number of activities and amenities, such as historic sites and restaurants that are sure to make your trip memorable.
So, which beaches should you consider for your next vacation? Here you go!
Cape Hatteras National Seashore
Visitors to the 70-plus mile shoreline of Cape Hatteras, which is preserved by the National Park Service, can enjoy long walks, kite flying, picnics, building sandcastles, water sports, boating tours, and relaxing by evening beach fires. For those looking to take a break from the beach, the Cape Hatteras Lighthouse and Wright Brothers National Memorial are both fun activities for the whole family.
Sleeping Bear Dunes National Lakeshore
Glen Arbor, Michigan
Famous for its giant sand dunes, it's no surprise that the most popular activity at this national park beach is the "Dune Climb." However, there are also over 100 miles of hiking trails, fishing, geology tours, scuba diving, kayaking and canoeing.
South Padre Island
South Padre, Texas
Don't worry, South Padre Island isn't just for college coeds. Considered one of the world's most beautiful barrier islands, South Padre Island offers fishing, dolphin watching, sandcastle lessons, and watersports. The island also has spas, over 50 restaurants, and even an entire water park.
The Wildwoods
Wildwood, New Jersey
With three amusement parks on its boardwalk alone, the Wildwoods isn't lacking in attractions and activities. During the day, visitors can enjoy jet skiing, parasailing, wave running and surfing in addition to simply relaxing on the beautiful beach.
Visitors can also enjoy the many annual events and "Breakfast in the Sky" at Morey's Piers, an exclusive, hour-long breakfast atop the boardwalk's Ferris wheel.
Captiva Beach
Captiva Island, Florida
The best bet for those looking for a relaxing summer getaway is Captiva Beach. While Captiva Beach is famous for its shelling, especially of conches and sand dollars, there are a number of other activities for families to enjoy. Visitors can go on boat tours, picnic or eat at one of the many restaurants in the area.
La Jolla Cove
San Diego, California
La Jolla, a suburb of San Diego, has a number of boutiques, art galleries, cafes, and resorts for visitors to check out. However, La Jolla Cove steals the show: this beach offers gorgeous views, sea lions, and tide pools. Families can also visit Scripps Park, a large grassy area, and La Jolla Underwater Park, which is a popular activity for anyone who loves snorkeling or scuba diving.
Misquamicut State Beach
Westerly, Rhode Island
Popular among locals and out-of-towners alike, Misquamicut offers a bathing pavilion, with a bathhouse, gift shop, offices and a lifeguard tower, in addition to the typical beach amenities. If that's not enough, Westerly also boasts the Watch Hill Lighthouse and a statue of Mrs. Potato Head. For younger children, the town's Atlantic Beach Park has a carousel, bumper cars, himalaya, monkey barrels, and a kiddie dragon coaster.
Million Dollar Beach
Lake George, New York
The largest and most well-known beach in Lake George, Million Dollar Beach has free admission, trained lifeguards, picnic areas and the most "sand" of all the Lake George beaches. This beach also has well-maintained changing rooms for visitors to use, a sandy volleyball court, and a full-time, public boat launch.
Clinch Park Beach
Traverse City, Michigan
With over 1,500 feet of sand along West Grand Traverse Bay, Clinch Park Beach has something for everyone. The beach has a splash pad and playground for young children, as well as lifeguards for those old enough to swim in the bay. Families looking to take a break from the sun can head to the many restaurants or the small movie theater located within walking distance of the shore.
Golden Gardens Park
Seattle, Washington
Seattle may be known for its rainy weather, but hidden on Puget Sound is a quiet beach with a playground, restrooms, shaded picnic tables, grills and fire pits. Visitors can also hike through forest trails and fish from a pier and boat launch.
WATCH HERE: Money tips on TheStreet:
The Sorry State of Your Finances Is Costing You Sleep
This article was written by a staff member of TheStreet.