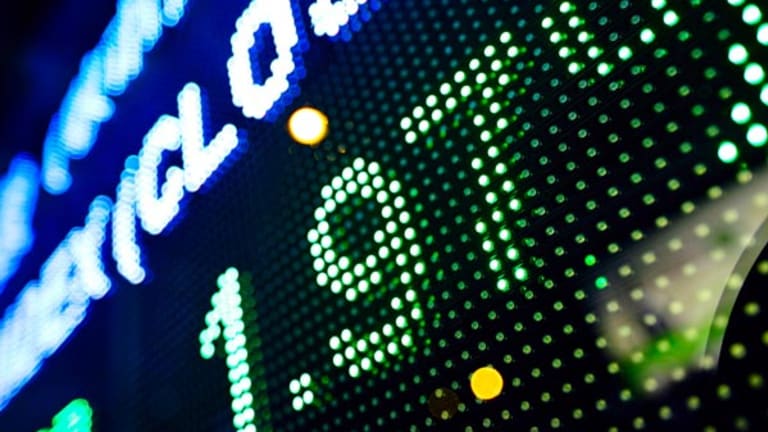 Texas Instruments, Twitter: Hot Trends
Texas Instruments says it will close two of its older computer-chip factories, one in Houston and another in Japan, ultimately laying off 1,000 workers.
NEW YORK (
) -- Popular searches on the Internet Tuesday include
Texas Instruments
(TXN) - Get Report
after the company said it would close two of its older computer-chip factories, one in Houston and another in Japan, ultimately laying off 1,000 workers.
The
reported better-than-expected fourth-quarter results after the markets closed on Monday, emphasizing the company's belief that it has reached the bottom of its downturn. The company had revenue of $3.42 billion, down slightly from $3.53 billion in the same period a year ago, but still beating Wall Street expectations of $3.25 billion.
The company's first-quarter guidance was light, forecasting first-quarter earnings of 16 cents to 24 cents a share, below analyst estimates of 32 cents.
Twitter
is making headlines again after another recent acquisition.
The micro-blogging Web site has acquired Internet security firm
Dasient
. Dasient uses its own technology to scan Web addresses and find potentially harmful content. It also offers a service that keeps online advertising safe from malware.
Twitter, which has to deal with malware and spam attacks often, is expected to broaden out its advertising platform this year.
Dasient says it is no longer accepting new clients and will scale back on its business as it transfers over to Twitter. Financial details of the deal weren't revealed.
This is not the first security-related acquisition Twitter has made. It took over mobile device security firm
Whisper Systems
in November.
Jailbreak is another popular search as hackers announced recentlythey successfully created the new jailbreak for the iPhone 4S and iPad 2.
Nearly half a million iPhone 4S users and over 300,000 iPad 2 owners reportedly took advantage of the new jailbreak in its first weekend of availability.
Jailbreaking refers to the removal of limitations that had been imposed on a given device, allowing any application to be installed and making various kinds of modifications possible. Hackers known as the Chronic Dev Team took responsibility for the jailbreak, which they said took about 10months. Some jailbreaks on
Apple
(AAPL) - Get Report
devices have been achieved less than a day after an iOS update.
Jailbreaking is now legal in the United States, after the federal government clarified the issue in July 2010. Apple fought the decision and maintains that jailbreaking a device could interfere with its warranty.
The chatter on Main Street (a.k.a. Google, Yahoo! and other search sites) is always of interest to investors on Wall Street. Thus, each day, TheStreet compiles the stories that are trending on the Web, and highlights the news that could make stocks move.
-- Written by Brittany Umar
.
Brittany joined TheStreet.com TV in November 2006 after completing a degree in Journalism and Media Studies at Rutgers College. Previously, Brittany interned at the local ABC affiliate in New York City WABC-TV 7 where she helped research and produce On Your Side, a popular consumer advocacy segment.