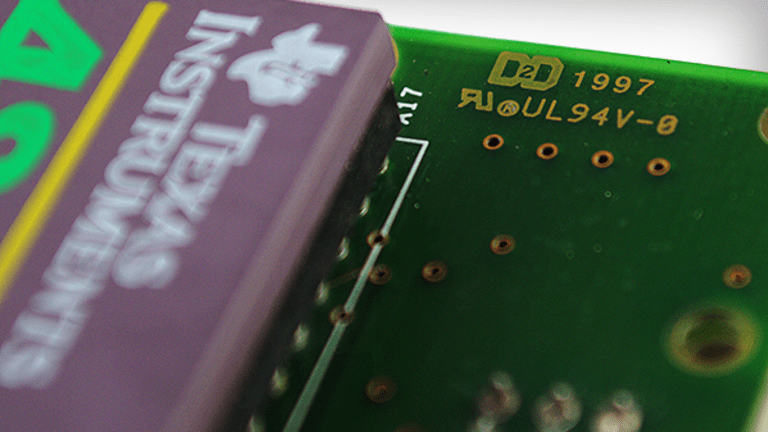 Texas Instruments' Strong Earnings Report Is Good News for Several Other Auto Chipmakers
As cars get smarter, more connected and more electrified, they need more chips inside of them.
As chip stock investors and analysts debate things like how long the memory industry's boom cycle will last, how well PC sales will hold up and how much of a lift Apple Inc.'s (AAPL) - Get Apple Inc. Report  pending iPhone 8 launch will provide chip suppliers, one thing can pretty much be taken as a given: Automotive chip sales will keep steadily rising as cars become more intelligent, connected and electrified.
Texas Instruments Inc.'s (TXN) - Get Texas Instruments Incorporated Report  Q2 report provides fresh evidence of the auto chip market's strength. TI, which now gets around a fifth of its sales from the auto industry, reported Q2 revenue of $3.69 billion (up 13% annually) and EPS of $1.03 (up 30%), beating consensus analyst estimates of $3.56 billion and $0.96. The analog chip giant also guided for Q3 revenue of $3.74 billion to $4.06 billion and EPS of $1.04 to $1.18, favorable at the midpoints to consensus estimates of $3.8 billion and $1.05.
Shares are up 1% to $82.15 as of the time of this article; the fact TI was already up about 70% from its early-2016 lows is limiting its gains. Analog, mixed-signal and micro-controller chip peers are also doing well: Analog Devices Inc. (ADI) - Get Analog Devices, Inc. Report  is up 1.5% to $80.67, ON Semiconductor Corp. (ON) - Get ON Semiconductor Corporation Report  is up 3.1% to $15.54, Microchip Technology Inc. (MCHP) - Get Microchip Technology Incorporated Report  is up 1.7% to $82.30 and STMicroelectronics NV (STM) - Get STMicroelectronics NV Report  is up 1.7% to $16.97.
On its earnings call, TI singled out the auto and industrial markets as Q2 strong points. IR chief David Pahl noted all of TI's main automotive "sectors" -- infotainment systems, driver-assistance systems, safety systems, powertrains and body electronics & lighting -- saw sequential growth.
TI also reported seeing automotive strength three months ago, as did a slew of peers. Microchip, which delivered strong results and guidance in May and favorable revised its outlook in June, also reported on its last call that auto demand is strong. The company gets about a quarter of its sales from the auto market, and supplies it with a variety of microcontroller, networking, analog and memory chips.
While discussing a strong March quarter report, ON Semi noted it saw sales of camera sensors for automotive driver-assistance and viewing systems rise by a high-teen percentage sequentially. It also mentioned several other automotive chip markets are acting as growth drivers, including power management chips, LED lighting chips and powertrain ASICs.
More of What's Trending on TheStreet:
Jim Cramer and the AAP team hold positions in Apple and NXP for their Action Alerts PLUS Charitable Trust Portfolio. Want to be alerted before Cramer buys or sells AAPL or NXPI? Learn more now.
And Cypress Semiconductor Corp. (CY) - Get Cypress Semiconductor Corporation Report , which gets about a third of its sales from the auto market via products such as micro-controllers, memory chips and connectivity chips, reported in April that cars were "our strongest end market in Q1 with record revenue and design win activity." In addition to higher volumes, Cypress is getting a boost from rising memory prices.
All of this commentary fits with what research firms have reported about the auto chip market's growth. In December, IHS estimated auto chip sales would grow 8% in 2016 to $32.1 billion (close to 10% of chip industry sales), rise another 7% in 2017 to $34.4 billion and top $48 billion in 2022. It also forecast the dollar value of the chips used by the average car would grow from $312 in 2013 to $460 in 2022. That's close to Microchip and PwC's estimates for chip content growth (shown below).
While some modest vehicle sales growth (driven by emerging markets) is contributing to rising auto chip demand, growing per-vehicle chip content is easily the larger factor. Much of this growth has to do with rising penetration rates for chip-filled driver-assistance systems (ADAS), autonomous driving systems and electric car powertrains.
Last year, Infineon estimated both hybrid and fully electric cars require over $700 worth of chips on average, and that a traditional car sporting an advanced 48-volt electrical system requires $414 worth of chips. It also estimated that a Level 3 autonomous driving system (i.e., can drive a car in certain conditions) such as the one found in the new Audi A8 requires $400 worth of chips on average, and that a Level 4 system (can drive a car in most conditions) requires $550 worth of chips.

Infineon's chip content estimates for autonomous driving systems.
The spread of more advanced infotainment and connectivity systems is also a tailwind for auto chip suppliers. New cars are increasingly shipping with 4G modems and Wi-Fi radios, and there's growing momentum for vehicle-to-everything (V2X) solutions that allow cars to communicate with each other, as well as with radios built into passing objects such as buildings, traffic lights and bus stops.
As these trends continue, and as chipmakers use both M&A and internal investments to grow their exposure to them, some fresh faces are going to emerge among the ranks of top-tier auto chip suppliers. Intel Corp. (INTC) - Get Intel Corporation Report should one of them: The chip giant is set to buy top ADAS vision processor supplier Mobileye for $15.3 billion, has autonomous driving alliances with Audi, BMW and Delphi and -- with the company estimating an autonomous car will ingest 4TB of data per day -- is working on solutions that pair Mobileye's processors with a powerful Intel Xeon CPU, and also feature Intel modems and connectivity chips.
Qualcomm Inc.  (QCOM) - Get Qualcomm Inc Report is also due to join the list: The company is set to buy top auto chip supplier NXP Semiconductors NV (NXPI) - Get NXP Semiconductors NV Report for $47 billion, a move that will let it sell automakers on an end-to-end product line pairing NXP's many offerings with Qualcomm's Snapdragon processors, 4G modems and connectivity chips. So should Nvidia Corp. (NVDA) - Get NVIDIA Corporation Report , whose Tegra processors are already found in many infotainment systems and which -- thanks partly to how its GPUs are well-suited for AI-related work -- is racking up an impressive list of design wins for its Drive PX autonomous driving platform.
For companies like Intel and Qualcomm, cars present a growth opportunity that can help them offset long-term pressures in mainstay PC and mobile businesses. Certainly, the numbers being posted this year by chipmakers already well-exposed to the auto market do little to make one question the logic of Intel and Qualcomm's interest in the space.