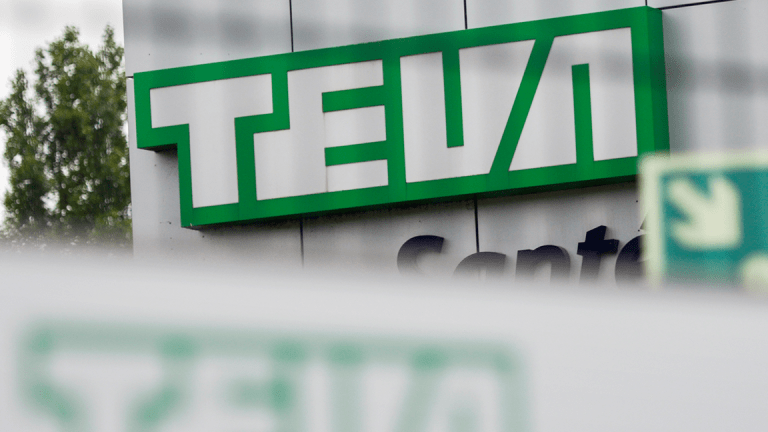 Teva Shares Close Higher as Company Vows to Unleash Detailed Restructuring Plan
The Israel-based drugmaker on Nov. 27 unveiled a a new organizational structure and said it plans to announce a detailed restructuring plan next month.
The Israel-based drugmaker on Nov. 27 unveiled a a new organizational structure and said it plans to announce a detailed restructuring plan next month.
Teva Pharmaceutical Industries Ltd.'s (TEVA) - Get Report American depository receipts rose on Monday, Nov. 27, after the Petach Tikva, Israel-based drugmaker unveiled a new organizational and leadership structure and said it plans to announce a detailed restructuring plan next month.
The company's ADRs closed up nearly 8%, or $1.03, to $14.65 on Monday. Shares are down about 60% year-to-date.
The announcement came after financial news website Calcalist reported on Nov. 23 that Teva was preparing to lay off "tens of percent" of its U.S. workforce -- and as much as 25% globally -- amid slumping profits the company has previously linked to falling prices for generic drugs in key markets. Israel's Economy Minister Eli Cohen told the Reuters news agency that the job cut numbers were "not accurate",  but didn't dispute that layoffs were on the way.
As part of the new structure, Teva's commercial business will no longer have two separate groups for generics and specialty medicines. The groups will now be integrated into a single organization that operates through three regions: North America, Europe and growth markets.
Monday's announcement is " good news...and the first step in additional cost cuts to come," wrote Cantor Fitzgerald & Co. analyst Louise Chen in a note.
The former generic research and development and specialty R&D groups will be combined into a single global group. A newly created marketing and portfolio function will oversee the interface between regions, R&D and operations.
The new structure "will enable stronger alignment and integration between R&D, operations and the commercial regions, allowing us to become a more agile, lean and profitable company," said Kåre Schultz,  who joined Teva as president and CEO on Nov. 1, in a statement.
As a result of the reorganization, Michael Hayden, who serves as president of global R&D and chief scientific officer; Rob Koremans, who serves as president and CEO of global specialty medicines, and Dipankar Bhattacharjee, president and CEO of the global generic medicines unit, will retire from the company effective Dec. 31.
Teva also announced executive appointments including Michael McClellan as permanent chief financial officer. McClellan previously served as interim CFO and as senior vice president and CFO of global specialty medicines.
Other appointments include Hafrun Fridriksdottir as executive vice president of global R&D. Fridriksdottir was previously president of global generics R&D.
"The new management team will position Teva for turnaround in the short to medium term," Schultz said. "We are already working on a detailed restructuring plan for Teva and will share it in mid-December."
Teva missed Wall Street estimates for its fiscal third-quarter earnings announced Nov. 2, sending its shares into a tailspin and triggering a move by Fitch to cut its debt rating into 'junk' status. Teva also cut the bottom end of its revenue guidance to around $22.2 billion to $23.2 billion, from prior guide of $22.8 billion to $23.2 billion.
Non-GAAP earnings expectations were cut to $3.77 to $3.87, from a prior range of $4.30 to $4.50. From the midpoint, that's a 15.8% reduction. Operating cash flow plunged, with management now looking for $3.15 billion to $3.3 billion, vs. prior expectations of $4.4 billion to $4.5 billion, a 27.5% cut.
Also on Nov. 2, Teva announced the completion of the sale of Plan B One-Step, Take Action, Aftera and Next Choice One Dose to Foundation Consumer Healthcare LLC for $675 million in cash.
On Nov. 1, Teva said it had completed the sale of its Paragard intrauterine copper contraceptive to Cooper Cos. Inc. (COO) - Get Report in a $1.1 billion cash transaction.
In September, Teva agreed to sell a portfolio of more than 20 products in the areas of contraception, fertility, menopause and osteoporosis to CVC Capital Partners Group in a $703 million deal expected to close by yearend.
Teva in August 2016 wrapped up its purchase of Allergan plc's (AGN) - Get Report generic drug business for $33.4 billion in cash and $5.4 billion in stock.
-- Martin Baccardax contributed to this article
More of What's Trending on TheStreet: