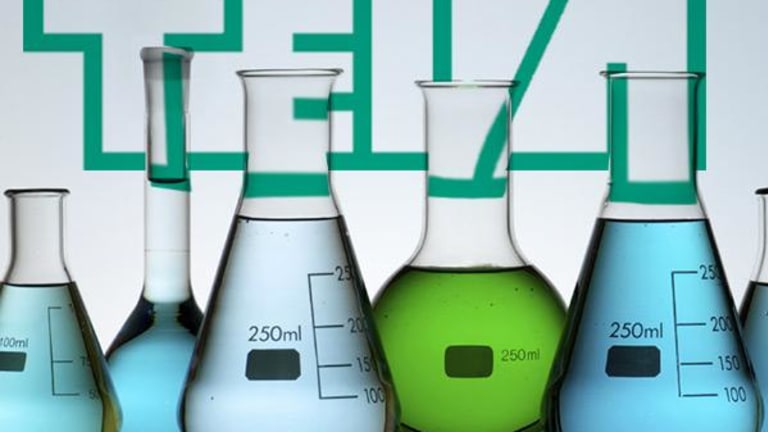 Teva's Massive Debt Load Just Became an Even Bigger Issue
It is just not going to get better anytime soon.
Teva Pharmaceutical Industries Ltd.  (TEVA) - Get Free Report stock plummeted Friday following weak second-quarter earnings reported Thursday, leaving analysts unsure if the company will be able to pay down its $35 billion-plus debt pile. The stock closed at $20.60.
Oppenheimer analyst Derek Archila downgraded Teva to "perform" from "outperform" as its stock price fell 31% since the company released second-quarter earnings that missed estimates, cut guidance and reduced its dividend.
Archila said there is no longer a "clear path" for the company to return to growth in a "timely manner."
"We do not view Teva as a growth story in the near-to-medium term and continued focus on cost cutting/divestments are required to ensure it meets its debt obligations," wrote Archila in a note Thursday.
As of June 30 Teva's debt pile stood at $35.1 billion, compared to $34.6 billion at the end of March.
Teva Shares Are Getting Obliterated Again After Vicious Investment Bank Downgrades
Fitch Ratings downgraded Teva to a "BBB-" credit rating from a "BBB" rating Friday, reflecting the company's "significant operational stress."
Teva leverage is mainly tied to its August 2016 acquisition of Actavis plc' (ATVFF) generic drug business for $40.5 billion. Generics pricing in the near term is going to weigh on operations, which means Teva needs to reduce its debt through asset divestitures and free cash flow generation, Fitch said.
Teva is in the process of restructuring the Actavis acquisition and seeking buyers for various non-core assets, including its European oncology and pain products and its global women's health business, Fitch said.
This restructuring and asset selloff, paired with cost reduction and debt payment with FCF, could be paramount to Teva's deleveraging. Management has identified $2 billion in asset sales by the end of 2017, but transactions are not yet finalized.
Fitch's outlook remains negative, as revenue will probably decline on generic pricing headwinds. Teva isn't likely to stabilize or return to operating efficiency gains until late 2018 or early 2019.
Oppenheimer is also skeptical that the pricing pressure weighing on generic drug makers will lift in line with Wall Street's expectations during the second half of 2017. Other generic drug makers Impax Laboratories Inc.  (IPXL) , Lannett Co. (LCI) - Get Free Report and Amerisource Bergen Corp. (ABC) - Get Free Report  also traded down Friday morning.
Oppenheimer removed its $41 price target on Teva. Shares of the Israeli pharmaceutical company were at $21.85, down 8%, early Friday afternoon. The Israeli generic drugmaker has fallen the most in two day than it had in 30 years prior.
Teva was founded in 1901 in Jerusalem as a small wholesale drug business, run by Chaim Salomon, Yitschak Elstein and Moshe Levin in 1935. Salomon, Levin and Elstein opened a small pharmaceutical plant called Assia in Petah Tikva and years later would merge the business with other pharma manufactures to form the modern day Teva.
Don't miss these top stories on TheStreet:
Tesla CEO Elon Musk's Grand Model 3 Goals Could Be Ruined by These 5 Rival Cars
Tesla, Like Apple, Told Obsessed Bulls What They Wanted to Hear About a Big New Thing