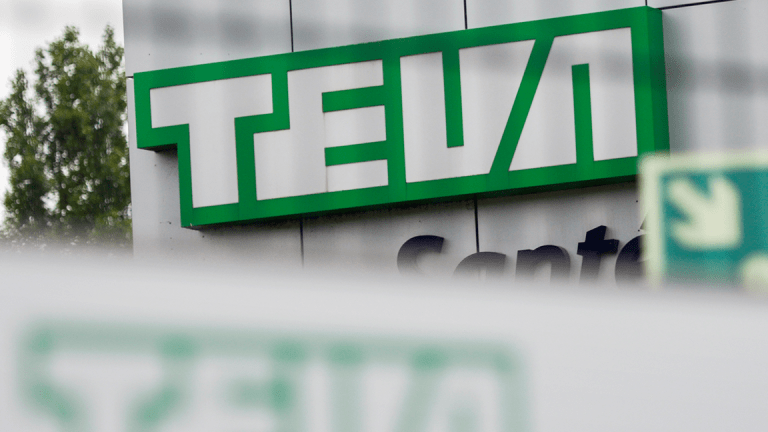 Teva Closes Higher as Generic Drugmaker Announces Massive Layoffs, Asset Sales
The job cuts are part of the Petach Tikva, Israel-based drugmaker's restructuring efforts aimed at lowering its total cost base by $3 billion by the end of 2019.
Teva Pharmaceutical Industries Ltd. (TEVA) - Get Free Report on Thursday, Dec. 14, said it will cut 14,000 jobs globally -- or more than a quarter of its staff -- over the next two years as part of restructuring efforts aimed at lowering its total cost base by $3 billion by the end of 2019.
The Petach Tikva, Israel-based drugmaker's estimated cost base for 2017 is $16.1 billion. The company said it expects to achieve more than half of the cost cuts by the end of 2018.
Teva's American depository receipts closed at $17.30 on Thursday, up 10%.
The cost cuts surpassed sell-side expectations, noted Mizuho Securities USA LLC analyst Irina R. Koffler in a note.
Sell-side estimates for total cost reductions in 2018 in cost of goods sold; selling, general and administrative expenses and research and development from 2017 "appear to be only [$865 million] per FactSet Consensus,"  Koffler wrote. "In 2019, consensus expected only [$1.084 billion] in cost cuts from 2017 (using this same math) and not the much higher [$3 billion] number introduced by Teva."
She added, "Our own estimates which had already been significantly cut in anticipation of the announcement modeled a $2.74B cost cut in 2019. We therefore think that adj. Ebitda could fall around [$5.5 billion] in 2018 and over [$5.3 billion] in 2019, therefore keeping the company's leverage ratio below 5.0x."
The announcement came after the company on Nov. 27 unveiled a new organizational and leadership structure and said it planned to lay out a detailed restructuring plan in mid-December.
"We are taking immediate and decisive actions to reduce our cost base across our global business and become a more efficient and profitable company," said Kåre Schultz,  who joined Teva as president and CEO on Nov. 1, in a statement on Thursday.
The restructuring will focus on, among others, the "optimization of the generics portfolio globally and most specifically in the United States, through price adjustments and/or product discontinuation," Teva said.  The company plans to close or divest a "significant number" of manufacturing plants in the U.S. Europe, Israel and growth markets.
In addition, the company plans to close or divest a "significant number" of research and development facilities, headquarters and other office locations globally.
Teva said it it expects to post a restructuring charge as a result of the plan's implementation in 2018 of at least $700 million.
Teva missed Wall Street estimates for its fiscal third-quarter earnings announced Nov. 2, sending its shares into a tailspin and triggering a move by Fitch to cut its debt rating into 'junk' status. Teva also cut the bottom end of its revenue guidance to around $22.2 billion to $23.2 billion, from prior guide of $22.8 billion to $23.2 billion.
Non-GAAP earnings expectations were cut to $3.77 to $3.87, from a prior range of $4.30 to $4.50. From the midpoint, that's a 15.8% reduction. Operating cash flow plunged, with management now looking for $3.15 billion to $3.3 billion, vs. prior expectations of $4.4 billion to $4.5 billion, a 27.5% cut.
Also on Nov. 2, Teva announced the completion of the sale of Plan B One-Step, Take Action, Aftera and Next Choice One Dose to Foundation Consumer Healthcare LLC for $675 million in cash.
On Nov. 1, Teva said it had completed the sale of its Paragard intrauterine copper contraceptive to Cooper Cos. (COO) - Get Free Report in a $1.1 billion cash transaction.
In September, Teva agreed to sell a portfolio of more than 20 products in the areas of contraception, fertility, menopause and osteoporosis to CVC Capital Partners Group in a $703 million deal expected to close by yearend.
Teva in August 2016 wrapped up its purchase of Allergan plc's (AGN) - Get Free Report generic drug business for $33.4 billion in cash and $5.4 billion in stock.
-- Martin Baccardax contributed to this article
More of What's Trending on TheStreet: