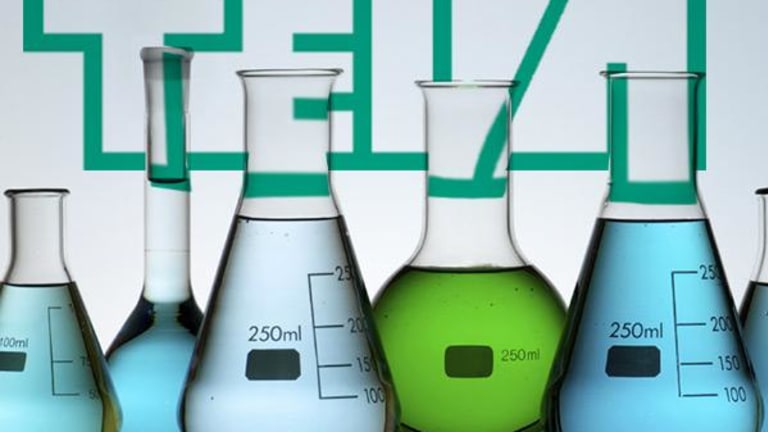 Teva Pharmaceutical Will Bounce Big Soon for Traders: Chart
Shares of TEVA have hit an extreme oversold reading, a big bounce is coming soon for traders.
Shares of healthcare player Teva Pharmaceutical Industries (TEVA) are plunging again on Friday, after a monster gap-down on Thursday with heavy volume. The selloff Friday morning is pushing the stock into levels not seen in over a decade.
This stock was massacred lower on Thursday, after the generic drug player reported worse-than-expected results for the second quarter. The company said that profits declined to $1.04 billion, or $1.02 per share, which was well below last year's second-quarter results of a profit of $1.23 billion, or $1.25 per share.
Teva Shares Are Getting Obliterated Again After Vicious Investment Bank Downgrades
Revenues for the second quarter jumped 12.9%, to $5.69 billion, which topped last year's results of $5.04 billion. However, Teva Pharmaceutical slashed its 2017 earnings forecast to a range of $4.30 to $4.50 a share from $4.90 to $5.30 a share, and cut its quarterly dividend to around 8 cents per share from 34 cents per share.
The company blamed its generic business issues on accelerated price erosion and decreased volume, due to customer consolidation, increased competition from increased FDA generic drug approvals and delayed product launches.
At last check, shares of Teva Pharmaceutical are down by 8.2%, to $21.78 a share, in early trading Friday.
If we take a look at the chart for Teva Pharmaceutical, you'll notice that during Thursday's gap to the downside, this stock broke some key near-term support at around $27 a share with massive downside volume. This stock is now down a whopping 42% on the year, and around 37% in just the last month.
Shares of Teva Pharmaceutical have printed a new 52-week low this morning, after the stock hit an intraday low of $20.41 a share. Volume is once again massive on Friday with over 58 million shares traded so far, which is well above its three-month average action of 9.33 million shares.
Despite all of the negatives, there might be one silver lining for this stock at least for all the traders out there. Shares of Teva Pharmaceutical are trading into extremely oversold territory, since its relative strength index reading is coming in at around 14 on a daily chart. This is an extreme reading, since anything below 30 is considered oversold.
Traders should look for long-biased trades and an oversold bounce in this stock if the intraday low of Friday holds at $20.41 a share, or you wait for the bounce to come after the third trading session following a large gap-down like we see on Thursday. I expect the oversold bounce to move this stock fast and furious back toward $24 to $26 a share, but consider this just a trading opportunity, since, longer term, the chart is broken, and the company has clear fundamental issues.
The bottom line, an oversold bounce should be in the cards for Teva Pharmaceutical very soon. Consider this just a play for traders from a technical extreme reading. Investors should continue to avoid the stock until the put in a couple of quarters that show a turnaround and stabilization of the business is in motion.
More of What's Trending on TheStreet:
This article is commentary by an independent contributor. At the time of publication, the author held no positions in the stocks mentioned.