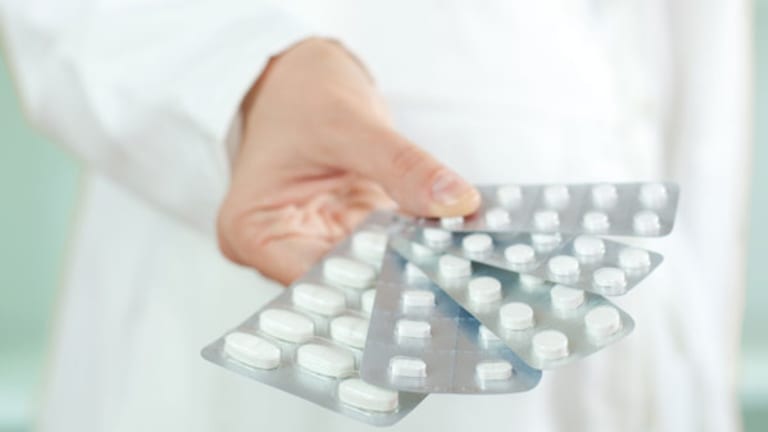 Publish date:
Tetraphase: Another Good Investment In Hot Antibiotic Market
The company's antibiotic won't have late-stage study data available until 2015 but it's worth the wait.
The company's antibiotic won't have late-stage study data available until 2015 but it's worth the wait.
WATERTOWN, Mass. (
) -- The recent buyout of
Trius Therapeutics
(TSRX)
and
Optimer Pharmaceuticals
(OPTR)
by
Cubist Pharmaceuticals
(CBST)
reinforces my view that small-cap antibiotic companies make for interesting investment opportunities.
Tetraphase
(TTPH) - Get Tetraphase Pharmaceuticals, Inc. Report
is an earlier stage of clinical development than both Trius and
Cempra
(CEMP)
(another holding of mine) but it may offer the greatest long-term upside.
Tetraphase's lead antibiotic is eravacycline, a next-generation broad spectrum tetracycline for the treatment of multi-drug resistant (MDR) gram-negative bacteria. The opportunity for a successful broad-spectrum antibiotic that is also effective against MDR gram-negative bacteria is significant. For instance, levofloxacin had peak worldwide sales of $1.5 billion, the beta-lactam market in the United States is over $1 billion, and the recently approved next generation tetracycline tigecycline (marketed by Pfizer) is already generating $450 million in sales.
While the market potential is there, eravacycline still has a ways to go. The phase III trial for the treatment of complicated inter-abdominal infections (cIAI) is scheduled to start in the third quarter with data in the first quarter of 2015. Tetraphase additionally plan on starting a phase III trial for the treatment of complicated urinary tract infections (cUTI) in the fourth quarter, which is also scheduled to read out in the first quarter of 2015.
Tetraphase's phase II trial in cIAI showed that eravacycline was non-inferior to ertapenem with about half the number of drug-related adverse events (although total adverse events were similar to the ertapenem arm.) For antibiotics, however, efficacy (or in this case non-inferiority) is a necessary but in no way sufficient condition to create a blockbuster. The drug needs to differentiate itself from competitors, particularly tigecycline. While the efficacy of the drugs is likely too close to definitively call one more effective, eravacycline appears to have a cleaner gastrointestinal (GI) adverse event profile.
It is always difficult to compare between trials (especially given the difference in size) but eravacycline appears to have a cleaner GI profile. On label, tigecycline's nausea rate is 26 percent, vomiting 18 percent. This compares to the phase II eravacycline trial in which the rate of nausea was 6.4 percent and vomiting was 3.7 percent (combined rates from the two dosing regimes.) If this profile maintains in the phase III trials, it's a clear benefit for eravacycline.
The other potential benefit of eravacycline is its oral formulation. Tigecycline has very poor oral bioavailability and can only be dosed intravenously. While this does not matter for cIAI where these patients generally remain in the hospital and an IV is convenient and effective, it would matter for cUTI where patients can receive the IV at the hospital and be sent home on an oral formulation. Tetraphase estimates that an oral formulation could add 50 percent to the addressable market. The major caveat, however, is that the oral formulation is still in development with phase I data expected by the end of this year.
Of course, biotech investors want catalysts and Tetraphase is relatively catalyst sparse. The nearest term catalyst is phase I oral formulation data. The company plans on initiating the two phase III trials in the second half of this year but data from those trials is not coming until early 2015.
Tetraphase is certainly at an earlier stage than Trius or Cempra and has some added clinical risks but there is one additional advantage: Platform technology. In general, there are only two areas of the basic tetracycline structure that can be modified through traditional semi-synthetic methods. The fully synthetic method of Tetraphase can modify twelve positions, which greatly increases the number of novel tetracyclines it can bring to the market. From May 2007 to September 2012 the company screened over 2800 novel molecules. This led to eravacycline and two additional compounds, both in preclinical studies, although Tetraphase is gearing up to advance one of these drugs into human testing. This creates multiple shots on goals and the potential to repeat successes with follow on antibiotics.
In general, Tetraphase offers a unique set of risk and rewards for those interested in the antibiotic space. Eravacycline's ability to target MDR gram negative (and positive) bacteria with a cleaner adverse event profile than tigecycline creates a significant market potential. In addition, the platform technology makes it unique among small cap antibiotic companies. That being said, there is still clinical risk given the relatively few number of patients treated as well as a lack of significant near-term catalysts.
Sobek is long Tetraphase and Cempra.
David Sobek has been writing on biotech for a number of years through various outlets with a general focus on small cap oncology and antibiotics companies. He received his PhD in political science from Pennsylvnia State Univeristy in 2003 and a BA in international relations from The College of William and Mary in 1997.