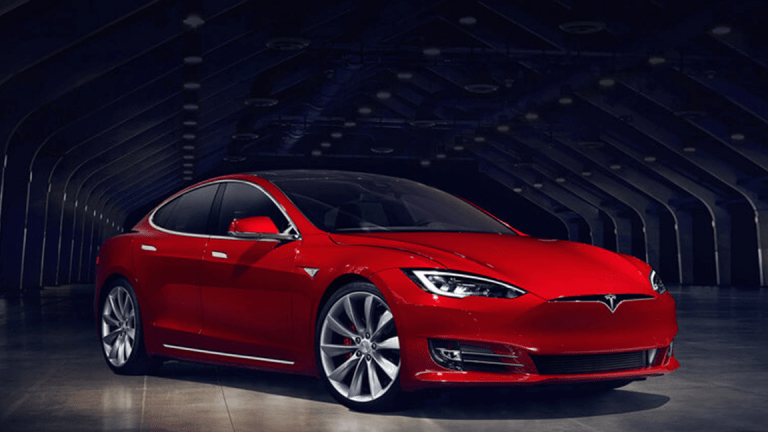 Tesla's Stopping Sales of Entry Level Model S and X Vehicles
Tesla is looking to change the presentation of its Model S and X versions to be more like the Model 3.
One of the beauties of being a relatively small automaker? Being able to pivot quickly. That's exactly what CEO Elon Musk continues to do with Tesla (TSLA) - Get Tesla Inc Report .
Unlike companies with a vast portfolio of products, complicated supply lines, various production houses, global operations and a complex ordering network, companies like Tesla don't have to jump through as many hoops as say, General Motors (GM) - Get General Motors Company Report or Ford Motor (F) - Get Ford Motor Company Report .
In the latest example, Tesla will stop taking orders of the lowest version of Model S and X vehicles. In a recent tweet from Musk, he wrote, "Starting on Monday, Tesla will no longer be taking orders for the 75 kWh version of the Model S & X. If you'd like that version, please order by Sunday night."
Shares of Tesla added $2.29, or 0.66% on Friday close at $347.26.
So what does it mean for Tesla's bottom line?
Now that Tesla has dramatically increased production of the Model S, X and 3, maximum production is no longer a dire need. Make no mistake though, Tesla could use all the cash it can get its hands on. But by eliminating these two vehicles, management hopes it can still find a way to do so.
The 75 kWh Model S and 75 kWh Model X start at $76,000 and $82,000, respectively. As they currently stand, the next highest trim, the 100 kWh versions of the S and X, start at $94,000 and $97,000, respectively. That marks a fairly substantial increase from the 75 kWh prices. Eliminating the entry level option likely pushes the buyer into one of two options (provided they want a Tesla over a competitor): Either buy the 100 kWh version of the Model S or X or buy the Performance version of the Model 3. 
For the customers who are willing to forego a Model S or X, they can opt for the Performance Model 3, which starts at $62,000, can drive 310 miles and go from 0 to 60 in 3.3 seconds.
Those that won't go with a Model 3 instead, the 0-60 mph specs don't improve much, with the S going from 4.2 seconds to 4.1 seconds and the X going from 4.9 seconds to 4.7 seconds when comparing the 75 kWh to the 100 kWh versions. The range does get a healthy boost though. The 100 kWh Model S can travel 335 miles vs. the 259 miles that the 75 kWh can achieve. The 100 kWh Model X vs. the 75 kWh version isn't as substantial, at just 295 miles vs. 237 miles, but it's still notable. Worth mentioning is that the Performance versions of the Model S and X are notably faster than the 100D versions.
In a follow-up question, one user asked Musk if the company is moving away from battery sizes to have more direct descriptions of each version. For example, a short range Model S for the smaller battery or a long range Model X for the larger battery. 
Musk answered simply, "yes."
Tesla is not slowly eliminating the S or the X, but rather, appears that it is simply changing how the vehicles are presented on the ordering system. Down the road then, we should see Model S and X options that aren't measured as 75D, 100D and P100D, but instead long range, mid range, Performance, etc. At this point though, it's not clear when those variations will show up or what size batteries they will be. 
This article is commentary by an independent contributor. At the time of publication, the author had no positions in the stocks mentioned.