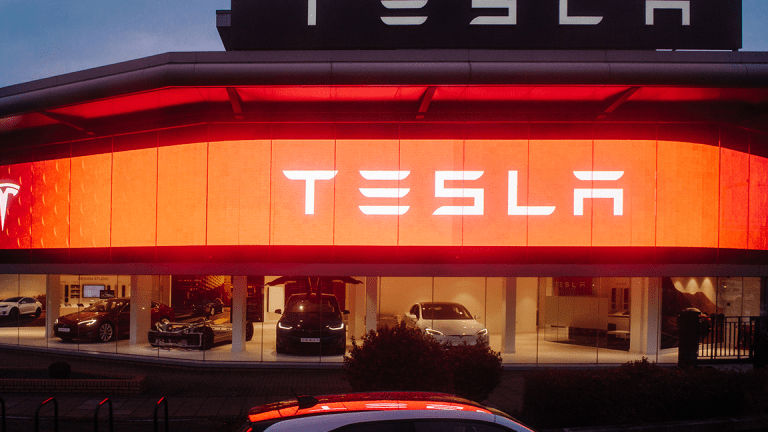 Elon Musk Will 'Blow Your Mind Clear Out of Your Skull' With Tesla Semi Truck
Tesla CEO Elon Musk tweets that the company will unveil its semi truck on Thursday and will 'blow your mind clear out of your skull.'
Move over drivers, there's a new big rig hitting the highways.
After delaying its late-October semi truck announcement, Tesla Inc (TSLA) - Get Report CEO Elon Musk tweeted that "Tesla Semi Truck unveil to be webcast live on Thursday at 8pm! This will blow your mind clear out of your skull and into an alternate dimension."
Wow, talk about building up anticipation.
TheStreet will be hosting a live blog covering the launch of Tesla's new vehicle on Thursday at 8 p.m. PT. Please check our home page for more details.
Skeptics will quickly dismiss Tesla as a potential player in the semi truck industry. Understandably, it's hard to envision an electric semi truck taking on many of the cross-country treks that current diesel-powered trucks currently handle.
Let's say Tesla's semi trucks have a range of about 300 to 400 miles. Depending on how far they are going, this could be as few as one trip or as many as several round trip drives. While the semi truck can of course recharge, one would think it will take considerably longer than the Model 3, S or X.
There are complications, to be sure. Cost being one of the largest concerns. Will shipping companies recoup the cost of driving electric or will the high price point and likely low range limit their return on investment?
Range and cost are just a few things investors and industry observers will be looking for when Tesla unveils its latest project. Tesla bears will also point to the automaker's struggle in ramping production of the Model 3. This is just another distraction from the company's production targets -- and it too could have its own issues.
Bulls will counter with a longer-term outlook, thinking beyond the quarter-to-quarter targets and production goals. An electric semi truck only expands Tesla's potential for long-term EV domination.
Those who question whether an electric semi truck is viable, look no further than China-based BYD Company (BYDDF) , maker of all sorts of electrically powered products -- including buses and trucks. There's also Uber, which is working on autonomous trucking solutions with its Otto acquisition for $680 million last summer. Others (like me) will wonder what long-term implications this could mean for engine makers, like Cummins (CMI) - Get Report . 
Perhaps that's where Tesla will "blow our minds" -- with autonomous trucking solutions and a longer-than-expected range.
Tesla shares closed up 0.4% to $312.50 on Thursday, and are up 46% year to date.
Here's 5 other things Musk recently revealed on social media:
More of What's Trending on TheStreet:
This article is commentary by an independent contributor. At the time of publication, the author had no positions in the stocks mentioned.