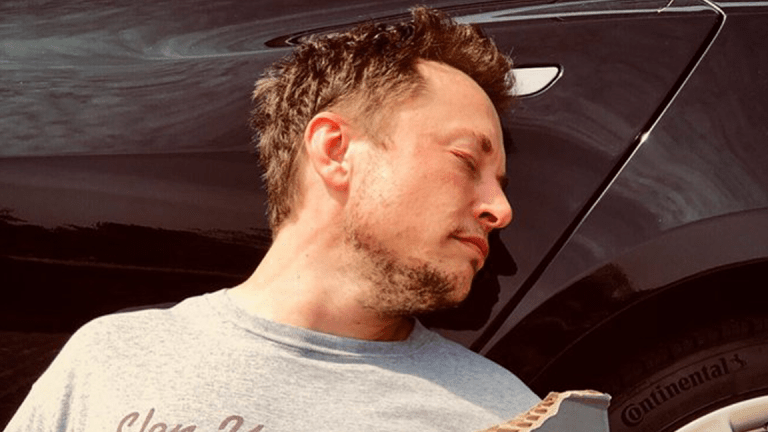 As Tesla's Capital Needs Mount, Model 3 Production Targets Face Extra Scrutiny
With expectations that Tesla will need to tap the capital markets for billions, Elon Musk's goal of producing 5,000 Model 3s per week by the end of the second quarter is in doubt.
With calamities besetting Tesla Motors Inc. (TSLA) - Get Tesla Inc. Report recently, the first quarter update from Elon Musk's electric vehicle maker will get an even closer read than normal.
Musk previously told investors that the company would produce 2,500 of the mass-market Model 3 by the end of the first quarter and 5,000 per week by close of the second quarter -- but those numbers are likely too high. With Tesla needing to raise billions in the near term, assuaging concerns about Tesla's ability to put cars on the road would shore up credibility in the capital markets. 
"Our sense is investors are looking for Model 3 production somewhere in the 1,750 units/week range, which while below 2,500 units per week guidance, many would view as a positive given progress from [the fourth quarter]," Consumer Edge Reasearch analyst Jamie Albertine suggested in a Monday note. The analyst projects an average of 1,250 per week in the first quarter but suggests Tesla could have edged towards 2,000 per week by the end of the period. 
Tesla is more likely to hit 5,000 Model 3s per week in the second half of the year than the second quarter, Albertine suggested.
Musk originally targeted 5,000 Model 3s by the end of the 2017, though Tesla produced just less than 2,5000 of the mass-market vehicle in the entire quarter. He provided the revised range for the first and second quarter during a February earnings call. Tesla typically provides an update within a few days of a quarter's end, so data on the first quarter could come as soon as today.
Last week, the National Transportation Safety Board said it would investigate a fatal crash of a Tesla vehicle. Meanwhile, the company said it will recall 123,000 of its Model S sedans. Musk's April Fools tweets on Sunday that Tesla is on the verge of bankruptcy may have hit a raw nerve rather than investors' funny bones.
Philippe Houchois of Jefferies LLC, who upgraded Tesla from underperform to hold on Monday, said in an email that he does not expect Musk to reach 5,000 per week in the second quarter. The analyst projects that Tesla shipped 10,000 Model 3s in the first quarter, he noted in a Monday report. To fund the increase in production, Houchois expects the company to raise $2.5 billion to $3 billion in equity, diluting shareholders by 6% to 7%.
While the deadly crash and the recall have riveted media attention on Tesla, Cowen & Co. analyst Jeffrey Osborne noted in a recent report, owners and others have griped about gaps between the body panels, the touchscreen and scratches on vehicles in online forums. 
"While we have expected challenges in manufacturing, issues around quality are worrisome given the company's strong brand association, and we would expect customers to be more likely to defer or cancel their orders until production and quality issues are resolved," Osborne wrote. The analyst expects 7,500 Model 3s in the first quarter, and suggests the target of 5,000 per week by the second quarter is "likely in jeopardy if problems persist."
Tesla's ability to live up to Musk's targets is in doubt. As the company heads to the capital markets, Moody's Investors Service analyst Bruce Clark suggested in a March downgrade that hitting production targets will help Tesla's "credibility" with investors. Moody's lowered the company's debt rating from B2 to B3, suggesting that Musk would likely have to raise more than $2 billion.