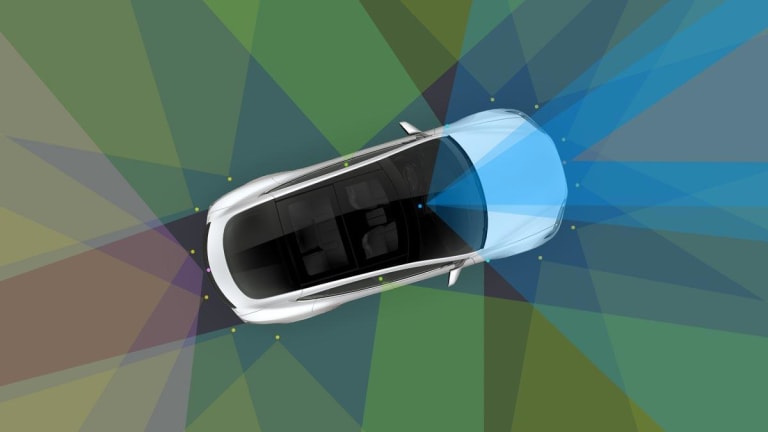 Tesla's Autonomous Driving Plans Are Developing in Plain Sight
Tesla's autonomous driving aspirations are climbing -- and kicking Nvidia to the curb.
Tesla Inc.  (TSLA) - Get Report isn't going to be left out of all the discussion for autonomous driving. 
We keep hearing about what General Motors (GM) - Get Report is doing with Cruise or what Alphabet (GOOGL) - Get Report (GOOG) - Get Report is doing with Waymo, but what about the California-based electric car maker?
During Tesla's fiscal second-quarter conference call, CEO Elon Musk and his team went into much more detail about the emerging technology.
To the point of controversy, Tesla has been pushing the envelope with its self-driving system, Autopilot, as the company says drivers need to keep their hands on the wheel and devote their full attention. However, that's difficult when the car can make most of the correct decisions. In a few instances, the car hasn't, though, and it's resulted in accidents and even several deaths.
Tesla's Autopilot program is set to take a big step forward anyway. The company's Version 9 will be released later this month to some customers and should fully roll out in September.
In the words of Stuart Bowers, vice president of engineering at Tesla:
"Autopilot v9, which is our sort of on-ramp to off-ramp solution that's going to automatically attempt to change lanes, understand what lane the car is in, understand the route the user wants to travel and take that route for the user and ultimately hand back control to that user."
These advances are coming very rapidly and Tesla is quickly finding itself near the top of the autonomous driving race. What does that mean for other companies?
Well for one, Nvidia (NVDA) - Get Report is a big question. Currently Tesla powers its autonomous driving efforts with Nvidia's DRIVE PX 2 chip. However, the company has decided that it's, in Elon's words, "probably time to let the cat out of the bag." He continued, "the current Nvidia hardware can do 200 frames a second, this is able to do more than 2,000 frames a second and with full redundancy and fail-over."
Nvidia and Alphabet are holdings in Jim Cramer's Action Alerts PLUS member club. Want to be alerted before Jim Cramer buys or sells NVDA or GOOGL? Learn more now.
In essence, the company has built a chip that it can deploy into new Model S, X and 3 vehicles and complete a simple swap in existing vehicles. Musk explained that the transfer from GPU to the CPU ends up being a constraint and by designing its own chip, Tesla has made the "world's most advanced computer designed specifically for autonomous operation."
Is this bad news for Nvidia? I wouldn't say losing a customer as its ramping production in a significant manner is exactly good news. That said, autonomous driving isn't yet a huge part of Nvidia's business. Right now, it's the beneficiary of gaming and datacenter chips.
Stephen "Sarge" Guilfoyle nailed it Thursday morning, when he noted that Nvidia CEO Jensen Huang said a few months ago, "the volume from Tesla is not that high, there is no material difference one way or the other."
With Tesla aiming to produce 50,000 to 55,000 Model 3 vehicles this quarter, alongside the Model S and X, though, it's hard to say Nvidia wouldn't have benefited from those sales.
Again, automotive is not the highlight of Nvidia's business, at least not yet. The segment could soon start to benefit, though. Its DRIVE Constellation is not yet for sale but it's on deck, and there's also DRIVE Pegasus to consider. Nvidia's partnership with Mercedes for its MBUX infotainment system should help drive sales, too. Admittedly this is farther down the road, but Nvidia's partnership with Mercedes and Bosch to build an autonomous taxi service on its Pegasus platform will be a driver of revenue in the future as well.
So there are still plenty of reasons for investors to be excited about Nvidia's future, particularly with autonomous driving. And investors in Tesla should be excited, too.
Autopilot Version 9 sounds impressive, as does the company's new chip. The fact that Tesla is not increasing component costs vs. the Nvidia chip is an added bonus and gives a nod of credibility to management on the expense front.
This article is commentary by an independent contributor. At the time of publication, the author had no positions in the stocks mentioned.