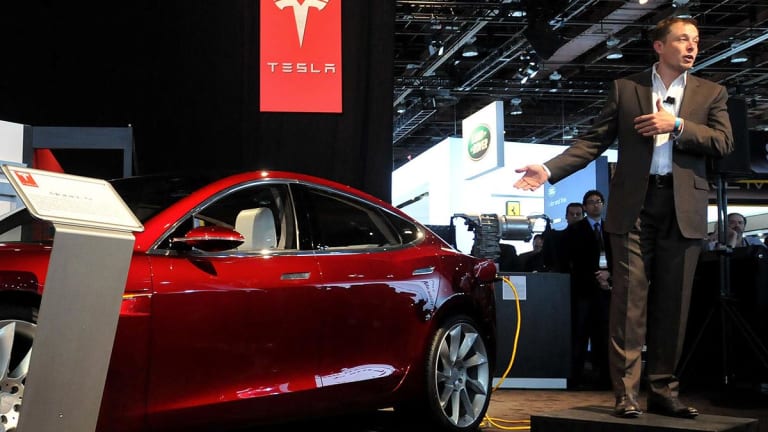 Tesla Will Ship 3,000 Model 3 Cars a Week to Europe
Tesla will reportedly ship 3,000 Model 3s per week to Europe starting in February 2019.
Tesla (TSLA) - Get Report isn't slowing down its rollout of the Model 3, with plans to start shipping its Model 3 sedan across the pond starting in February 2019.
That's based on reports from a Belgium shipping port company that plans to handle the incoming vehicles. The company is hiring workers as it preps for a steady and large volume of vehicles.
The development should come as little surprise, although investors may be shocked by the volume Tesla plans to ship. About a month ago, TheStreet reported that Tesla was making progress in its Model 3 expansion to Europe. The automaker began with a big reveal in several cities throughout the continent, followed by European customers being able to configure their vehicle.
On the company's most recent conference call back in late October, CEO Elon Musk said the plan was to build a production batch of Model 3s in January and have them ready for delivery in February or March.
Many investors and customers did not realize that may be to the tune of 12,000 vehicles per month.
The company has already said ```it's aiming to produce roughly 7,000 vehicles per week by the end of the year. If Tesla can do so, it will greatly alleviate the stress of having to meeting demand from both Europe and North America. Consider that at 7,000 a week, Tesla would have "just" 4,000 vehicles per week for North American customers. While that doesn't seem like much, realize that the Model 3 will likely be a top-10 selling sedan in the U.S. despite lacking significant production capacity for the first five months of the year. 
Further, Tesla wants to start delivering Model 3s in China, provided that the tariff situation becomes more feasible. That seems to be the case and Tesla would be one of three big winners. 
It has taken a few quarters, but that's relatively quick given how fast Tesla has accelerated its Model 3 production. Worth pointing out is that the company has a final assembly facility in the Netherlands for the Model S and X, drawing some questions as to when a similar setup for the Model 3 may find its way to Europe. Tesla is also working on a production site in Shanghai to help meet demand and reduce its costs.
While there are still concerns for Tesla from a financial perspective, it's hard to be too bearish on the company's production progress at this point. However, one critique of the company has been on quality control. I found it interesting that the Model 3s being shipped into Belgium will reportedly go through final inspection once they arrive. It's totally feasible that this will be a seamless operation, but with so many final prep procedures at play, it could have the potential to create more issues in quality control. Let's hope that's not the case. 
Tesla shares are flat so far in Wednesday's trading session. 
This article is commentary by an independent contributor. At the time of publication, the author had no positions in the stocks mentioned.