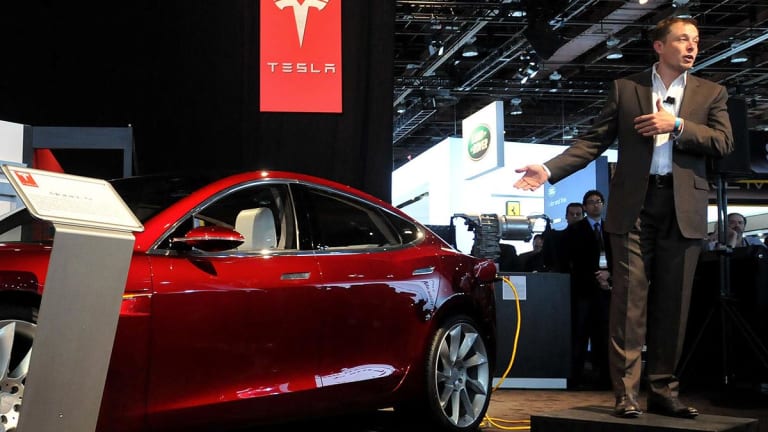 Tesla Will Now Raise Up to $2.7 Billion - But Is It Enough?
Tesla is raising $2 billion and oddly satisfying both the bulls and the bears by doing so. Here is the level Tesla must trade above.
Update: I guess Tesla answered that question, "Is it enough?" On Friday, the automaker bumped its capital-raise ambitions from $2 billion to $2.3 billion and possibly going as high as $2.7 billion should underwriters exercise their options to purchase more shares and notes. Musk has also shown interest to buy $25 million worth of stock in the offering, up from $10 million on the initial terms.
This article was first published on Thursday May 2nd at 10:35 a.m. ET. 
Tesla (TSLA) management has been pretty steadfast in its decision to not raise capital. CEO Elon Musk reiterated the strategy more than once, saying that Tesla could combine a cash-flow positive business model with a bootstrapped startup-like mindset and build out the business to where it was generating enough profit to survive on.
This logic completely baffled some of Tesla's analysts, who begged to know why the automaker wouldn't raise capital in a capital-intensive business at a time where it easily could. Well, they don't have to wonder anymore.
A day ago, Tesla planned to raise $2 billion, selling about $650 million worth of stock and raising $1.35 billion in a convertible debt offering. Musk planned to buy $10 million worth of stock in the deal. Those terms have since increased, with the automaker looking to raise $737 million in the stock offering and $1.6 billion in cheap 2% convertible debt. Musk now plans to buy $25 million worth of stock in the offering. 
The targeted capital raise of $2.3 billion could increase to $2.7 billion should underwriters exercise their right to buy additional notes and shares.
What Does This Mean for Tesla Down the Line?
The ironic thing about Tesla raising capital is that it will add conviction to both longs and shorts. Tesla is a highly emotional stock, with a long line of doubters and believers who couldn't be further from each other when it comes to their opinions of the stock.
Bulls will believe that the capital raise is a big benefit, easing worries over Tesla's cash position and making sure the company has the funds it needs to fuel its growth. Bears will say it's just another nail in the coffin, with Tesla's liabilities increasing and arguing that it will only delay its inevitable demise.
In a way, they are both right. The additional funds will help Tesla roll out new products -- like the Model Y and Semi -- and float the current business as is. It also will delay any sort of inevitable ending that many shorts believed was finally getting underway after Tesla's latest earnings report.
Worth pointing out is that Tesla's 2025 bonds didn't make new lows late last month while its stock price did. Nor are they falling on Thursday with the latest news. In fact, the bonds were up about 1.7% to 87.5 cents on the dollar on Thursday.
Trading Tesla Stock
Readers of TheStreet were able to avoid Tesla's pounding last week, once it was clear that Tesla was breaking below long-term range support. The move sent shares reeling, breaking to new multi-year lows and hitting a low of $231.13.
You can see on the chart above -- from Thursday -- that Tesla's stock was not reclaiming prior support. While rallying on the initial capital raise news, it was seemingly not enough to get the stock back above prior range support. On the chart below from Friday through, you can see that Tesla stock is rallying back into that support zone after the company increased the size of the offer. 
In December, Tesla began a nasty downtrend (blue line), which has squeezed the stock lower and lower over the past five months. The 200-week moving average, which had been support for a number of years -- once Tesla stock temporary broke below it for a few weeks -- started to act as resistance in April. That was a warning sign to bulls that, when coupled with the stock's inability to clear downtrend resistance, suggested range support near $250 may not hold this time around.
For bulls to notch a real victory, they need to get Tesla stock back over range support and preferably over downtrend resistance. Over these levels and Tesla stock can begin to trade more constructively on the long side. But if Tesla stock fails to get back through range support on this larger capital raise, a retest of the $231 lows and potentially even lower is on the table.
This article is commentary by an independent contributor. At the time of publication, the author had no positions in the stocks mentioned.