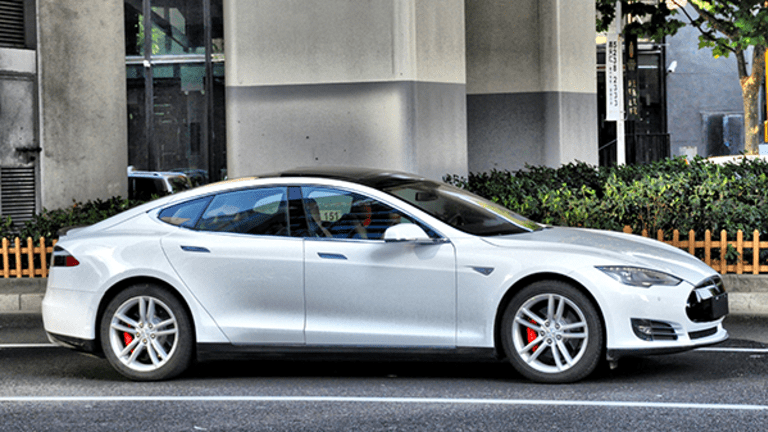 Tesla Will Need to Raise Cash, and Just Revealed How It Might Get It
Tesla must find some external green.
Some banks may soon be hearing from Tesla (TSLA) - Get Tesla Inc Report and chief salesman Elon Musk.
When asked on Tesla's earnings call Wednesday evening whether the company would have to raise more capital to meet production targets, Musk said it's more likely "thinking about debt."
"We're not at this point considering an equity raise," Musk said.
Tesla's burn rate continues to climb higher, as negative free cash flow grew to to $1.16 billion during the quarter, which is almost double the amount from last quarter.
The cash raise is all but a done deal. 
Musk's announcement that Tesla Inc. has 500,000 reservations for its mass market Model 3 is a reassuring sign for investors. While the milestone bodes well for Tesla's growth, it also raises the question of whether Musk will have to raise more capital to keep production humming.
Greenlight Capital Inc.'s David Einhorn, a prominent Tesla short, predicted Tuesday that Musk will have to obtain more capital. "[Tesla] is expected to burn over $2 billion this year as it begins production of its Model 3 and is currently only capitalized for the next three quarters," Einhorn told investors during Greenlight's call. "As Tesla attempts to achieve scale for the Model 3 it will depend on the capital markets' willingness to fund it."
Einhorn has reason to hope Tesla stumbles. While a stake in German drug-maker Bayer AG (BAYRY) - Get Bayer AG Report has paid off for Greenlight, the firm has taken a hit for his short position in Tesla, which is up nearly 50% this year.
Tesla raised close to $1.4 billion by selling convertible notes and stock in March. The company initially targeted $1 billion, but boosted the sale.
"There could be a cash-raise need in 2018," CFRA Research analyst Efraim Levy said. "I don't think there is an imminent need."
Levy does not have a call for how much Tesla needs. The analyst projected that the company would raise as much as $3 billion before the March fundraising, which would suggest Tesla could look for another $1.5 billion or so.
Tesla could have benefited from selling equity a few months ago. Even though the stock is up this year, it is about 17.5% off its high of $385.95 in June. "With an elevated stock price recently would have been a good time to have done it," Levy said.
More of What's Trending on TheStreet: