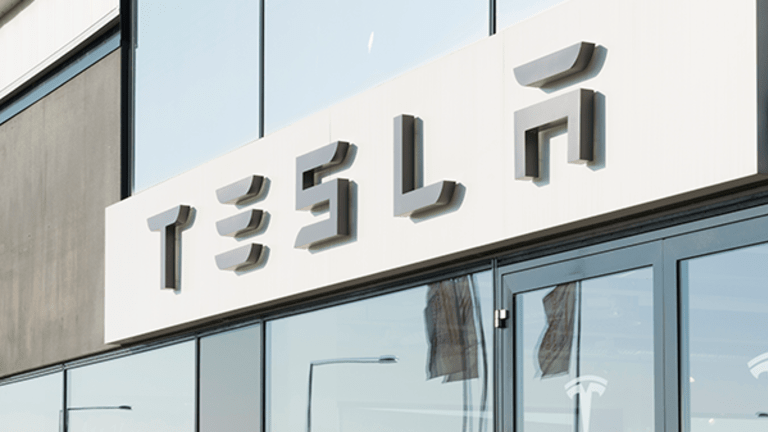 Tesla (TSLA) - Get Tesla Inc Report  was in the spotlight on Thursday, as company shareholders voted overwhelmingly in favor of the electric carmaker's controversial bid to acquire SolarCity (SCTY) . SolarCity shareholders also favored the deal by a wide margin. 
To be sure, it's not as momentous a vote as last week's presidential election. However, the results of that surprising vote could have huge ramifications not only for the proposed purchase but for Tesla itself.
Tesla is the sort of company that could probably have only risen to prominence under a relatively progressive administration such as Obama's. The carmaker produces cars that run on electric battery power, which the company says should ideally be charged with solar energy.
But not only is Tesla a play on alternative energy, it also is on top of other technology and vehicle trends, including its current self-driving initiative. 
Many customers who have bought Tesla models and other electric cars have received federal -- and state -- rebates. Currently, those who purchase Teslas can scoop up a $7,500 tax credit. And if you purchase a SolarCity system to power your car or your home or business, you can receive a federal subsidy with tax credits equal to 30% of the purchase price.
President-elect Donald Trump's administration and the Republican-controlled Congress are unlikely to bestow such favors upon the electric car and solar markets. The president-elect has already promised to repeal the Obama-led Clean Power Plan, an initiative that strives for a 32% reduction in power-plant carbon emissions over 25 years. In addition, the subsidy for purchasing an electric car is slated to decrease by 50% once a carmaker sells its 200,000th electric vehicle in the U.S. It's likely that Tesla will hit that number in the next 12 months.
On the solar front, the 30% federal tax credit is currently scheduled to decrease to 26% of the sale price in 2020, with further drops in the following years. It's unlikely that a Trump administration will extend or renew these clean-energy subsidies.
Investors are already uneasy about Tesla, especially when it comes to its proposed deal to buy SolarCity. The deal values the solar panel maker at $2.6 billion, and SolarCity could create a significant cash drain for the carmaker, which only recently reported its first profitable quarter in three years. In addition, the deal has raised conflict of interest. Tesla's CEO, Elon Musk, is a co-founder, principal shareholder and chairman of SolarCity.
Musk owns 22% of each of the companies. 
Tesla's stock has fallen by about 16% in the last three months as investors have expressed their doubts about the deal. They company's shares could fall a good bit more drastically as Trump's inauguration draws near, and the alternative- energy salad days of the Obama administration come to a close.
Now is not the time to pile into shares of either Tesla or SolarCity, or other alternative energy stocks, for that matter, including First Solar and electric energy juggernaut Exelon. Their shares have already taken a beating since Trump won the election. And that can only get worse.
---
Savvy investors should continue to be wary of Tesla. But there's good reason. A blistering financial storm is about to hit our shores. When it hits, weak companies and their investors will be washed away. You need to put yourself on solid ground. And that doesn't just mean changing your investment allocations or loading up on cash. I'll show you how to protect yourself and prosper when you click here.
The author is an independent contributor who at the time of publication owned none of the stocks mentioned.