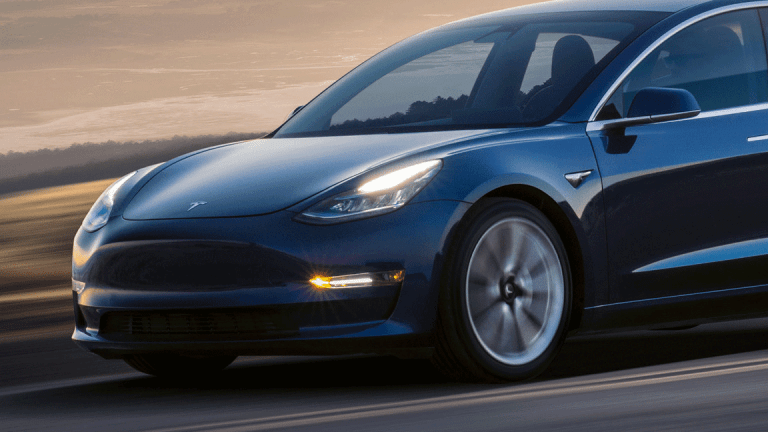 Will Tesla Make a Vegan Model 3?
Should Tesla scrap all leather options and make a vegan Model 3, S and X? It already does -- sort of.
Should Tesla scrap all leather options and make a vegan Model 3, S and X? It already does -- sort of.
Hello vegan Model 3.
Shares of Tesla Inc.  (TSLA) - Get Report are being put into ludicrous mode Wednesday, up more than 7.5% to $313 in midday trading.
Driving the gains? Reassurance from Tesla management and CEO Elon Musk from Tuesday evening's annual shareholder meeting. For reference, here are our top takeaways from the event.
The biggest points made in the meeting centered around Model 3 production, second-half profitability and the need for no additional capital. Of course, there were plenty of questions and discussions about China, future vehicles and the Gigafactory.
But there was one question that stood out from the rest: "Are you still using leather in some of your components?," asked PETA's Dr. Katherine van Ekert. She added, "We're really pleased to see that you have introduced non-leather seating options." She pushed for Tesla to provide a non-leather option for its steering wheel.
Management went on to explain that leather is still used in the Model 3, S and X, but only for the steering wheel trim. Rest assured they are working on finding a reliable alternative for interested buyers, but they want to make sure it's as good as the current offering, or preferably better.
Everything you need to know about Tesla is here.
Currently Tesla does have a "kind of off-menu" offering that replaces the leather trim on the steering wheel and that's for "people that need a fully vegan car," Tesla said.
Musk added to that explanation, saying that they only make fully leather-less vehicles in small quantities. Notably, last summer Tesla eliminated the leather from its seating options, instead offering cloth and a premium synthetic material in place of leather.
The move came despite the steady decline in leather, skin and hide prices, which plunged during the Great Recession and then abruptly spiked. It's now at the lowest levels since 2010.
Dr. Ekert pointed out that leather production is a concern among animal activists and noted that other high-end automakers have gone to offering synthetic materials, specifically citing Ferrari (RACE) - Get Report .
Tesla looks to be moving that way too, and will likely remove leather from the steering wheels -- or at least give customers an "on-menu" option during configuration -- when it finds a suitable substitute.
Even though Musk seemed quite humble and was clearly trying to steer away from making too big of promises at the meeting, he couldn't help but dangle out one teaser: "Model Y, for example, will not have any leather in it, including in the steering wheel -- even if it does have a steering wheel?"
This article is commentary by an independent contributor. At the time of publication, the author had no positions in the stocks mentioned.