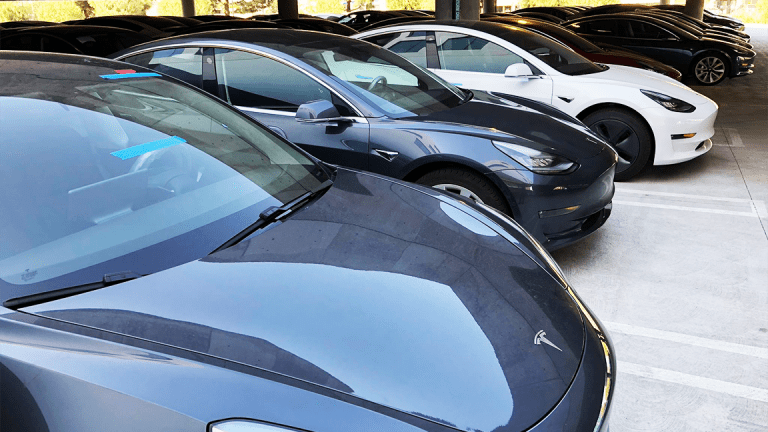 Tesla Temporarily Shuts Down Production of Model 3
Tesla is halting production for its Model 3 sedan for four to five days - an unexpected move.
It's tough to find a good way to spin this. 
Tesla Inc.  (TSLA) - Get Tesla Inc. Report is shutting down production of its Model 3 sedan for four to five days in an unplanned move. The company said in a statement that this is "common in production ramps like this." In morning trade, shares are down about 1.4%.  The stock closed Tuesday down $3.52, or 1.21%, at $287.69.
Is the move a surprise? Yes and no.
Last week, an interview on CBS aired with Tesla CEO Elon Musk. In it, he explained some of the headaches -- or perhaps, migraines -- that have come with the "production hell" associated with the Model 3.
Tesla had originally planned for a highly automated production network to build the Model 3, but that hasn't panned out quite so well. In response to a question about those robotics, Musk told the interviewer, "we had this crazy, complex network of conveyor belts ... and it was not working, so we got rid of that whole thing."
He later tweeted that, "Yes, excessive automation at Tesla was a mistake. To be precise, my mistake. Humans are underrated."
So it's pretty clear to see that Tesla had some automation issues to work through, right? Right. In that sense, a shutdown of production isn't that surprising as Tesla looks to tweak its production. The company's explanation is that it's aiming to improve the automation process and to improve production numbers. 
Again, this makes sense to some degree. 
I think some investors were taken off-guard by the production halt though, in part because during that same CBS interview, Musk said Model 3 production was back on track. That the company's all-out push in the last week of Q1 to produce 2,020 vehicles is in fact sustainable and that a big ramp for Q2 should be coming.
In that sense, all seemed fine in many investors' minds. Many weren't expecting another shutdown - Tesla's second in three months.
It also depends on what investors and analysts were expecting out of Tesla. If the only expectation was simply that the automaker would hit 5,000 units a week by the end of the second quarter, then this production halt really doesn't matter. So long as it gets Tesla to that goal or close to it, it's fine.
However, if analysts and investors were looking for Tesla to gradually grow from 2,000 Model 3 units a week to 5,000 a week between April and the first week of July, they may be disappointed. Depending on how long production is down and how many Model 3s Tesla can produce in the days and weeks once production resumes, it will negatively impact deliveries and revenue, most likely. 
By how much is hard to speculate at this point.
One thing is clear, though, and that's if production of the Model 3 does not meaningfully improve in the next few months, Tesla stock will be susceptible to further selling. It's already one of the most shorted names on Wall Street. 
This article is commentary by an independent contributor. At the time of publication, the author had no positions in the stocks mentioned.