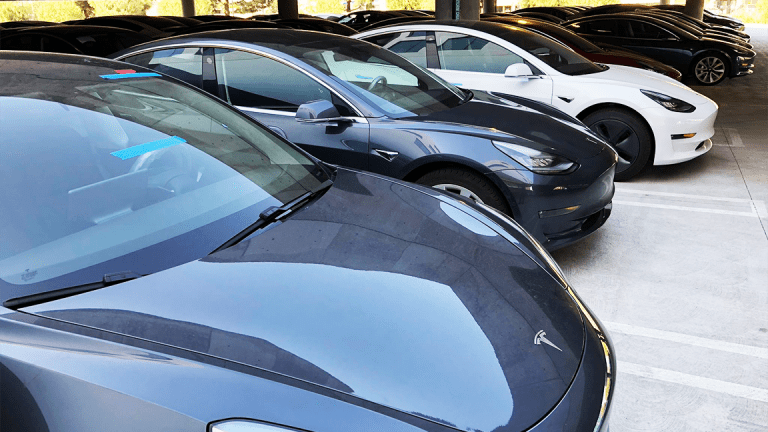 After a quick post-earnings dip, Tesla Inc.  (TSLA) - Get Tesla Inc Report has been on the rise since reporting its fiscal first-quarter earnings results. Now hovering near the critical $300 level, many investors are wondering which direction is next.
Because bears have sold-short so much of the stock, Tesla shares are becoming hard to borrow. That's got many bulls -- and sideline observers -- thinking that a powerful short squeeze could ensue. Particularly if the bulls sense panic in the bears. 
Indeed, it could make for a violent rally at some point this year. That's why with the positive news regarding Tesla Model 3 suppliers, it's surprising that Tesla stock is only flat on Wednesday rather than meaningfully higher. 
According to some reports, there have been "encouraging signs" in the pace of production.
Earlier this year, Tesla was aiming to produce 2,500 Model 3 units per week by the end of the first quarter. The final tally for the last week came in at 2,020. Some said that this total was likely the result of a final push and questioned whether 2,000 units a week was sustainable.
According to CEO Elon Musk and the company, it has been and management is still targeting 5,000 Model 3 units per week by the end of the second quarter. It would be impressive for the company to hit that mark -- increasing production 150% in just three months -- but there are concerns over what it will cost to achieve. With increases in hiring and more dependency on human assembly rather than automation, those costs are heading higher.
Further, we know the company's automotive gross margins aren't what they look like on the surface, while Tesla's cash balance is also a worry. Finally, it didn't go unnoticed that its Fremont production plafn can now be pledged to creditors.
Still, the increase in orders from suppliers at least sends a signal to investors that production is trending higher. That's good news, provided Tesla is keeping its costs under control. In the latest quarter, management showed some fiscal discipline after cutting its CapEx budget from $3.4 billion to less than $3 billion for 2018.
If production comes in at more than 5,000 units per week by the end of the second quarter, bulls might not be able to fight off the temptation to drive shares higher. Below it -- significantly anyway -- there will be some questions. (Who knows, though, maybe Musk won't answer them).
Pro Tears Down Tesla's Model 3 and Here's What He Found
The point: Tesla has a bad financial setup at the moment. It's burning through cash, has too much debt and isn't earning near what management thought they would 12 to 18 months ago.
In order to fix that problem, Tesla needs to slash costs, increase the scale production of the Model 3 and as quickly as possible increase the profitability per vehicle. Even at the 5,000-a-week mark, Tesla may very well still lose money on the Model 3 at first. 
The first "to do" is already in the works with a lower CapEx budget, while the second is being worked on now. Based on these supplier reports, there's reason for cautious optimism. The third "to do" can come after No. 2 is satisfied.
This article is commentary by an independent contributor. At the time of publication, the author had no positions in the stocks mentioned.