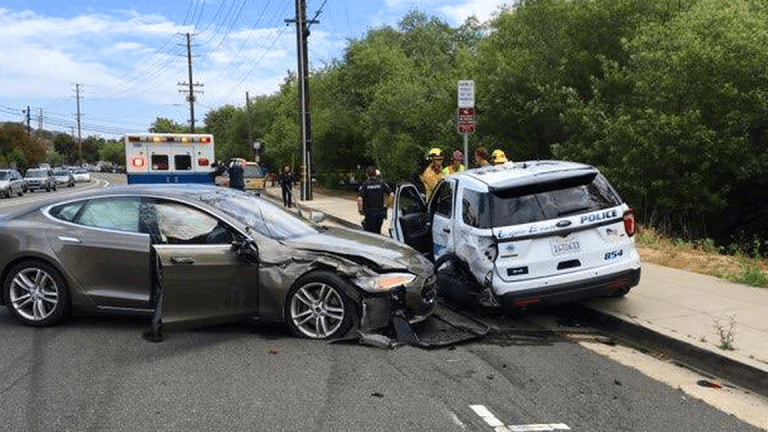 Tesla Lawyers Subpoena Facebook, AT&T, Others in Lawsuit Against Former Worker
Tesla is looking for information the company says former employee Martin Tripp transmitted via various electronic means.
Tesla is looking for information the company says former employee Martin Tripp transmitted via various electronic means.
This Tesla Inc. (TSLA) - Get Report lawsuit is getting really messy. 
The company asked U.S. Magistrate Judge Valerie P. Cook for permission for its lawyers to subpoena AT&T Inc.  (T) - Get Report , Facebook Inc. (FB) - Get Report , Open Whisper Systems and Dropbox Inc.  (DBX) - Get Report in order to help build its case against Martin Tripp, a former employee who the company said hacked its internal systems.
The judge has already authorized subpoenas for information from Microsoft Corp.  (MSFT) - Get Report , Alphabet Inc.'s  (GOOGL) - Get Report  Google, and Apple Inc.  (AAPL) - Get Report . 
"As with the subpoenas the Court has already authorized, these subpoenas require only the preservation of documents and not their actual production at this time, placing little or no burden on AT&T, Facebook, WhatsApp, Open Whisper, and Dropbox," company lawyer Joshua A. Silker wrote in his request to the court. 
Tesla said that Tripp admitted to its internal investigators that he uploaded, stored, and made Tesla's confidential information available to unnamed third parties through email and other online messaging and file-sharing accounts. 
"Tripp may have been sharing Tesla's confidential and proprietary information via the messaging services Facebook Messenger, WhatsApp and Signal; and via text messages sent through his personal cellular device on the AT&T Wireless network," the legal briefing said. 
Tesla sued Tripp days after CEO Elon Musk sent a company-wide email that accused the then unnamed employee of sabotage and "exporting large amounts of highly sensitive Tesla data to unknown third parties."
Musk added that the employee admitted to hacking the company's internal systems in retaliation for not receiving a promotion he felt he deserved.
However, Tripp said that his motivations were pure and that he had witnessed "scary" things at Tesla that the public needed to know about.
Those scary things included batteries that had been installed in cars despite the fact that they were punctured. Tripp also admitted to the Washington Post that he was the person behind a document leak earlier this month that led to a Business Insider story about the size of the inventory of the company's excess scrap parts.
"I am being singled out for being a whistleblower. I didn't hack into system. The data I was collecting was so severe, I had to go to the media," Tripp said in a statement to CNNMoney.
Facebook, Microsoft, Apple and Alphabet are holdings in Jim Cramer's Action Alerts PLUS member club. Want to be alerted before Jim Cramer buys or sells the stocks? Learn more now.
Expert Advice for a Risky Market. We asked top experts from Bank of America, Fisher Investments, Invesco and Wells Fargo what smart investors should do right now. Click here and register for free to watch what these market watchers recommend.