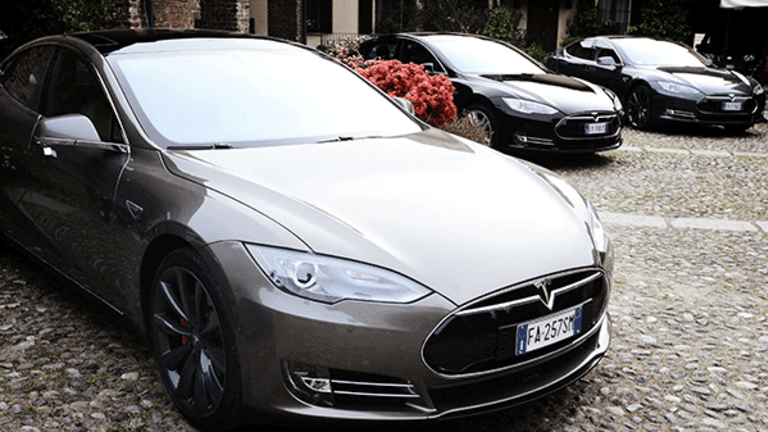 BofA: Tesla Stock to Be Cut in Half in Next 12 Months
Bank of America/Merrill Lynch analyst John Murphy believes Tesla's acquisition of SolarCity will cause shares to sink.
Bank of America/Merrill Lynch slashed its price forecast on Tesla (TSLA) shares saying the electric car manufacturer's "long-term viability" is at risk because of its acquisition of SolarCity (SCTY) .
In November, SolarCity and Tesla shareholders voted to approve the electric car maker's $2.6 billion acquisition of the solar power company.
Consequently, Bank of America/Merrill Lynch now holds that the stock will be nearly cut in half over the next 12 months because "positive earnings and cash flow [are] now even more elusive" in light of the combination.
"We believe the SolarCity acquisition introduces material risks to the longer-term viability of TSLA, while the recent capital raise only serves to further dilute potential shareholder value," Bank of America/Merrill Lynch analyst John Murphy wrote.
Murphy, who has an "Underperform" rating on the stock, sees Tesla shares falling to $165, a 46% drop from where the stock closed Monday at $308.03 a share. 
Shares of Tesla were lower during mid-morning trading on Tuesday.
(What will move markets this quarter and how should investors position themselves ahead of time? Jim Cramer sat down with four of TheStreet's top columnists recently to get their views. Click hereto listen to his latest Trading Strategies roundtable with them and read their advice for stocks, bonds, forex and gold.)