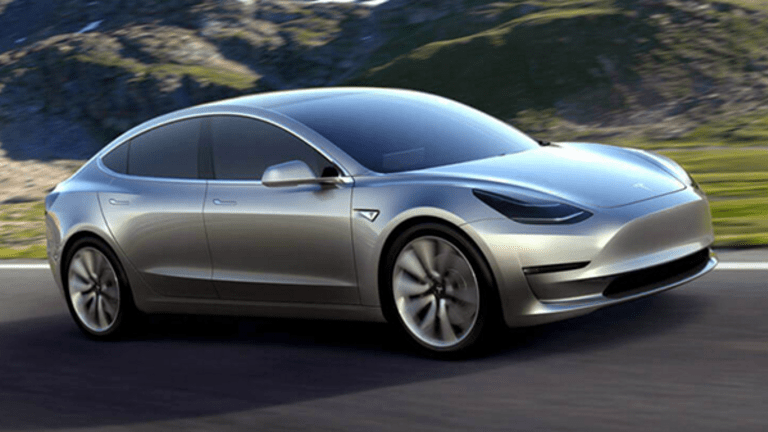 Tesla Shares Explode After Not Losing a Ton More Money, Here Are Your Talking Points
The electric-car maker said its on track to meet its ambitious goals for the Model 3.
Shares of Tesla Inc. (TSLA) - Get Tesla Inc Report were climbing 3.5% to $337.95 in after-hours trading on Wednesday after the electric-car maker beat on its top and bottom line for the second quarter. 
For more on Tesla's second quarter results click on over to TheStreet's live blog.
Tesla posted an adjusted loss of $1.33 per share, which was narrower than Wall Street's expectations for a loss of $1.82 per share. Revenue more than doubled year-over-year to $2.79 billion, surpassing analysts' estimated $2.52 billion. 
Deliveries grew 53% from the same period last year even though the luxury vehicle market remained flat. Tesla said order reservations for its highly-anticipated Model 3 vehicle, released last week, are averaging more than 1,800 per day. The Model 3 starts at $44,000 and is largely considered by Wall Street to be Tesla's path to profitability. 
This Little Known Tech Company Could See Its Stock Soar on Apple iPhone 'Super Cycle' Mania
Apple CEO Tim Cook Says He Isn't Terrified of WeChat, but How Do You Explain the Drop in China Sales
The company finished out the quarter with roughly $3.03 billion in cash, which is less than the $4 billion it held during the prior period. Tesla continues to burn through cash as it works to meet CEO Elon Musk's ambitious Model 3 production goals, including producing 500,000 vehicles each year and, by 2020, one million. Many analysts expect that it will have to raise more capital to stay on track. 
Tesla said it expects capital expenditures to be about $2 billion in the second half of 2017.
In a letter to shareholders, CEO Elon Musk said the company is confident that it can produce more than 1,500 vehicles in the third quarter and achieve a run rate of 5,000 vehicles per week by the end of 2017. He added that Tesla still plans to increase Model 3 production to 10,000 vehicles per week in 2018. 
The company also noted that Model S and Model X deliveries will increase in the second half of 2017, rather than the first half of 2017, as it had previously predicted. 
Tesla will be hosting an earnings call late Wednesday, where investors will be looking for Musk to provide some color on his recent comments, saying it will be "production hell" keeping up with the Model 3's deliveries and orders.
More of What's Trending on TheStreet: