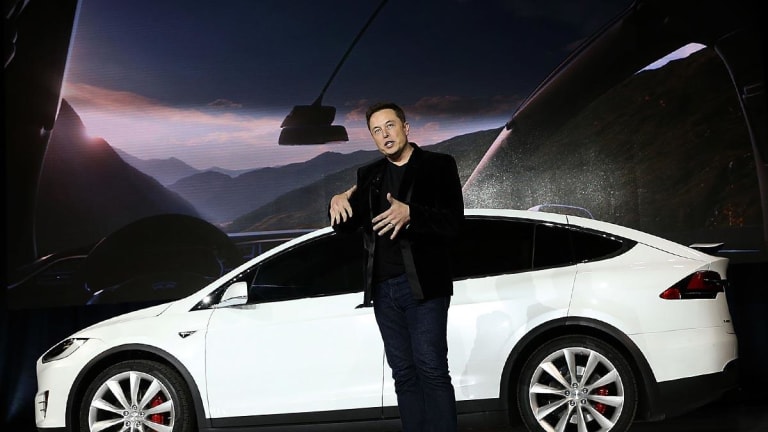 Tesla Stock Rallies on Sigh-of-Relief Earnings Results
Tesla's results were good enough to ease investors' concerns. The question now is, can it last?
The moment we've all been waiting for has arrived now that Tesla Inc (TSLA) - Get Report has released its second-quarter earnings results.
Sales came in at roughly $4 billion, up 43.3% year-over-year (YoY) and $70 million ahead of analysts' expectations. Tesla generated a loss of $3.06 per share, which missed analysts' estimates by 24 cents per share.
But that didn't keep shares down in after-hours trading. Tesla stock rose 9% to about $329.
The rally mostly seems like a sigh of relief: relief that Tesla isn't the recipient of a Wells Notice; relief that free-cash flow burn came in lower than analysts' estimates; relief that Tesla isn't going through a liquidity crisis and in need of cash.
The company ended the quarter with $2.23 billion in cash, down from $2.8 billion last quarter. It had $942 million in customer deposits. If you subtract the latter from the former, you're left with just $1.23 billion in cash. Subtracting the overseas holdings likely puts that figure below $1 billion -- a key level for the bears.
Tesla generated an operating cash flow deficit of $130 million in the quarter, although that's far better than the $398 million deficit it had last quarter. On the free-cash flow side of things, which incorporates capital expenditures, Tesla saw a deficit of $739 million. However, that was better than estimates looking for an $889 million deficit.
That's where the sigh of relief comes into play. While the quarter wasn't good from a financial perspective, it wasn't as bad as many had feared. Plus, CEO Elon Musk and his management team told a story that gave investors confidence. He was "highly confident" the company will be cash flow positive, inclusive of capex, and GAAP profitable in the third and fourth quarters.
In fact, short of a recession or one-time anomalies, that should be the case going forward as well, he said, not just the third and fourth quarters. Musk was realistic in this aspect, noting that not all quarters will be great or that Tesla will be rolling in dough. Just that it's time for Tesla to be self-funding. 
This is becoming somewhat of a trend. Tesla reports earnings and all seems relatively fine. Not great mind you, but OK enough to ease concerns and stop any immediate worries. Then shares come under pressure as the next earnings report nears and as shorts ramp up the volume on their calls for liquidity events and worries over capital.
It's important to note that the bears' case isn't dead. There are still some serious concerns around Tesla and its capital situation. However, management continues to gain credibility as it delivers on prior outlooks and, if it can execute, that improving credibility should continue, as should its financial footing. 
While it wasn't directly addressed, during the Q&A portion of the call Musk seemingly squashed the idea that Tesla has been the recipient of a Wells Notice, preventing it from raising capital. He simply said it's time for Tesla to rely on its own operations for funding and no outside forces were preventing it from raising capital. 
The company continues to improve manufacturing efficiencies to drive up margins and cut down on costs per vehicle. This should help its goal of being cash flow positive and profitable in the second half of the year. Management says Tesla hit the 5,000-units-per-week mark several times for the Model 3 in July and expects to get up to 6,000 Model 3s per week later this month.
For the quarter, they expect to ship 50,000 to 55,000 Model 3s. At that rate, Tesla better be profitable given that it's only selling high-end and long-range versions of the Model 3, which start at $49,000 before Autopilot components and other features are considered.
If Tesla can't turn a profit on that, I don't know how they ever will.
The instant takeaway? Tesla appears to have stemmed the immediate concerns of a liquidity issue. By producing only high-margin versions of the Model 3, the company should easily coast through the next six to nine months with positive cash flow and GAAP profitability. While that doesn't nullify the bears' various theses, it likely puts them on hold. A more calm Musk apologized for his behavior on the last call and appears to have instilled some confidence in the stock. 
This article is commentary by an independent contributor. At the time of publication, the author had no positions in the stocks mentioned.