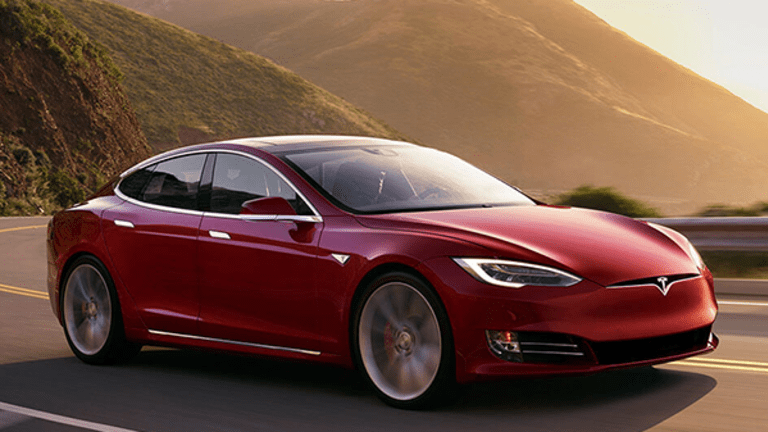 Why Tesla Shares Have Been Able to Brush Off Bad Model 3 News and Keep Rising
Though Model 3 deliveries disappointed, Tesla's Model S and X deliveries beat expectations, suggesting the Model 3 has had an Apple-like halo effect.
In Tesla Inc.'s (TSLA) - Get Free Report  letter to shareholders on Aug. 2, Elon Musk claimed that his company had actually seen net orders for its costly Model S sedan rise since the cheaper and much-hyped Model 3 sedan was unveiled on July 28.  This uptick in demand, Musk wrote, "gives [Tesla] even more reason to expect increased deliveries of Model S and Model X in the second half of this year."
Given that the Model 3's $35,000 starting price is less than half that of the Model S' $74,500 starting price (before tax credits and incentives), one can't be blamed for thinking that this momentum might not last. But for a few different reasons, it's continuing for now. And that's likely a big reason why Tesla shares are brushing off some disappointing news about the company's closely-watched Model 3 production ramp.
After the bell on Oct. 2, Tesla reported it delivered 26,150 vehicles in Q3 -- up 17.7% sequentially and 4.5% annually, and slightly above a FactSet consensus estimate of 25,860. But the mix contained some notable surprises.
On one hand, Tesla only delivered 220 Model 3 sedans, less than a consensus of 1,260. In addition, two months after Musk forecast over 1,500 Model 3 units would be produced in September, Tesla disclosed only 260 Model 3 units were made.
The company -- no stranger to production issues for new cars -- blamed challenges in activating "manufacturing subsystems" at its Fremont, Calif. assembly plant and Reno, Nev. battery Gigafactory, while insisting "there are no fundamental issues with the Model 3 production or supply chain." It expressed confidence that the manufacturing issues, which raise questions about Tesla's ability to hit a prior-stated goal of producing 20,000 Model 3's per month by December, will be addressed in the near-term.
On the flip side, Model S deliveries of 14,065 beat a consensus of 13,200. Likewise, deliveries for the Model X crossover ($79,500 starting price) came in at 11,865, above a consensus of 11,800. Tesla also noted that 4,820 Model S and X units were in transit to customers at the end of Q3, and that it now expects 100,000 full-year Model S and X deliveries (up 31% from 2016).
The company had previously just guided for second-half S and X deliveries to be above a first-half level of 47,000. Analysts, on average, had expected about 50,000.
All of that helps explain why Tesla shares are up 1.5% to $346.77 as of the time of this article, after initially dropping a bit in response to the Model 3 news. They're down 11% from a Sep. 18 peak of $389.61, but still up 60% on the year.
Why is Model S demand holding up so well? The fact that giant wait times exist for anyone looking to place a new Model 3 order likely has something to do with it. Tesla had 455,000 Model 3 net reservations at the time of its Q2 report, and is giving an official estimated delivery time for new orders of 12 to 18 months. With Tesla only expecting to reach a total weekly vehicle production run rate of 10,000 in late 2018, actual delivery times could be on the longer end of that range.
It also helps that -- although Musk said in May that public confusion existed about the differences between the Model 3 and S, Tesla has been doing a good job of explaining to upscale consumers that the S is a superior vehicle. At both its website and showrooms, Tesla provides side-by-side comparisons that note the Model S delivers better performance, has more cargo and seating room, comes with a second display and provides free unlimited access to Tesla's Supercharger network.
In addition, judging by both Musk's remarks and anecdotal experiences at Tesla showrooms, Tesla salespeople seem eager to turn questions about the Model 3 into conversations about the Model S. "If you go to our stores, we don't even want to talk about [the Model 3], really, because we want to talk about the thing that we can supply," said Musk during Tesla's Q2 earnings call.
That brings up another reason why Model S sales -- and for that matter, Model X sales -- could be perking up: Model 3 hype has given Tesla a ton of free publicity and arguably boosted the power of its brand. Much like Apple Inc.'s (AAPL) - Get Free Report iPhone has long delivered a "halo effect" that has boosted sales of other Apple products by strengthening its brand and drawing people into Apple Stores, the Model 3 could be having a similar effect on Tesla's broader product line.
And markets have good reason to applaud such a trend. Given the Model S and X's sales volumes and how much higher their average selling prices (ASPs) are relative to the Model 3, their momentum remains important to Tesla's story. Even if the Model 3 and (further down the line) the mass-market Model Y crossover will do more over the long run to determine whether Tesla ends up justifying its current $58 billion valuation.
Jim Cramer and the AAP team hold a position in Apple for their Action Alerts PLUS Charitable Trust Portfolio. Want to be alerted before Cramer buys or sells AAPL? Learn more now.